Tirupati Lok Sabha by-election: YSRCP to launch its campaign on January 6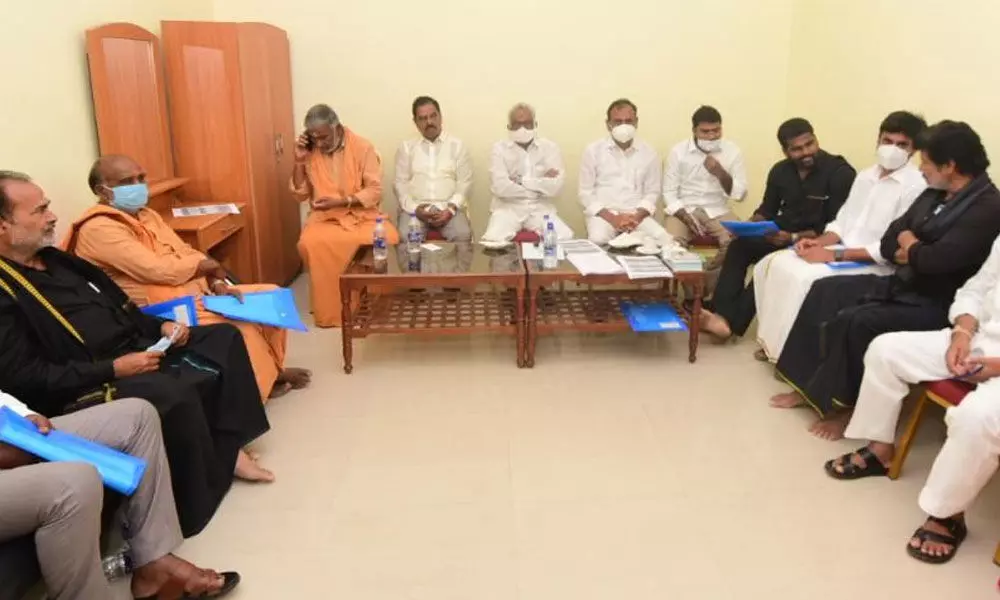 Highlights
The ruling party to officially announce its candidate soon
Top leaders discuss the poll strategy ahead of CM's review meeting on Chittoor district
Tirupati: TTD Chairman Y V Subba Reddy and Minister for Panchayat Raj, Peddireddy Ramchandra Reddy, jointly announced here on Sunday that the YSR Congress Party is going to launch its campaign for Tirupati Lok Sabha by-election on January 6 in Tirupati city.
An urgent election meeting was convened under the leadership of both leaders at PLR Kalyana Mandapam here.
Ahead of the Chief Minister's review meeting scheduled to be held on Monday, the YSRCP leaders met here to chalk out the Tirupati bypoll strategy. It was decided at the meeting that every MLA under the Tirupati Loksabha constituency should take responsibility to secure a victory with a huge majority for the YSRCP in forthcoming by-election.
Addressing the media after the meeting, TTD chairman Y V Subba Reddy, Deputy Chief Minister Narayana Swamy and Minister for Panchayat Raj Peddireddy stated that they will go for the election carrying the portrait of Chief Minister Y S Jagan Mohan Reddy as he had implemented several welfare schemes during the last 18 months.
The YSRCP government has been providing several benefits to the poor in the State, they pointed out. "Our leader Y S Jagan Mohan Reddy has fulfilled all the promises he made during his Padayatra," pointed out Y V Subba Reddy.
Admitting that during the 2019 elections, the YSRCP has won the Tirupati Assembly constituency by a narrow majority, Subba Reddy said that this time they would work hard to see that the party secures big victory in the Lok Sabha byelection by securing comfortable majority in every Assembly constituency under the LS seat. However, the ruling YSRCP is yet to declare its candidate for the Tirupati LS seat officially, but the party leaders hinted that the announcement would be made shortly.