TTD to promote cow products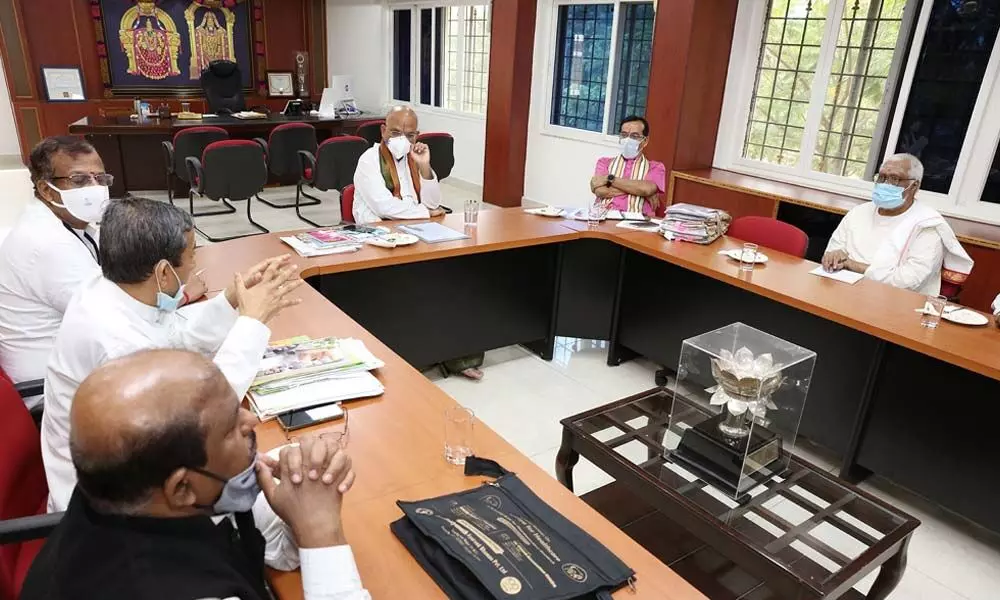 Highlights
EO Dr K S Jawahar Reddy says a committee will be formed to study in detail about the Panchagavya products involving the experts from Veterinary University of Tirupati also
Tirupati:In its mission to protect and promote Desi cow breeds and its products, TTD EO Dr K S Jawahar Reddy said an action plan will be prepared soon on Panchagavya products and its usage. A review meeting on Panchagavya products was held in the Chamber of EO at TTD Administrative Building here on Thursday. A team of Panchagavya experts from Govigyan Anusandhana Kendra from Nagpur presented in detail a documentary about the making, utility and future of Panchagavya through power point presentation.
Animal Welfare Board of India member Sunil Mansinghka asserted that Panchagavya, the amalgamation of five basic products including the milk, curd, ghee, dung and the urine which we get from the cow is the traditional medicine which is going to command modern medicine in future.
Along with Dr Krishnamurthy, the president of Kamadugha Project of Karnataka, elaborated on the various uses of Panchagavya in various fields including health, daily care, agriculture etc. They said, the Panchagavya elements have the power to cure many diseases and increase resistance power, rejuvenate the cells, control even dreadful diseases like cancer. They sought the co-operation of TTD in preparing and promoting Panchagavya products. Responding to their request, TTD EO said a committee will be formed to
study in detail about the Panchagavya products involving the experts from Veterinary University of Tirupati also. He directed Gosala Director Dr Harinath Reddy to come out with a detailed action plan by January next.
JEO P Basanth Kumar, SV Vedic University Vice-Chancellor Sannidhanam Sudarshana Sarma, TTD Ayurvedic College Principal Padmavathi, in-charge of Ayurvedic Pharmacy Narappa Reddy were also present.