YSRCP will face same fate as TDP: BJP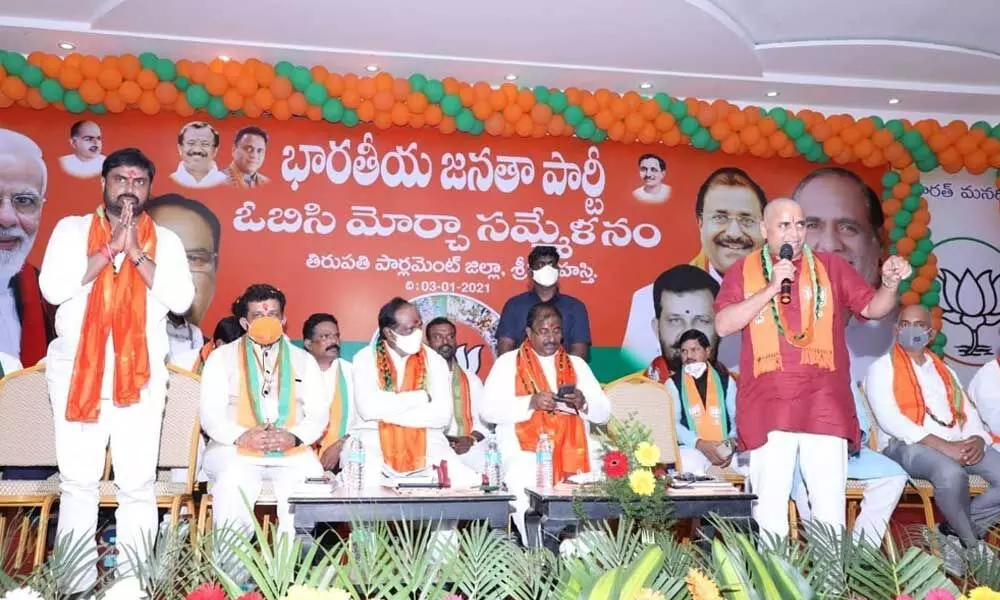 Highlights
Party's AP in-charge Sunil Deodhar expresses concern over the series of attacks on temples in the State
Wonders why the State govt failed to arrest a single person in connection with the attacks
Tirupati: YSRCP will face the same fate of the TDP if the attacks and vandalism of Hindu temples and deities continue unabated in the State, said BJP State co-incharge Sunil Deodhar while addressing party's OBC Morcha meeting' at Srikalahasti, 40 km from here on Sunday.
Interestingly, Deodhar had not spared TDP supremo N Chandrababu Naidu from his fierce attack along with slamming the ruling YSRCP leaders and observed that the same person (Naidu) who officially demolished 40 temples in the name of development was now shedding crocodile tears on the desecration and vandalism of temples and deities. People are no more ready to believe Naidu, he said criticising him on the temple issue.
Turning his gun on YSRCP, the BJP leader said that it was highly deplorable on the part of government not able to punish even a single person in the attacks on the Hindu temples continuing with impunity and warned that the ruling party will face the wrath of Hindus if it failed to stop the attacks on temples hurting the sentiments of Hindu community and testing their tolerance.
Attacking YSRCP leaders more so senior leader and Rajya Sabha MP Vijayasai Reddy for attacking Opposition parties for expressing their concern and protesting State-wide on the temple incidents, he said that first they should see that their government protects Hindu temples from the heinous attacks before pointing fingers on others.
BJP State president Somu Veerraju said that the credit of making a person belonging to Backward Class as the Prime Minister of a biggest democracy goes to the saffron party and reiterated that his party is committed to the welfare of OBCs.
OBC Morcha national president K Laxman dwelled at length on the welfare measures introduced by NDA government led by BJP for the progress of OBCs.
Earlier a rally was taken out to mark the meeting and rich tributes were paid to social reformer Savitribai Phule for her outstanding contribution for women's education and removal of superstitions affecting women and coming in the way of their progress.
OBC Morcha AP president Bitra Venkata Sivanarayana, Tirupati Parliament constituency party president S Dayakar Reddy, party State spokesperson Kola Anandakumar and others were present.