Trump incites supporters to storm US Capitol; 4 die in violence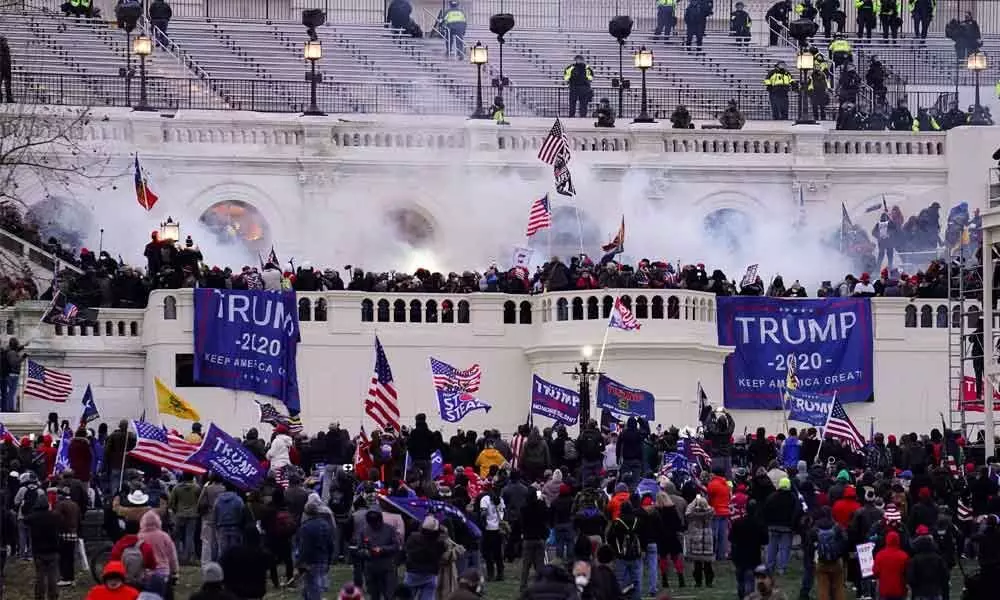 Highlights
In an unprecedented assault on democracy in America, thousands of supporters of President Donald Trump stormed the US Capitol and clashed with police, resulting in at least four deaths and interrupting a constitutional process to affirm President-elect Joe Biden's victory in the election
Washington: In an unprecedented assault on democracy in America, thousands of supporters of President Donald Trump stormed the US Capitol and clashed with police, resulting in at least four deaths and interrupting a constitutional process to affirm President-elect Joe Biden's victory in the election.
The police, outnumbered by the mask-less protesters, had a tough time in managing the mob, as hundreds of protesters breached security and entered the Capitol building on Wednesday, where members of the Congress were going through the process of counting and certifying the Electoral College votes. Both the House and Senate and the entire Capitol were placed under a lockdown. Vice President Mike Pence and lawmakers were evacuated to safe locations.
Four people died on Wednesday, including one woman who was shot by a police officer, amid protests and rioting on Capitol Hill that resulted in dozens of demonstrators being arrested, police said.
Metropolitan Police Department Chief Robert Contee called the rioting by pro-Trump demonstrators "shameful" during a news conference alongside Mayor Muriel Bowser. The protesters dispersed following the enforcement of curfew in the national capital. Mayor Bowser announced the curfew to prevent the situation from escalating. Officials said the Capitol was secured, putting an end to nearly four-hour violent occupation by Trump supporters.
Heavily armed police personnel were deployed to disperse the crowd. In a letter to colleagues, House Speaker Nancy Pelosi said leaders of Congress have decided to resume the joint session tonight once the Capitol is "cleared for use."
Trump, who earlier encouraged his supporters to head to the Capitol, urged them to abide by the law and go back home after the violent clash. "This was a fraudulent election, but we can't play into the hands of these people. We have to have peace. So go home," Trump said in a video message posted on Twitter.
The micro-blogging site later removed the video and some tweets in which Trump appeared to defend the actions of his supporters. In an unprecedented move, Twitter and Facebook have suspended Trump's accounts after he continued to push conspiracy theories about the November 3 election.
Twitter suspended Trump's account for 12 hours and also blocked three of his tweets including a video of his address to his supporters. Facebook said it would be blocking the president's account from posting for 24 hours due to two policy violations.