Mamata shows how 'BJP's washing machine' works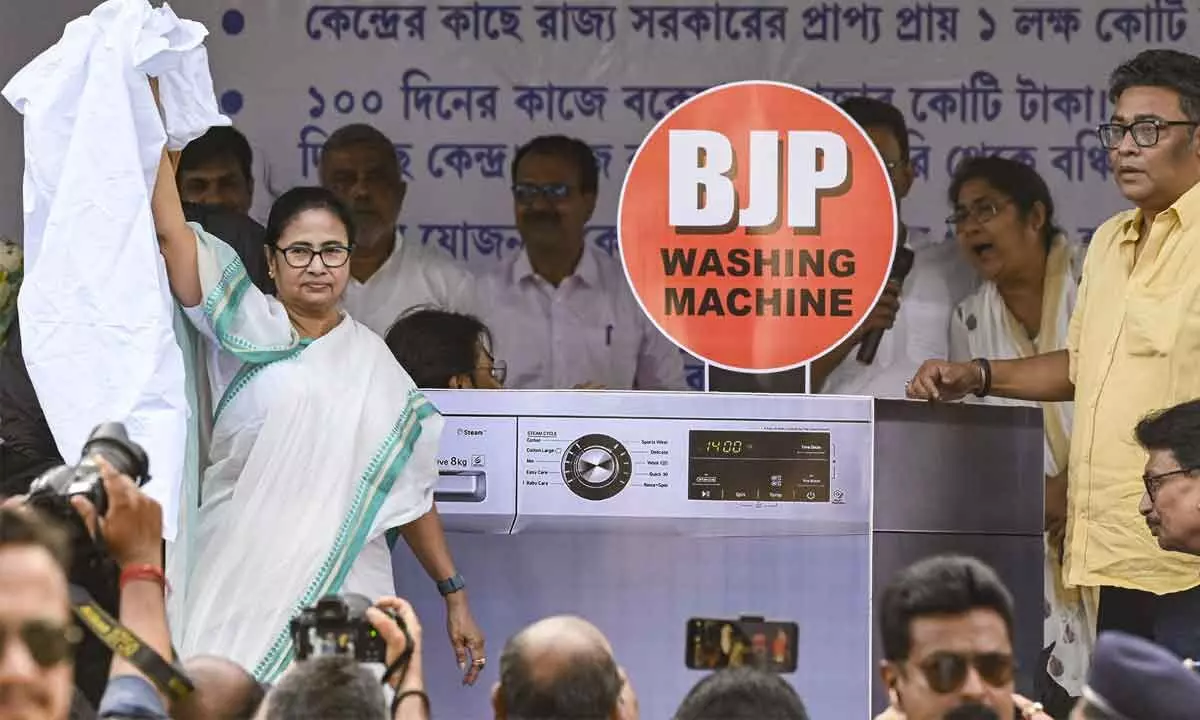 Highlights
The Bengal Chief Minister put in black cloth, which symbolically turned white; Abhishek demands Modi's removal from Parliament, cites 2019 'Didi, O Didi' cry
Kolkata: At Mamata Banerjee's protest in Kolkata, an outsized washing machine took centre stage. As Trinamool Congress leaders shouted slogans, the Bengal Chief Minister put in black cloth, which symbolically "turned white". "Washing machine, BJP!" shouted Trinamool workers as Mamata Banerjee performed the act of "laundering" with a flourish. The washing machine labelled "BJP" was the prop for an allegation often voiced by Mamata Banerjee - that corrupt leaders are exonerated and spared when they join the BJP.
"BJP has become a washing machine. Give me a list of all thieves and robbers - they are all sitting there (with BJP). I have to listen to their sermons about the constitution?" Mamata Banerjee said as she launched a two-day protest sit-in against the BJP-led central government. "I have every right to hold a dharna. If required, I can sit on a dharna at the PM's house too," she said. The Trinamool is protesting against the Centre and Prime Minister Narendra Modi for not disbursing funds to West Bengal. The protests have escalated ahead of the local body elections in the state and the 2024 general election.
In a repeat show of support for Congress leader Rahul Gandhi following his ouster from the Lok Sabha, Trinamul Congress national general secretary Abhishek Banerjee used the issue to pivot his pointed and simultaneous attacks against Prime Minister Narendra Modi and Bengal's Leader of Opposition Suvendu Adhikari.
Speaking at the public meeting, organised jointly by the Trinamul Youth Congress and the party's student wing TrinamulChhatra Parishad on Shaheed Minar ground in central Calcutta on Wednesday, Banerjee tried to make a case for similar punishments for the Prime Minister and the state LoP for allegedly committing the same offence as Gandhi. He was addressing an impressive gathering less than a kilometer away from where chief minister Mamata Banerjee was holding her two-day dharna to protest alleged "discrimination" by the Centre against Bengal.
"What did Rahul Gandhi say? He named Nirav Modi, Latit Modi and Narendra Modi. I do not support what he said and I don't want to hurt the sentiments of anyone. But I want to ask the people of Bengal this… if calling people with Modi surnames thieves tantamount to hurting the sentiments of the entire community, why shouldn't the Prime Minister also be disqualified from the Parliament for hurting the sentiments of all women when he remarked 'Didi, O Didi' during at his 2021 election rallies in Bengal? Why will he not be punished for making sarcastic and derogatory statements against the entire women community?" Banerjee asked with assertion.