Kapu leaders set 2 day deadline to resolve crisis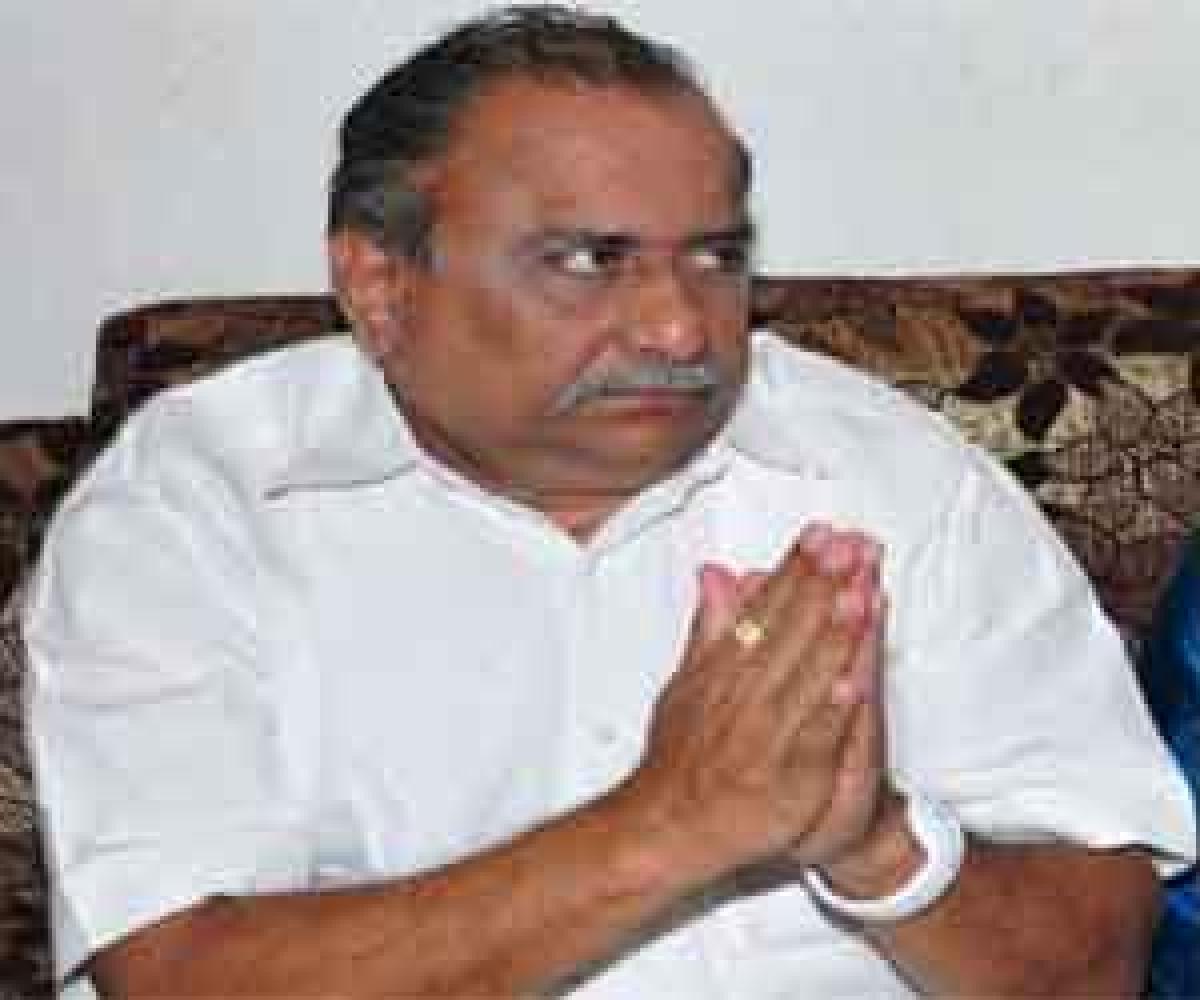 Highlights
Kapu leaders belonging to Congress and YSRCP threw their weight behind the fasting Kapu leader Mudragada Padmanabham. After a four-hour long meeting on Monday at a five-star hotel, prominent leaders like former Union Ministers Pallam Raju, Chiranjeevi and Dasari Narayana Rao along with Botcha Satyanarayana and others who called themselves as Kapu JAC had fixed a two-day deadline to the government
​Hyderabad: Kapu leaders belonging to Congress and YSRCP threw their weight behind the fasting Kapu leader Mudragada Padmanabham. After a four-hour long meeting on Monday at a five-star hotel, prominent leaders like former Union Ministers Pallam Raju, Chiranjeevi and Dasari Narayana Rao along with Botcha Satyanarayana and others who called themselves as Kapu JAC had fixed a two-day deadline to the government to resolve the issue.
Condemning the arrest of Padmanabham, they said all that the Kapu leader had asked was to implement the promises made in the manifesto. They said Padmanabham was not alone and all of them would stand by him.
Alleging that the government was trying to divide and rule Kapus, Chiranjeevi said, "The community is worried about the health of Padmanabham and warned the government that it would be held responsible if anything happens to the fasting leader." Dasari Narayana Rao said that if the government fails to defuse the situation they have a big action plan but did not reveal the details.
Stating that the government had earlier said that those who were involved in the torching of the train came from Kadapa and Pulivendula, Chiranjeevi said that the government was arresting people from Tuni. He questioned the justification of taking into custody those who had gone to express solidarity with Padmanabham.
He took exception to the manner in which the police had forcefully entered into the house of Padmanbham by breaking the doors of his house and arresting him within two hours of the Kapu leader going on protest. He further said that the arrest of the fasting leader has created confusion and tension in the state.
The meeting has resolved to condemn the way police had behaved with the wife, daughter-in-law and others while taking fasting leader into custody, he said.
Terming that the government has been looking at social issues like a case of terrorism, Dasari said that it was resorting to highhanded behaviour. Suspension of telecast of certain media, installing jammers in the hospital where Padmanabham has been lodged, not allowing anyone to meet him gives an impression as if we were in some foreign country, he said.
He also criticised the government for encouraging the Kapu ministers in the government to criticise Mudragada.When asked whether they were justifying the burning of train, Pallam Raju said, "we are against the way the Kapu leader has been treated while being taken into custody and the humiliation meted out to him. They were not seeking the release of the accused. Law should take its course."
Interested in blogging for thehansindia.com? We will be happy to have you on board as a blogger.