Dargah compound wall demolished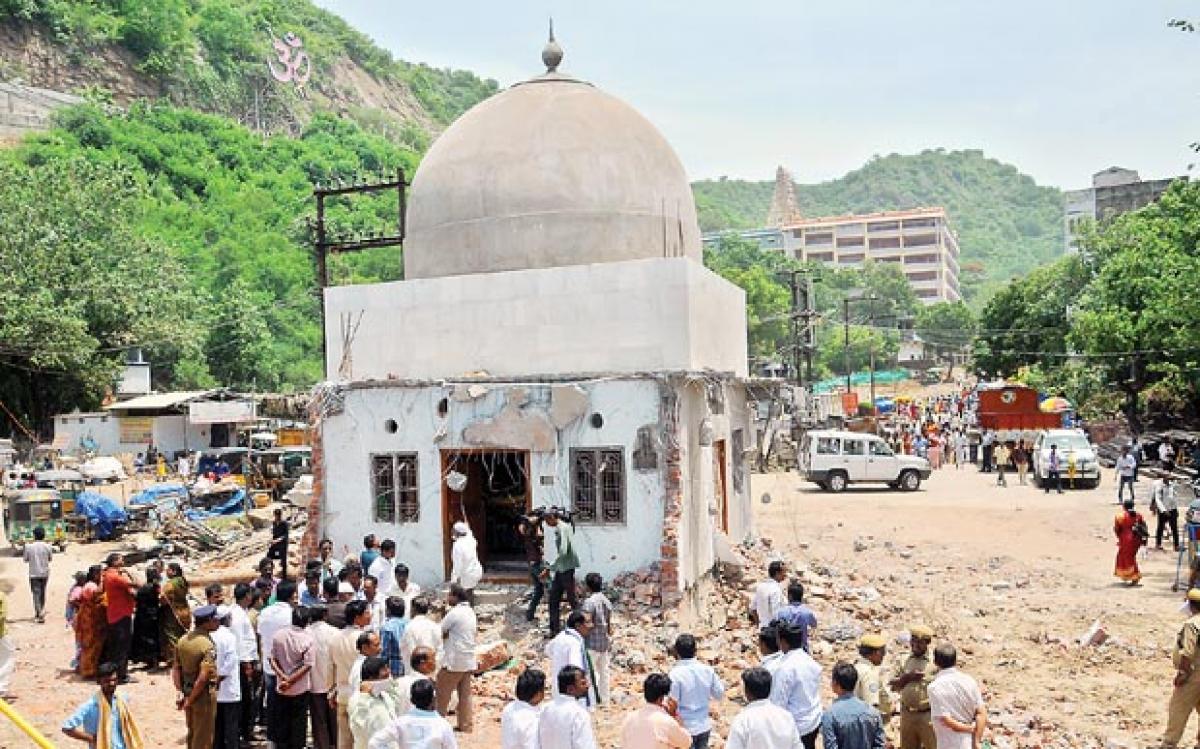 Highlights
The officials went to the Dargah and instructed the staff to demolish the walls of the Dargah. Local Muslims tried to protect the compound wall, but in vain. The Dargah was built many decades ago and it is a symbol of communal harmony between Muslims and Hindus for many generations. West Assembly constituency MLA Jaleel Khan also went to stop the demolition. The officials turned a deaf ear to h
​Vijayawada: Hardly ten days passed since the Ministers and officials announced that no holy place in Vijayawada city will be demolished without information to the committee or local residents and the government has no intention to hurt the sentiments of the people of any community, the Krishna district administration has broken the promise and demolished the walls of the Hazarath Syed Sha Khadari Dargah located very close to Arjuna street here on Wednesday late night.
The officials went to the Dargah and instructed the staff to demolish the walls of the Dargah. Local Muslims tried to protect the compound wall, but in vain.
The Dargah was built many decades ago and it is a symbol of communal harmony between Muslims and Hindus for many generations. West Assembly constituency MLA Jaleel Khan also went to stop the demolition. The officials turned a deaf ear to his request and pulled down the walls and structures close to it.
The officials did not touch the house of TDP MLC Buddha Venkanna when Arjuna street was widened. The BJP and other Opposition parties raised a hue and cry on the issue two weeks ago. Now, the government had targetted the Dargah which is very near to the residence of Buddha Venkanna.
Earlier, Gosala was demolished which was the other side of the residence of Buddha Venkanna's house. The latest demolition raises many questions about the integrity of the government on the assurance given to the people against demolition of the holy places in the city.
Local Muslims fear that the officials will also demolish the main structure, which is the tomb of Saint Hazarath Syed Sha Khadri.
The Hazarath Syed Sha Khadri Darga is located very near to Durga temple and is the symbol of communal harmony for many centuries. Lakhs of Hindus visit Durga temple every year.
Similarly, thousands of Muslims visit the two Dargas located near the Durga temple. People of two communities gather in a large number every year and spent time without any disputes.
After the demolition of two temples in old city, the Government had appointed a committee with five Ministers, which announced on July 4 that no holy place in the city will be demolished without prior intimation to the temple or Dargah committee.
However, the Telugu Desam government failed to stick to its words. Ministers personally announced about the policy of the Telugu Desam government.
Muslims living in the city were disappointed with the 'double standards' of the TDP government. Leaders of all political parties raised hue and cry when two temples and Gosala was demolished in Mallikarjuna Peta.
But, there is no response from the parties when attempts were made to demolish the Dargah, which is located very near to Durga temple.