Railways will help develop AP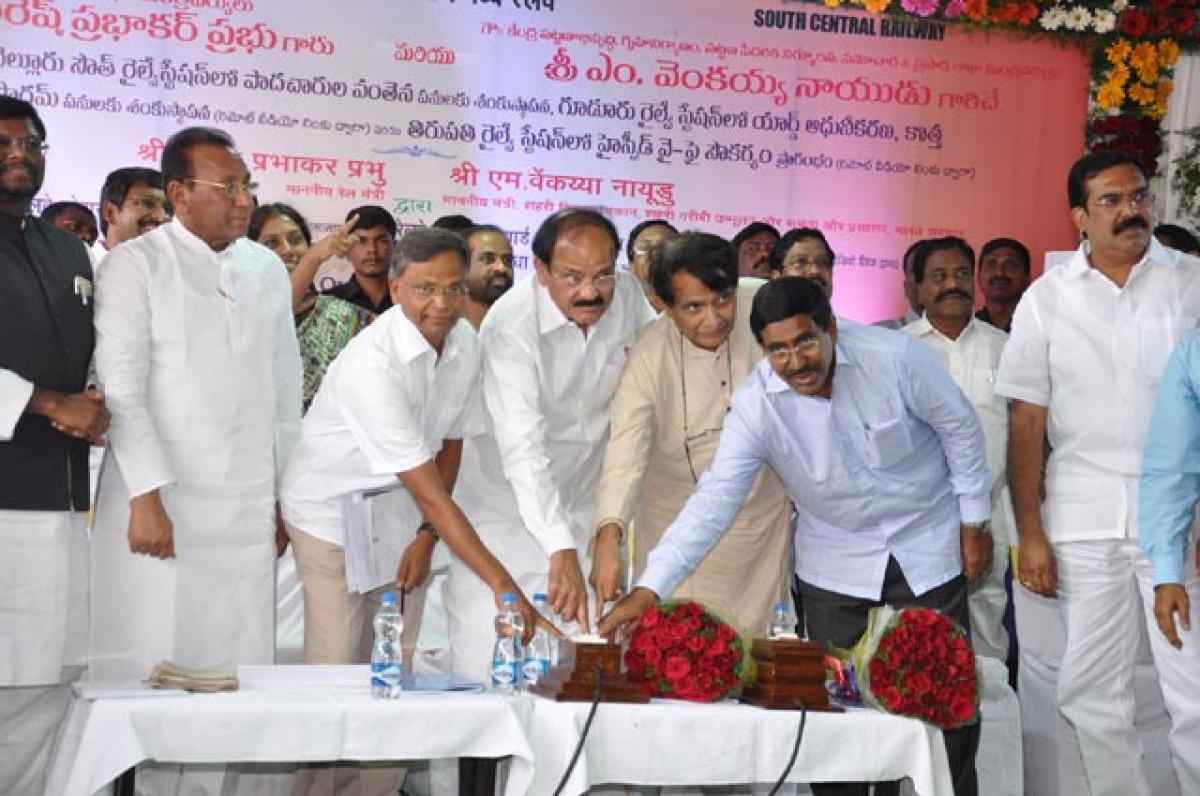 Highlights
Railway Minister Suresh Prabhakar Prabhu said there would be tremendous growth in the state with joint ventures aimed at improving infrastructure. 
Prabhu assures state of integrated transport solution
Nellore: Railway Minister Suresh Prabhakar Prabhu said there would be tremendous growth in the state with joint ventures aimed at improving infrastructure. The minister laid foundation for a Foot Over Bridge at the Nellore South Railway Station and Yard Remodelling and New Platform at Gudur Railway Station on Sunday. He also launched High Speed Wi-Fi services at Tirupati Railway Station from Nellore. He said Wi-Fi facility in Guntur station would be provided by the end of the year.
While stating that Andhra Pradesh is the biggest beneficiary in the development process, Prabhu said the state-of-the-art and strategically located capital city Amaravati would be connected with other parts of the state for transport convenience. He said the Railways had inked MoU with the AP government for developing railway infrastructure in the state and would focus on linking various places in the state through an integrated transport solution.
"I am a newly adopted son of Andhra Pradesh. I would sincerely focus on improving the rail connectivity in the state. Smart City development is pushing growth in urban areas and Prime Minister Modi is also planning to better conditions in rural areas too," he said. The minister said the formation of Joint Venture Companies with these state governments will go a long way in faster commissioning of critical rail infrastructure projects as it will not only help in mobilization of funds but also in facilitating various clearances and land acquisition for various projects.
Prabhu said the Centre, state government and the local governing bodies should join hands to create an integrated transport solutions to address the public transportation issues of smart cities. He also said they were developing connectivity between important ports and nearby cities for seamless transport that highly impacts economy of the country amazingly in the coming three years.
He emphasized the need for improvement in manufacturing sector which attained only 15-17 pc growth and the proposed projects would be on PPP model, while inaugurating the Port Side Container facility of CONCOR at Krishnapatnam Port in the afternoon. Urban Development, Information and Broadcasting Minister M Venkaiah Naidu said there has been wonderful growth after Suresh Prabhu assumed charge as Railway Minister and thanked for awarding many important projects to the state for its overall growth.
He suggested utilization of enormous vacant railway lands in Nellore district developing under PPP mode that earns huge revenue which in turn would be utilised for improving critical infrastructure. Venkaiah said the LIC had provided Rs. 1.20 lakh crore for progress of railway infrastructure in the country and listed various projects sanctioned for Nellore and other parts of the state.
He, addressing at a programme in Krishnapatnam, said the Congress regime had utterly failed to focus on important sectors earlier and now Modi is envisaging spectacular growth with a holistic plan concentrating on all key sectors linked to country's economy. He also launched a state-of-the-art Golf Course in Krishnapatnam Port premises.
AP ministers P Narayana, Sidda Raghava Rao, Members of Parliament Mekapati Rajamohan Reddy, Dr Varaprasada Rao, Nellore ZP Chairman B Raghavendra Reddy, city mayor Abdul Aziz, MLC Somireddy Chandramohan Reddy, SC Railway General Manager Ravindra Gupta and others were present.