In a first, Collector visits tribal hamlet atop hillock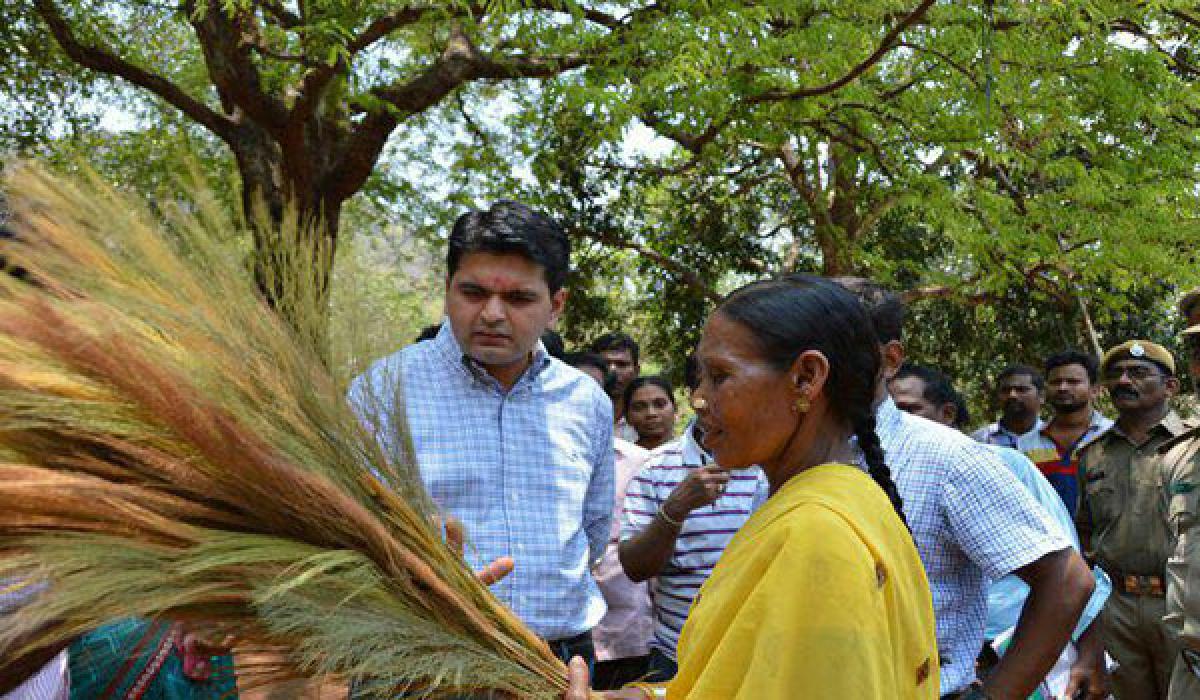 Highlights
East Godavari District Collector Karthikeya Misra on Saturday paid a surprise visit to Agency tribal hamlet of Ijjaluru in Rampachodavaram Dandakaranya region, which is 11 km away from the main road. Accompanied by a handful of officials, led by the anti-Naxal police squad, Karthikeya Misra trekked the hilly region, crossed streams and took pains to reach the tribal hamlet. He was the first ever D
Rajahmundry: East Godavari District Collector Karthikeya Misra on Saturday paid a surprise visit to Agency tribal hamlet of Ijjaluru in Rampachodavaram Dandakaranya region, which is 11 km away from the main road. Accompanied by a handful of officials, led by the anti-Naxal police squad, Karthikeya Misra trekked the hilly region, crossed streams and took pains to reach the tribal hamlet. He was the first ever District Collector to reach the village on foot.
Highlights:
The official reaches Ijjaluru in Rampachodavaram region on foot along with a team of officials and anti-Naxal police personnel

Sanctions a school and an Anganwadi following the request of the tribals
He asked a group of 30 tribals belonging to 12 families to leave their village and migrate to the plain areas. But they replied in the negative. Earlier, the villagers welcomed the district collector as per their tribal traditions. He enquired about their welfare and lifestyle and sought to know their problems.
The tribals asked the collector to set up a school in their village and an Anganwadi centre. He responded immediately appointing a graduate Nageswara Reddy of the village as teacher and another youth who studied up to Class V as Anganwadi in-charge on contract basis. He asked them to run a primary school and an Anganwadi centre respectively.
On being questioned by the District Collector, the tribals told him that they were drinking water from running stream which they said is safe and pure. However, the Collector gifted four-litre capacity water filters to all tribal families in the village.
The team of officials returned to Maredumilli by foot by night. The team members were fully drenched in the rain while returning. Rampachodavaram officer on special duty Naeem Aadmi, ITDA project officer Dinesh Kumar, divisional forest officer Nandini and others accompanied the District Collector.
By M Srirama Murthy

Subscribed Failed...
Subscribed Successfully...