4 die in road accidents across West Godavari district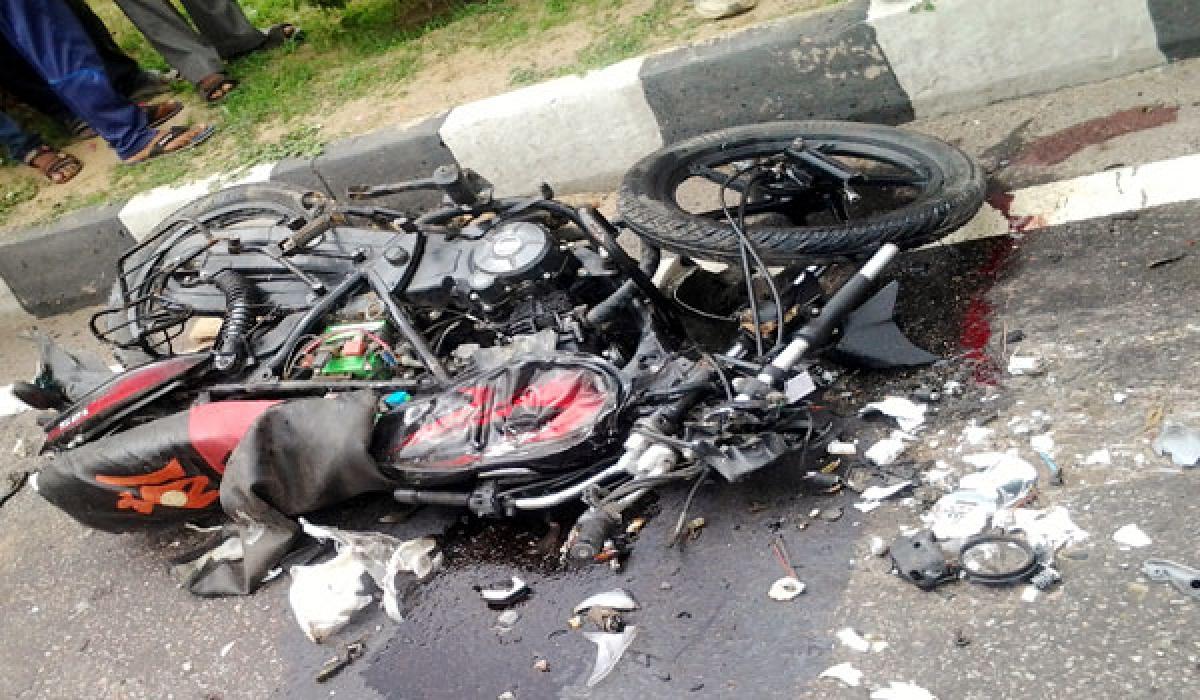 Highlights
Four people lost their lives in road accidents at various places in West Godavari district on Thursday. According to police. Buragadda Satwik (21) and his friend Pittala Prashanth (22) of Rajendra Nagar area in Mangalampalli of Guntur city along with another 8 friends attended a marriage of their friend at Dwaraka Tirumala on Wednesday night. After marriage, all the ten friends started their bi
Eluru: Four people lost their lives in road accidents at various places in West Godavari district on Thursday.
According to police. Buragadda Satwik (21) and his friend Pittala Prashanth (22) of Rajendra Nagar area in Mangalampalli of Guntur city along with another 8 friends attended a marriage of their friend at Dwaraka Tirumala on Wednesday night.
After marriage, all the ten friends started their bikes to go to Guntur.
When the Prashanth, Satwik motorbike reached the Tallamudi village in Pedapadu Mandal on National Highway, bike driver Prashanth lost control over the bike and hit the traffic signboard erected on the road margin. With this, the bike jumped at least 10 feet high and hit a tree in the margin and fell down. In this incident, both died on the spot.
The friends who were coming on the bike behind them immediately reached the spot. They confirmed the deaths of the youth informed the police. Pedapadu police reached the spot and shifted the bodies for postmortem to Eluru Government hospital. Both are unmarried and working in a petrol bunk in Mangalampalli in Guntur city.
In another accident a family of four was on their way to Annavaram to have darshan of Lord Satyanarayana Swamy from Borrampadu in Guntur Rural Mandal. When their car reached Ramannapalem village near Devarapalli on the Highway, a speeding container truck hit their car. In this incident, V Narayana (46) family head received serious injuries. When the inmates immediately took him to Rajahmundry Government hospital, they told the family members to shift him to Vijayawada. All of them returned to Vijayawada and reached Eluru.
As Narayana's situation was critical, they admitted him in Eluru Government hospital where he breathed his last. The body was sent to a postmortem in the Government hospital.In another accident, Cheppula Rajkumar (30) of Musunuru village in Krishna district died when the truck auto turned turtle at Valasapalli Causeway checkpoint in Lingapalem Mandal on Thursday.,
According to police, Rajkumar boarded the truck auto to attend his brother-in-law's marriage at Singagudem village of Lingapalem mandal. The Auto after crossing the Valasapalli causeway across Tammileru rivulet over turned at Valasapalli cross Road. In this incident, the iron sheets fell on the head of Rajkumar and died on the spot. Dharmajigudem SIU Kranthi Kumar registered a case and sent the body for postmortem to Chintalapudi Government hospital.