Prachara Bheri by Andhra Pradesh Koulu Rythu Sangham from May 27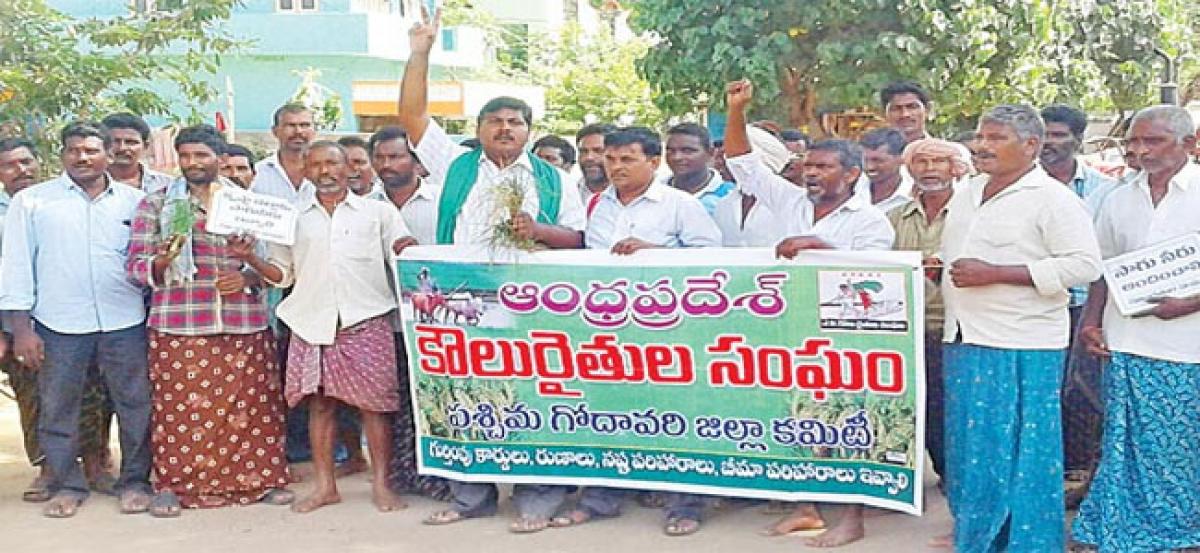 Highlights
Andhra Pradesh Koulu Rythu Sangham (APKRS) said that a Prachara Bheri Yatra (campaign war) will be conducted from May 27 to May 31 in the district, demanding the government not to change the fertile lands into aqua ponds.The APKRS General Secretary K Srinivas
Eluru: Andhra Pradesh Koulu Rythu Sangham (APKRS) said that a Prachara Bheri Yatra (campaign war) will be conducted from May 27 to May 31 in the district, demanding the government not to change the fertile lands into aqua ponds.
The APKRS General Secretary K Srinivas, Andhra Pradesh Vyavasaya Karmika Sangham District General Secretary
Jakkamsetti Satyanarayana addressing media on Friday here said that the Prachara Bheri yatra first batch will start in Kanuru village of Peravali Mandal.
Another team from Balepalli in Veeravasaram Mandal will start on May 27 morning. The campaign war will pass through 130 villages in 20 mandals and reach Eluru on June 2. On June 2 a massive dharna will be conducted, they added. The AP Rythu Sangham, Vyavasaya Karmika Sangham, Koulu Raithu Sangham are jointly organising the yatra, they added.
The leaders expressed their concern over the indiscriminate digging of aqua ponds in delta area with the help of Aqua mafia. They stated that it is horrible to notice that Chief Minister Chandrababu supporting the aqua mafia. They pointed out that in Collectors meeting that was held at Vijayawada the Collectors expressed their concern over the pollution in the fertile land areas.