Encroached drains clog, cause overflow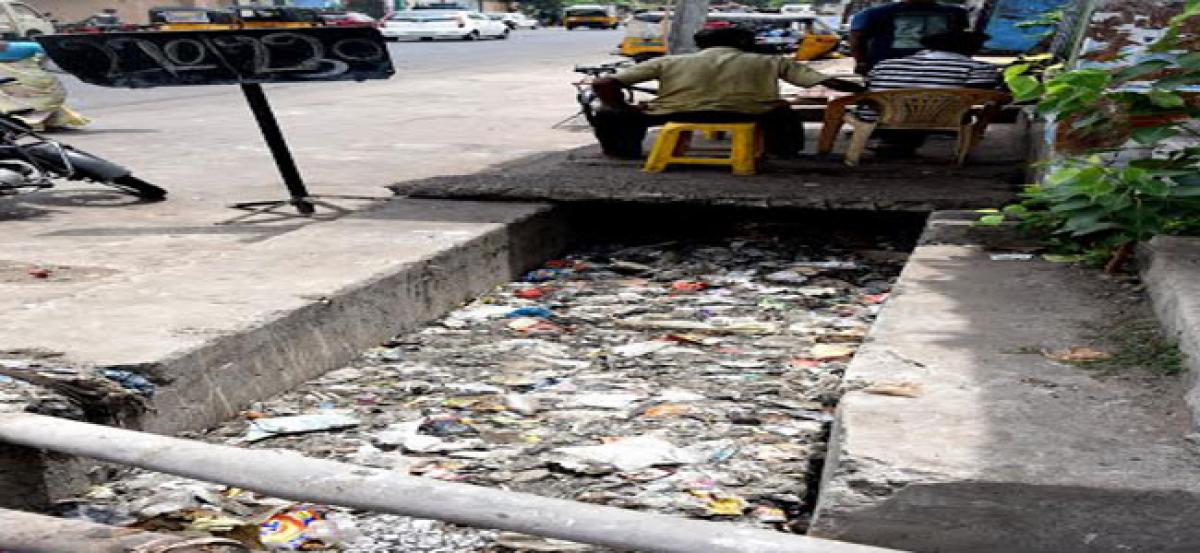 Highlights
Encroachment of the open drains became order of the day despite human casualties and overflow of sewage water onto the roads during the rainy season.Mostly drains in the city are covered with concrete slabs which are being encroached by the footpath vendors and commercial establishments which use them as parking lots. Such encroachments are seen at Daba Gardens, Gopalapatnam, NAD, Gajuwaka and MV
Visakhapatnam: Encroachment of the open drains became order of the day despite human casualties and overflow of sewage water onto the roads during the rainy season.Mostly drains in the city are covered with concrete slabs which are being encroached by the footpath vendors and commercial establishments which use them as parking lots. Such encroachments are seen at Daba Gardens, Gopalapatnam, NAD, Gajuwaka and MVP Colony.
At Poorna Market in the Old City, the hub of commercial activity, traders have encroached footpaths which were laid on the drain. They keep dumping waste material into the drain.Storm water coupled with sewage water flood the roads sometimes causing traffic jams.
The water comes up to the knee level, said Ravi Kumar, a traffic constable, manning Poorna Market area. Indra Rani , an employee of APEPDCL, a resident of HB Colony, said she was worried about children crossing the roads during rainy season.
"We still remember the horrible death of six-year-old Athidhi, who fell into an open drain at HB Colony, while coming out of tuition and disappeared for a week,'' she said.
A senior official of public health department of GVMC said, de-siltation work on all the drains in the city are being taken up in all the 72 wards to prevent flooding.He also added the vertical elevation of the outfall channel would be put above the high tide level to avoid back flow from sea and planning gradual augmentation of the sewerage system. The new drains at Madhurawada and other vulnerable zones in the city will be taken into account with appropriately inbuilt resilience features, he added.
By Phani Suni