Rahul to launch national-level strike for SCS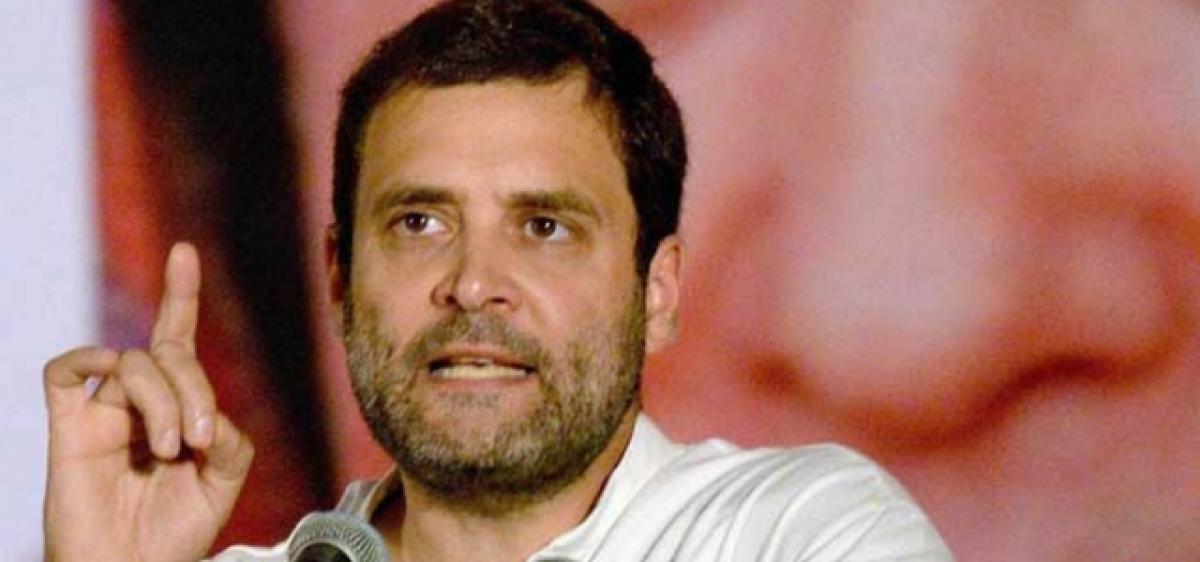 Highlights
Congress party has made all the arrangements to conduct 'Pratyeka Hoda Bharosa Sabha\' public meeting to be addressed by All India Congress Party vice-president Rahul Gandhi, in which  former U.P. chief minister Akhilesh Yadav, Sharad Yadav of JDU,CPI general secretary Suravaram Sudhakar Reddy, and leaders of other ten political parties supporting the special category status to A.P will participate
Arrangements have been made for 'Pratyeka Hoda Bharosa Sabha' to be addressed by Rahul Gandhi at Andhra Muslim College
​Guntur: Congress party has made all the arrangements to conduct 'Pratyeka Hoda Bharosa Sabha' public meeting to be addressed by All India Congress Party vice-president Rahul Gandhi, in which former U.P. chief minister Akhilesh Yadav, Sharad Yadav of JDU,CPI general secretary Suravaram Sudhakar Reddy, and leaders of other ten political parties supporting the special category status to A.P will participate.
Rahul Gandhi will explain how BJP government at the Centre and Chief Minister N. Chandrababu Naidu cheated the people of the state. He will also explain benefits of SCS and how SCS benefit than special package. The leaders of the other political parties will also speak. The meeting will start at 4.30 pm .
The Congress set up dais in the Andhra Muslim College grounds. SPG commandos swung into action checking the mikes and chairs to be used for public meeting. They checked the route in which Rahul Gandhi will travel in the city.
Former Union ministers Pallam Raju, Panabaka Lakshmi, J.D. Seelam, AICC state in-charge Khuntia, AICC SC cell chairman Koppula Raju, PCC chief N. Raghuveera Reddy, former Assembly Speaker Nadendla Manohar, PCC Guntur district in-charge Kanumuri Bapi Raju and other Congress leaders today visited the arrangements for the 'Pratyeka Hoda Bharosa Sabha' in the Andhra Muslims College in Guntur city and reviewed the arrangements.
Congress leaders are making arrangements to shift the activists from Krishna, Guntur districts to make the public meeting a grand success.
AICC A.P.affairs in-charge R.C. Khuntia said "BJP, TDP assured SCS to A.P at the time of elections, after coming to power, they cheated the people. Congress party will mount pressure on the Centre for SCS. Rahul Gandhi will launch agitation for SCS to A.P,.from Guntur city. Development of A.P is possible with the SCS. We will continue our agitation, till we achieve SCS ".
Speaking to reporters at Andhra Muslims College premises, N. Raghuveera Reddy criticised that BJP TDP promised SCS at the time of elections after coming to power they have cheated the people of A.P. He said 'Niti Aayog' is not greater than Union Cabinet.
He said Chief Minister N. Chandrababu Naidu has pledged SCS for gaining political mileage. He questioned the Centre which did not give any clarity on Dugarajapatnam port, Steel Plant in Rayalaseema and Railway Zone for A.P. He said the Centre has to give funds for the construction of capital.
Former Assembly speaker Nadendla Manohar said "BJP leaders were felicitated for demanding Special Category Status to A.P. for 15 years in the Rajya Sabha. While former Prime Minister Manmohan Singh assured SCS for 5-years, Union minister M. Venkaiah Naidu assured 15-years, now they are saying SCS is a closed chapter ".