Dire need for girls to learn self defence: Superintendent of Police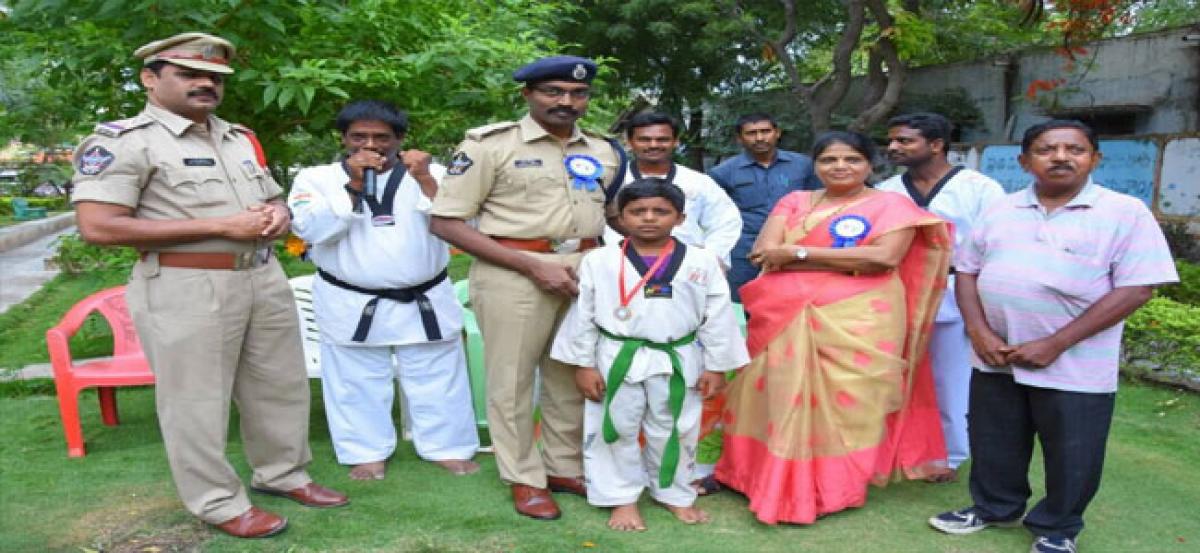 Highlights
Superintendent of Police, Ake Ravi Krishna said that there is dire need to adopt self defence courses by girl children and everyone has to practice this sport from their childhood. He said practicing martial arts will enhance the immunity power of the student besides it will guide them to adopt a disciplined life. The sport will also ensure them to build self confidence and continuous practice wi
Kurnool: Superintendent of Police, Ake Ravi Krishna said that there is dire need to adopt self defence courses by girl children and everyone has to practice this sport from their childhood. He said practicing martial arts will enhance the immunity power of the student besides it will guide them to adopt a disciplined life. The sport will also ensure them to build self confidence and continuous practice will keep them fit and healthy.
Ravi Krishna participated as a chief guest at a Taekwondo sports competition organized at King Market in the city on Friday. He felicitated the karate kids with medals for their excellent performance given during the competitions. He said that he has also practiced karate at National Police Academy with which he is keeping himself fit and healthy.
By practicing the sport one can face the adverse situations that come their way during lifetime. Recalling Bruce Lee, he said, the maestro despite of all odds in his life has risen to the top and is being adored by every karate practitioner. Every girl child has to practice the martial art with which they can protect themselves, he stated.
Former Market Yard Chairman, Shamantaka Mani said, now a days women are facing lots of harassment from eve teasers. Since morning to night women have to come across several odd situations. If martial art is practiced then they can handle the situations very easily. There is no need to depend on others. She suggested the karate kids to excel in the sport and keep themselves strong and healthy.
One Town Circle Inspector, B Krishnaiah, N Raghavendra, Taekwondo trainers, P Kapil, T Venkateshwarulu, S Sateesh Kumar, K Venkat Thimma Reddy, Bandari Vishnu, K Venkatesh, Ravi, Mahesh, Dharmendra and students participated in the competitions.