TDP resorting to murder politics: YSRCP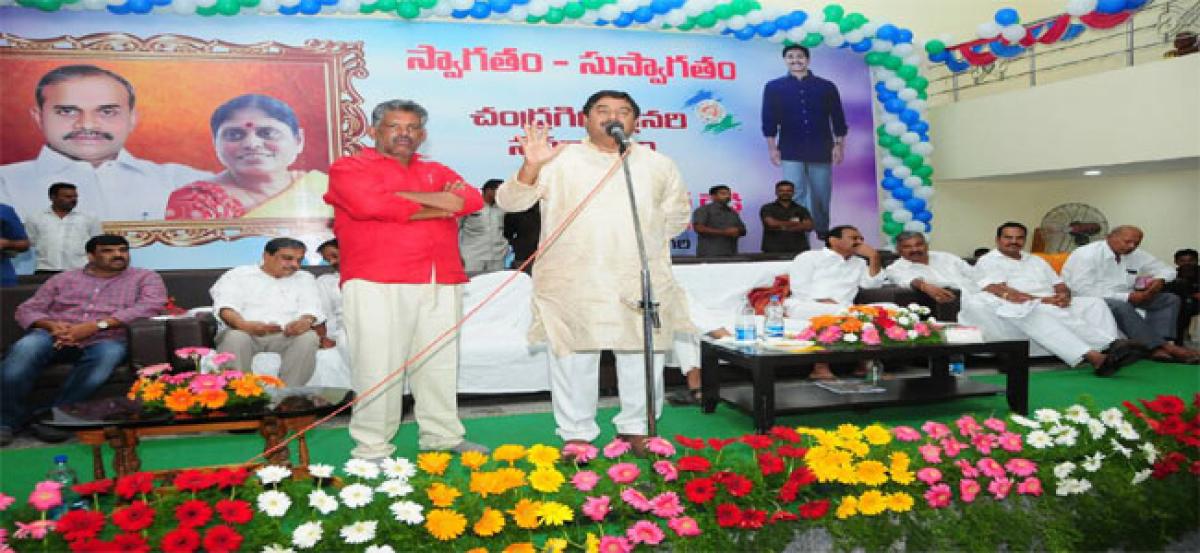 Highlights
The speakers at YSRCP constituency level plenary session at Chandragiri on Sunday lashed out the TDP government in the state for the rampant corruption, nepotism and maladministration which is hitting hard the people of Andhra Pradesh. They came down heavily on the sand mafia that involves the ruling party leaders. It is the sand mafia that took 12 lives in the Yerpedu mishap in April 2017, they
Tirupati: The speakers at YSRCP constituency level plenary session at Chandragiri on Sunday lashed out the TDP government in the state for the rampant corruption, nepotism and maladministration which is hitting hard the people of Andhra Pradesh. They came down heavily on the sand mafia that involves the ruling party leaders. It is the sand mafia that took 12 lives in the Yerpedu mishap in April 2017, they alleged.
Former Minister Dharmana Prasada Rao criticised the Chief Minister saying that the Central government has agreed to build Polavaram project. But for the sake of commissions in various works Chandrababu Naidu claimed that he will take up the execution of the project and making the contractors benefit from every aspect.
He said that while the CM had to wait for one year to get PM's appointment, YS Jagan got it soon after he asked which shows his credibility.Party senior leader Ummareddy Venkateswarlu criticised the TDP membership drive saying that they have included even the YSRCP cadre as TDP members. They just kept the voters list before them and included everyone in it which is a shame on their part.
MLA Peddireddy Ramachandra Reddy said the TDP government is resorting to murder politics and they have to pay a heavy price for it. The leaders who spoke on the occasion have said that the party will definitely come to the power in 2019 and Jagan will become the Chief Minister.
There was the difference of only five lakh votes between YSRCP and TDP in 2014 and by making it 10000 votes difference this time to defeat TDP. Party leaders Sajjala Ramakrishna Reddy, former minister K Parthasarathy, Challa Madhusudan Reddy, MLAs Chevireddy Bhaskar Reddy and Dr Sunil Kumar also spoke.