Underground drainage works at a snail's pace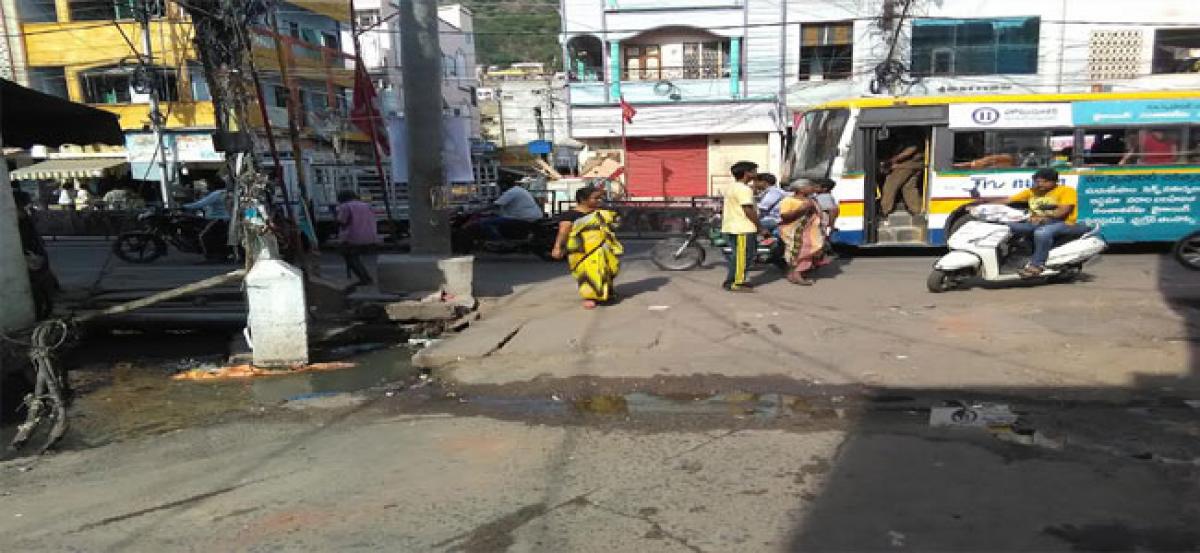 Highlights
Laying of underground drainage (UGD) lines in One Town failed to gain momentum as only 15,000 connections were given during the past four months as against the target of 68,000. Water-logged streets due to overflow of drains is a common sight in the Old City. Built during the British rule, huge drains at Tarapet and Wynchpet areas are infamous for carrying human excreta. Poor sanitation is the res
Vijayawada: Laying of underground drainage (UGD) lines in One Town failed to gain momentum as only 15,000 connections were given during the past four months as against the target of 68,000. Water-logged streets due to overflow of drains is a common sight in the Old City. Built during the British rule, huge drains at Tarapet and Wynchpet areas are infamous for carrying human excreta. Poor sanitation is the result of people connecting their toilet lines to drains at many areas.
Highlights:
Lack of awareness cited as main reason for delay in works

VMC states the fate of One Town changes for good after completion of UGD works
The same problem exists at Bhavanipuram, Urmila Nagar and parts of Vidyadharapuram. The problem turns gigantic when it drizzles in places like Anjaneya Vagu, Gollapalem Gattu and other areas as drain overflows and spill over on to the roads and streets. Areas like Cholera Hospital, Kabela, Kamakotinagar are no exception.
The Vijayawada Municipal Corporation started laying underground lines to prevent people suffering from faulty drain system and difficulty in emptying septic tanks in some other congested areas. For every UGD connection, the VMC has been charging Rs 2,500 for one toilet (in case of more than one toilet, Rs 1,250 is being charged for each additional toilet).
"Lack of awareness among people is one of the reasons for slow pace of UGD process. In our locality only a few people know about it," said A Prasad, a resident of Fish Market area.The VMC has four pumping stations for the UGD system. They are located at Gandhi Municipal High School, Crambay Road near HB Colony, Kabela and Karakatta in Bhavanipuram.
The purpose of these pumping stations is to carry away human excreta to the treatment plant located near Jakkampudi village. The treatment plant separates waste (used as manure) and releases chlorinated water into Budameru. The treatment follows AP Pollution Control Board norms, said an official of the VMC. On an average, five tonnes of waste is created from the treatment process, he explained and asserted that unhygienic conditions in Old City would change once the underground drainage target is completed.