Statue islands on roads pose threat to vehicles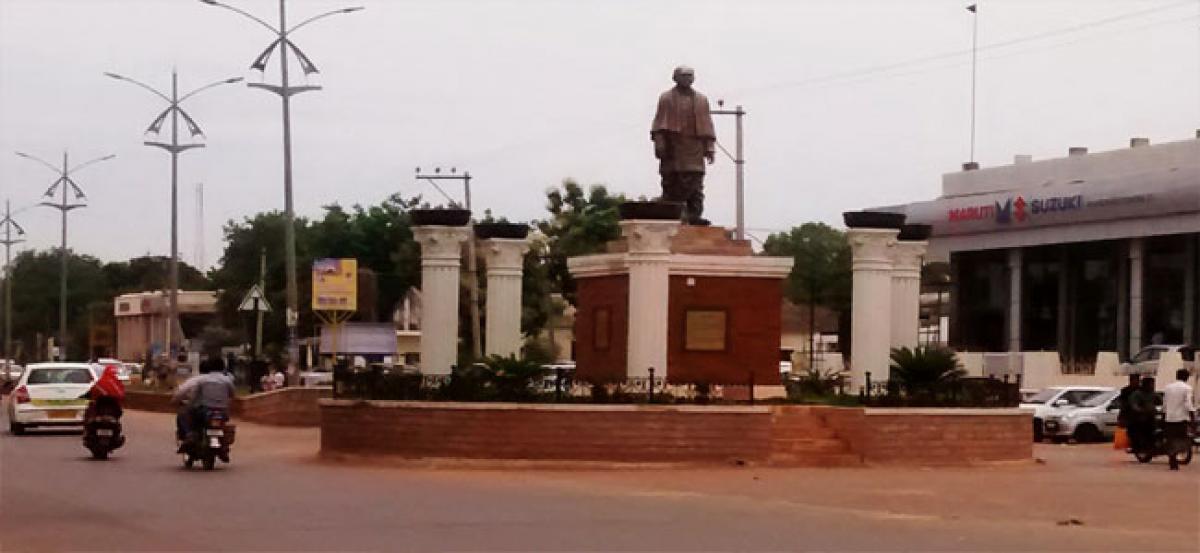 Highlights
A popular Telugu poet Joshua says emperors and leaders inhabit in rock-strewn statues whereas virtuous poets live in the hearts of people.
Nellore: A popular Telugu poet Joshua says emperors and leaders inhabit in rock-strewn statues whereas virtuous poets live in the hearts of people. Nellore city is such a place for statues of contemporary influential people, who ruled the state and the local leaders have showed their gratitude by constructing huge statues surrounded by jumbo traffic islands obstructing the movement of vehicles.
Highlights:
Civic body recently started trimming island of statues but still many are to be cleared

Municipal officials yet to implement the direction of the SC on demolition of statues
Thanks to the foresight of such leaders at least people can watch and remember the leader while passing through the road. Realising the difficulties of people, civic authorities finally started trimming down structures and gigantic traffic islands constructed for statues of freedom fighters and political leaders for free flow of traffic. Still, many statues pose burden for vehicle riders and commuters as they occupy huge space on the road
Almost every junction witnesses the statues of one leader or other as the local leaders tried to express their thankfulness to the departed leaders. Even though, the civic body reduced the size of very few traffic islands subsequent to public uproar last year, the others continue to trouble the commuters.
If a vehicle user moving at a speed of 40-50 km in city limits certainly has to be cautious about these traffic islands that pierced into the main road and the commuters may probably face a disaster if unaware of the structure. Former civic body chiefs have developed them in the guise of beautification of the city by constructing these huge traffic islands giving nightmarish experience for some years.
A statue on Muthukur Road, the statue of Potti Sriramulu at Atmakur bus stand, traffic islands near electricity office, Vedayapalem and Annamayya Circle junctions were posing threat to the commuters. Even though, there has been traffic advisory board in city, its recommendations were being discarded for a long-time due to party affiliations to the statues.
According to the directive of the Supreme Court, statues of leaders can be demolished if they are obstructing free flow of the traffic. But, this has not been followed sincerely till now. Now, the civic authorities started trimming down the structure giving scope for fast movement of traffic at many places.
A traffic island located at Electricity Office centre where statue of former Chief Minister Dr YS Rajasekhara Reddy has been reduced recently and the space is being used by local people for parking their vehicles. Civic body cropped the size of traffic islands at Madras bus stand and Gandhi Statue last year.
A huge statue with traffic island opposite to the Government Medical College is still exists. Still, many statues pose threat to the commuters and were giving difficulty to the traffic.
By P V Prasad