Government hospitals lack fire safety equipment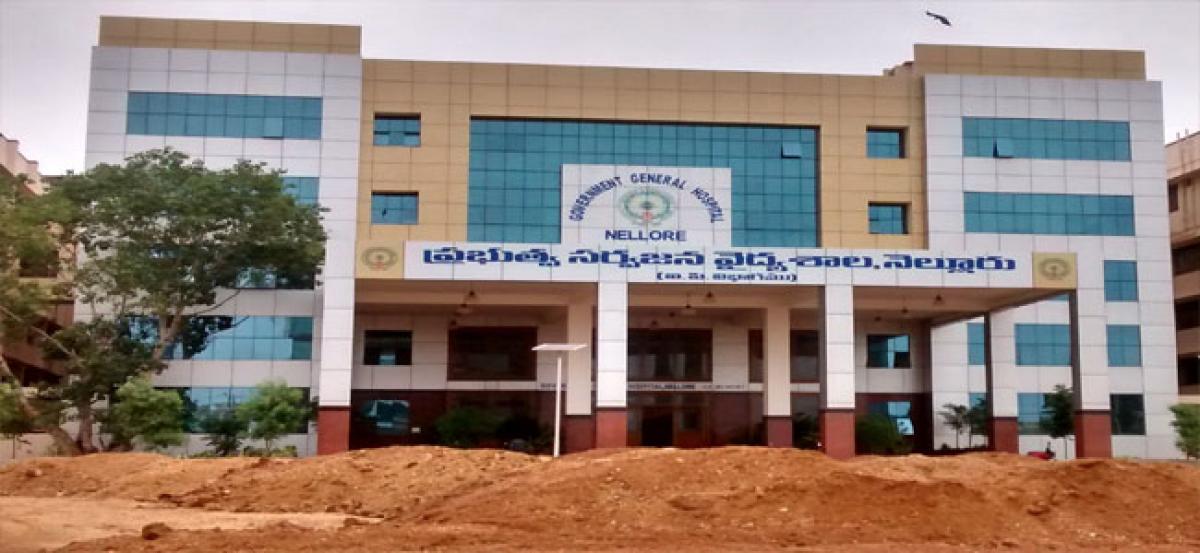 Highlights
Even as the state government exempted small educational institutions with single floor from obtaining fire permissions from the Fire services wing,...
Nellore: Even as the state government exempted small educational institutions with single floor from obtaining fire permissions from the Fire services wing, government-run general hospitals that deal with huge number of patients daily are not having such valid and crucial permissions.
Highlights:
Successive governments failed to get valid permission for arranging fire safety systems

Recently Gudur area hospital caught on fire in which medicines and material in storeroom gutted

70% private hospitals secured permission for setting up fire safety mechanism

Fire department is planning to conduct a special drive exclusively for govt hospitals
The new building of the Government General Hospital here with 540-bed capacity, is having no fire permission. Even though fire officials insist for permissions and arranging equipment for safety of the patients there have been no sincere efforts from the administration. In the district, about 80 to 90 per cent of government hospitals still do not have No-Objection Certificates (NOC) from the Fire Services department.
There are 3 area hospitals at Gudur, Kavali and Atmakur, 74 Primary Health Centres (PHCs) and 14 Community Health Centres (CHCs) in the district. Interestingly, these hospitals do not have permission to mitigate human and property losses during fire mishaps. The recent fire accident in Gudur Area Hospital exposed official laxity in arranging firefighting equipment besides failing to get permission from the Fire Services department.
Officials of the Fire department say arranging fire safety equipment is mandatory for both government and private hospitals as well. They are going to start special drive for awareness on fire safety besides serving notices on such errant institutions. Not only old building of the Government General Hospital but also the new Government General Hospital which is built with advanced equipment and facilities is also not having fire permission.
The new general hospital was constructed with more than Rs 100 crore for accommodating 540 in-patients at a time and seven modular anaesthetic and surgical paediatric wings in the operation theatre. Administrative Block consists of conference hall, superintendent's block, nursing superintendent's block and other blocks.
There are 150 general beds in the hospital. Intensive Care Unit with 150 beds divided equally for medical, surgical and paediatric cases where advanced multichannel monitors were arranged to keep an eye on health condition of each patient. The five-floor hospital building along with cellar equipped with seven lifts that will be used for in-patients and laboratories.
Old building will be used for out-patients and casualty wings apart from administration wing. According to official sources, only Atmakur area hospital is having fire safety equipment to prevent minor mishaps. Officials say they were having permissions for construction of the new general hospital and medical college too.
"We have fire permissions for both new general hospital building and the Medical College as they were constructed recently. So, there will be no problem for the patients," said Dr Ch Radhakrishna, Medical Superintendent of the General Hospital. But, the District Fire Officer R Gnana Sundaram maintained that no government hospital in the district is having fire permissions. "We are going to start a special drive shortly for safety of all government hospitals.
70 per cent private hospitals are having permissions. But, problem comes with government-run institutions. Private educational institutions having more than one floor and beyond specified area have to obtain permissions and the small schools also to have arrange safety equipment," the senior official added.
By P V Prasad

Subscribed Failed...
Subscribed Successfully...