Training to fight against atrocities on adolescents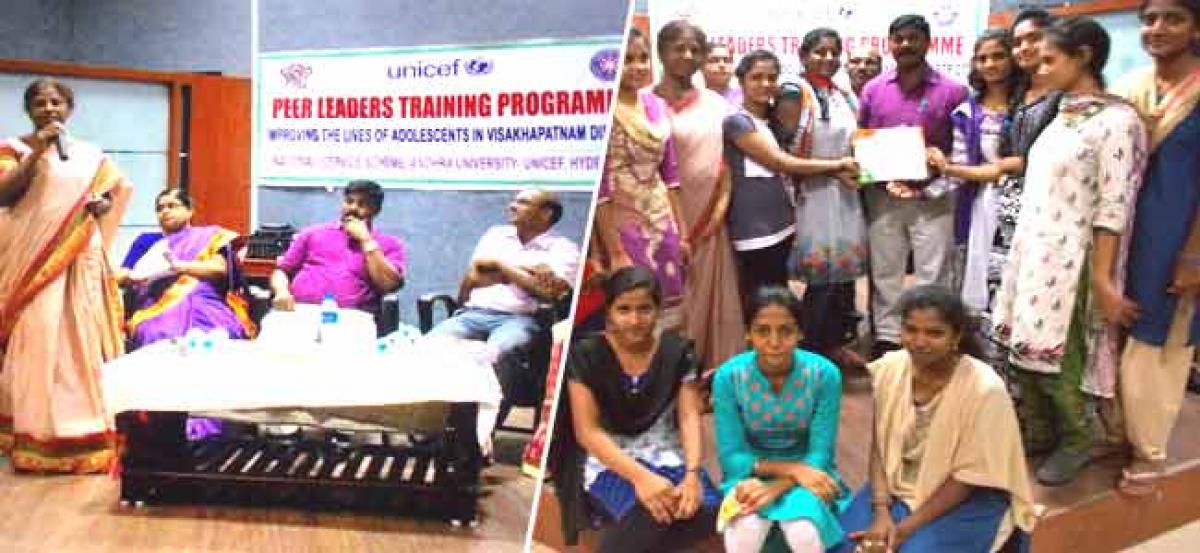 Highlights
A three-day peer leader training programme on 'Improving Lives of Adolescents' held jointly by UNICEF and NSS Cell of Andhra University at Jubilee Seminar Hall here on Tuesday. The programme saw as many as 200 students'
Visakhapatnam: A three-day peer leader training programme on 'Improving Lives of Adolescents' held jointly by UNICEF and NSS Cell of Andhra University at Jubilee Seminar Hall here on Tuesday. The programme saw as many as 200 students' participation from various colleges. A team of 12 students from St. Joseph's College, under the leadership of the NSS programme officer K Manikya Kumari participated in the sessions.
The focus of the programme was adolescent issues such as child marriages, child labour, child trafficking, child abuse, child rights and child protection. All the students were given training as how to take these issues into the community through activities of NSS. During the training programme, the students were given tasks like group discussions, skit play, extempore, poster making on different issues of adolescence.
Andhra University NSS Cell programme coordinator Prof NAD Paul, UNICEF coordinator Ramesh Babu, NSS district programme officer Bhagya Lakshmi and other resource persons explained the students about the issues on adolescence and how to fight against the atrocities on adolescent children. The programme concluded with songs, dances and distribution of certificates in the valedictory function.