House site pattas distributed in Rajamahendravaram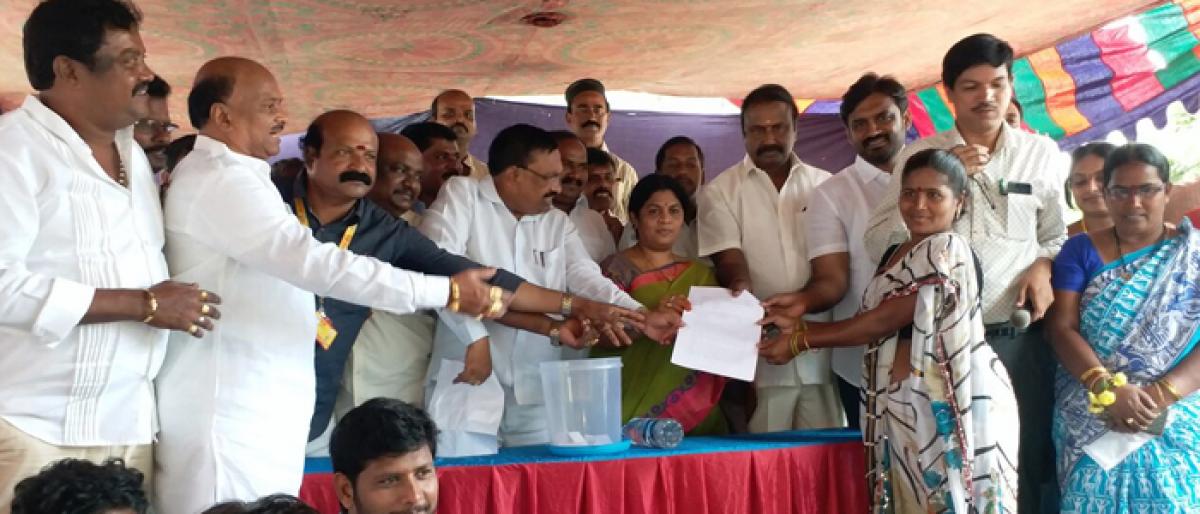 Highlights
Godavari Urban Development Authority GUDA chairman Ganni Krishna has said that Chief Minister Nara Chandrababu Naidu is thinking to provide house to each family in the state and putting his efforts in this regard
Rajamahendravaram: Godavari Urban Development Authority (GUDA) chairman Ganni Krishna has said that Chief Minister Nara Chandrababu Naidu is thinking to provide house to each family in the state and putting his efforts in this regard.
Distributing house site pattas to 28 beneficiaries in Simhachala Nagar along with MLC Adireddy Appa Rao and Mayor PRS Sai here on Friday,
he said all the 28 beneficiaries were residing in the government site from many years without any authorisation.
Now, as per the directions of Chief Minister Nara Chandrababu Naidu, pattas were being given to the poor who were residing in 100 yards of government sites from many years.
Pattas also be given in Gopala Nagar puntha also shortly and underlined the need to support Chandrababu Naidu who was striving for the wellbeing of the poor in the state.
MLC Adireddy Appa Rao said the long cherished desire of the beneficiaries came to reality because of Naidu and advised the beneficiaries to construct houses now in their own sites.
The government also extends a financial assistance of Rs 2.5 lakh for construction of houses. He asked them to avail the welfare schemes judiciously.
Mayor Pantham Rajani Sesha Sai said the government was putting its efforts to sanction houses to all in the state by giving financial assistance also.
Deputy mayor Vasireddy Rambabu, Adireddy Vasu and many others were present.