Students role vital in energy saving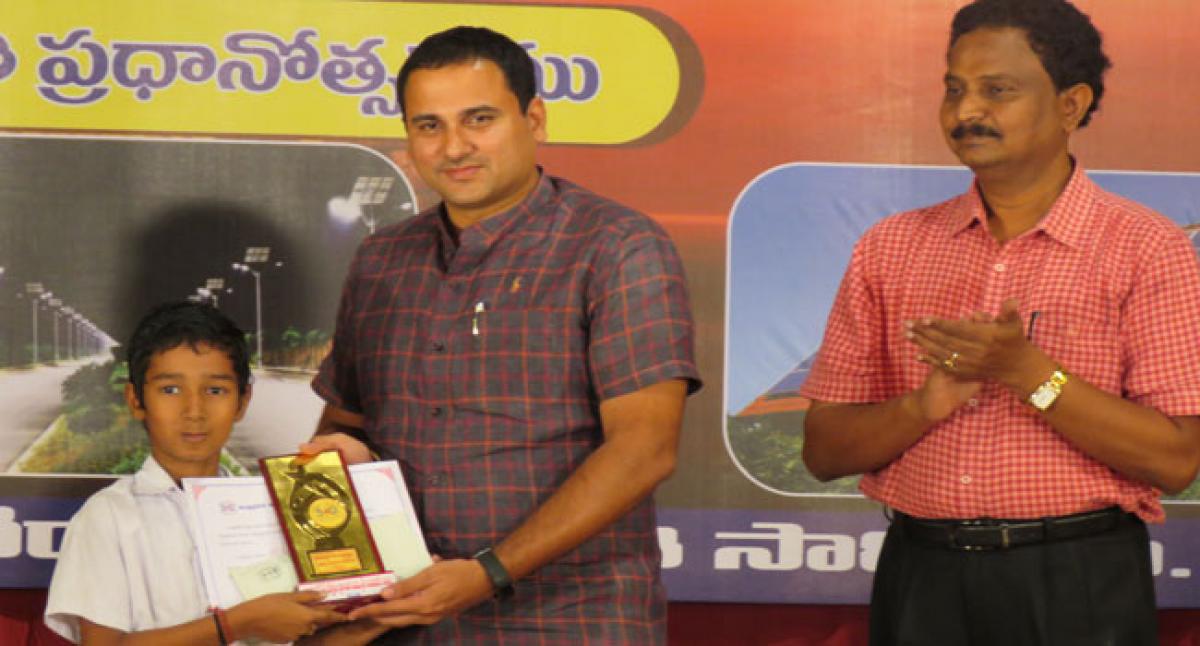 Highlights
As a chief guest, the civic chief gave a call to students to acquire more knowledge over the energy conservation He exhorted students to take up a massive campaign on energy conservation at their residential localities and among their family members and friends MCT is ready to cooperate with SPDCL officials to conserve the energy as part of smart city projects implementation
Tirupati: Role of students is crucial in energy conservation as they are the future builders of the society, said Municipal Corporation of Tirupati (MCT) Commissioner V Vijay Rama Raju. On Monday in Mahati Auditorium, Southern Power Distribution Corporation Limited (SPDCL) and State Energy Conservation Mission (SECM) have jointly organised the prize distribution ceremony to the students, who have won the prizes in essay writing, painting and debate competitions conducted by SPDCL earlier.
As a chief guest, the civic chief gave a call to students to acquire more knowledge over the energy conservation. He exhorted students to take up a massive campaign on energy conservation at their residential localities and among their family members and friends. "MCT is ready to cooperate with SPDCL officials to conserve the energy as part of smart city projects implementation.
Our Engineering Department is constructing rooftop solar panels to generate solar electricity," he added. In the meeting, addressing the students, SECM CEO A Chandrasekhara Reddy said that they are aiming at the aggressive promotion of energy efficiency movement across the state.
The SECM in coordination with the Energy Department, Skill Development Department and School Education Department has contemplated a massive programme of involving around 50 lakh students in a phased manner for creating extensive awareness on the significance of energy efficiency in every home in the state.
Later, reading the message of SPDCL Chairman and Managing Director (CMD) M M Nayak, who was unable to attend the meeting, SECM CEO has informed his speech content as it is to students. "The government has already taken initiative to involve 70 lakh self-help group women in energy conservation movement which was appreciated by the BEE and Union Ministry of Power," Nayak said.
On behalf of the SPDCL CMD, prizes and merit certificates are distributed to the winners of the competitions. SPDCL Chief General Manager Ayub Khan and other senior officials have participated in the event.