Prof Lakshmana Rao receives Jai Kisan award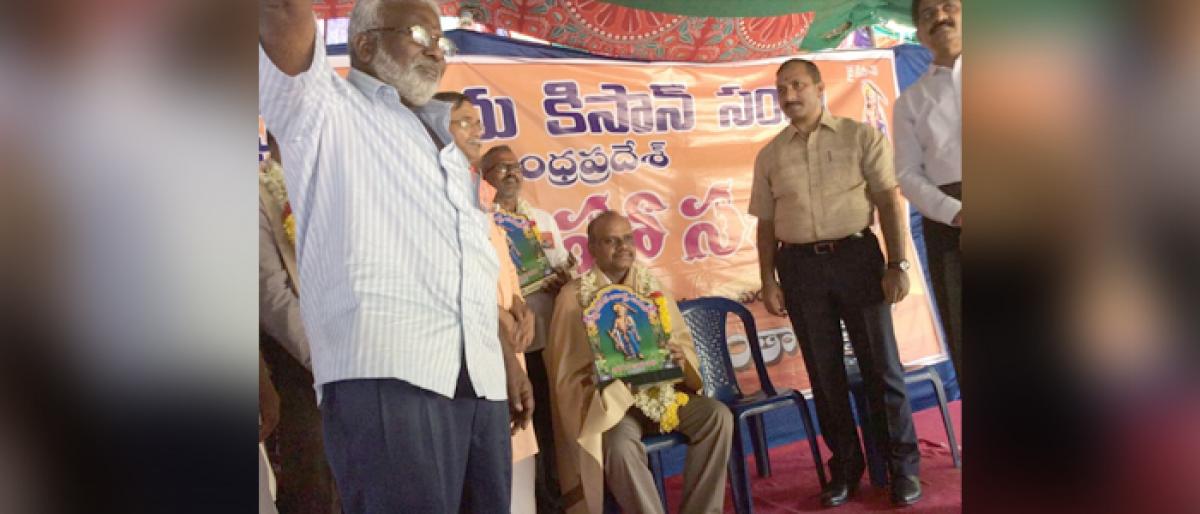 Highlights
The Bharateeya Kisan Sangh has honored Prof Muppa Lakshmana Rao, principal of Prakasam Engineering College, Kandukur with the prestigious Jai Kisan award for his contribution to the agriculture sector with innovations of simple farm mechanization tools
Kandukur: The Bharateeya Kisan Sangh has honored Prof Muppa Lakshmana Rao, principal of Prakasam Engineering College, Kandukur with the prestigious Jai Kisan award for his contribution to the agriculture sector with innovations of simple farm mechanization tools.
The Bharateeya Kisan Sangh honours the farmers as well as innovators and scientists who are contributing to the betterment of the agriculture sector.
The Sangh presented the Jai Kisan award to seven persons this year, including Prof Lakshmana Rao for his innovations in agriculture and farming sector in the country.
The professor was honored by the chief guest Chiranjiv Choudhary, industrialist M Murali Krishna, BKS general secretary Dinesh Kulkarni, BKS state president Rambabu at the formal ceremony held in Vijayawada and presented the award.
Lakshmana Rao said that the farming sector was one of the major areas that needs to be developed in the country.
He said that the award was an encouragement to him to do his part in protecting the farming from crisis.
The Prakasam Engineering College staff and management appreciated the principal for his award and announced their support for his research and innovations in future.