Naidu made Lokesh as Panchayat Raj minister, he is not even got elected as Panchayat president: Pawan Kalyan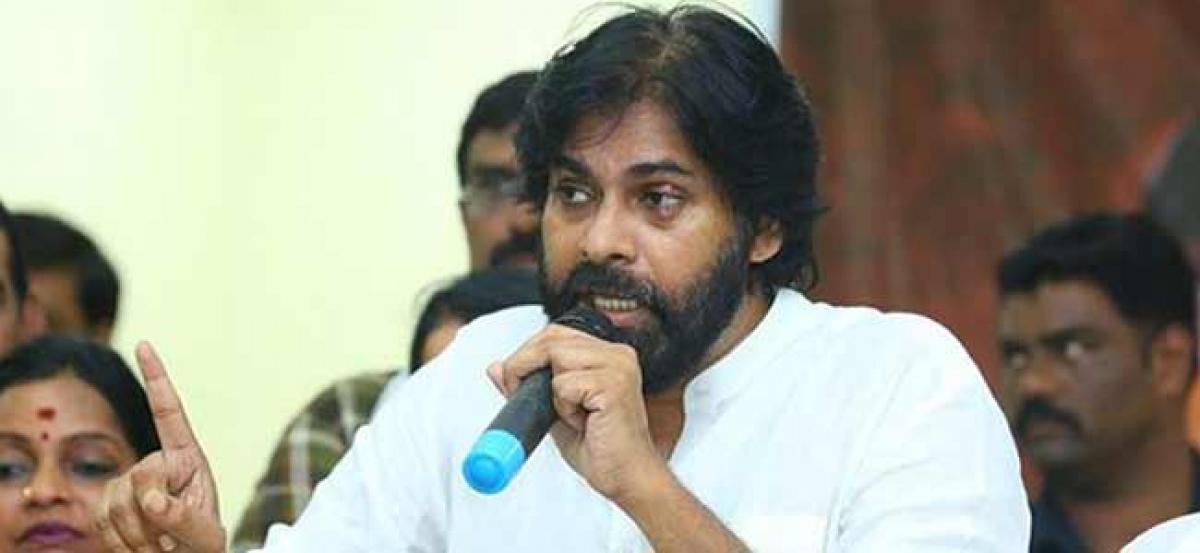 Highlights
Jana Sena president Pawan Kalyan launched furious attack on Chief Minister Nara Chandrababu Naidu and his son, Minister for Panchayat Raj Nara Lokesh, at a public meeting at Dowleswaram in East Godavari district
Amaravati: Jana Sena president Pawan Kalyan launched furious attack on Chief Minister Nara Chandrababu Naidu and his son, Minister for Panchayat Raj Nara Lokesh, at a public meeting at Dowleswaram in East Godavari district.
Jana Sena organized Kavathu to eliminate corruption in the government, announced Pawan Kalyan, in his speech on Monday after completing Kavathu along with huge party cadre from Pichukula Lanka to Dowleswaram on the Barrage on Godavari River.
Pawank Kalyan further targeted Chief Minister Nara Chandrababu Naidu and Prime Minister Narendra Modi. He blamed that the youth in the state joined in Kavathu as they were cheated by Chandrababu Naidu. He said that the chief Minister promised to provide employment to the youth, but failed in fulfilling his promises.
He said that the politics were completely spoiled in the state.
He said that he did not contest in the 2014 general elections, since he did not have experience to rule the state.
Jana Sena president said that he supported Chandrababu Naidu in view of he had experience.
I did not expect even a single MLA or MLC or MP, but extended unconditional support.
But, Chandrababu Nadiu did not even provide support to construct party office in Amaravati.
Chandrababu Naidu would give good coffee, but never support for the growth of Jana Sena. I did not start party for strengthening TDP. But, I extended unconditional support to TDP.
He did not ask even a single suggestion while taking crucial decisions like capital city, Special Category Status.
CM was demanding that why did I speak suddenly. But, I had been demanding to provide good governance, from the day one.
"Roads were not good. No proper social infrastructure", in the state.
Chandrababu Naidu claimed that he will provide 2 lakh employment through Vision 2020, but not proved.
Sand mining mafia was prevailing across the state. Lambasting on Janma Bhoomi Committees, he said that he could not understand whether they were Janma Bhoomi Committees or looting committees.
Reacting on "Malli Nuvve Ravali (again you have to come)" hoardings of Chandrababu Naidu, he said that
"What does Lokesh know? Even he did not contest as Panchayat president, but you made your son as Panchayat Raj minister", Pawan Kalyan.
"Will experience come through hereditary? No. Only DNA and properties will come by hereditary. But, Chandrababu Naidu gave Ministry to Lokesh as hereditary", Pawan Kalyan.
Interested in blogging for thehansindia.com? We will be happy to have you on board as a blogger.