Ruia Hospital gets generic medical shop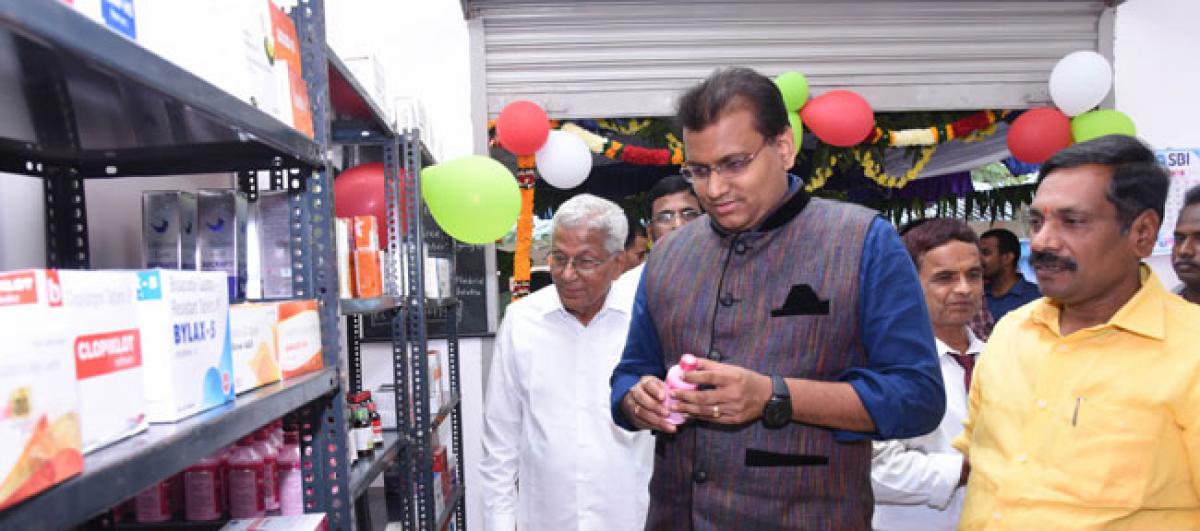 Highlights
At last, Ruia Hospital got a generic medical shop as District Collector PS Pradyumna inaugurated it on Friday Red Cross Society for which the Collector is the Chairman will run it It may be noted that the hospital which caters to the multitude of medical needs of the people in Rayalaseema region and Nellore district has no generic medical shop
Tirupati: At last, Ruia Hospital got a generic medical shop as District Collector PS Pradyumna inaugurated it on Friday. Red Cross Society for which the Collector is the Chairman will run it. It may be noted that the hospital which caters to the multitude of medical needs of the people in Rayalaseema region and Nellore district has no generic medical shop.
The hospital does not have the general medical shop for the last 10 months after the contract tenure of the shop was completed. No efforts were initiated since then to issue fresh tenders so far with which the patients have to run from pillar to post in the case of emergencies especially during nights in search of medical shops outside the hospital. As the hospital was not equipped with several listed drugs including lifesaving ones, the woes of patients were increasing day by day.
The hospital having more than 1,400 beds altogether and witnessing about 1,500 out patients daily availing medical services should have two generic medical shops as per government norms which indicates that any hospital having more than 500 beds should have two such shops.
Neither of the shops were functional at the hospital due to various reasons. One shop allotted to DWCRA women was closed following court stay orders. Without generic medical shops in the hospital premises, the patients' attendants were subjected to severe hardship. Accordingly, the Red Cross Society, Chittoor district branch came forward to run the shop.
Speaking on the occasion, the Collector said that the generic medical outlet will sell medicines at 70-80 per cent discounted rate and asked the poor people to make use of it. He also inaugurated STEMI cardiac care unit with six beds at an emergency block which will run with central government funds.
The in-charge Professor of Cardiology Dr T Munishwar Reddy and Dr Eswaraiah have said that if a patient with cardiac arrest can be brought to this unit within one hour, he can be saved under this system in which the patient will be administered Rs 40,000 worth injection free of cost. It will also prevent the need for stenting process.
Later, the Collector participated in HDS meetings of Ruia Hospital and Institute of Pregnant Women (IPW) and the College Development Society meeting of SV Medical College (SVMC) and gave approvals for several development works. Ruia Hospital Superintendent Dr B Sidda Naik, IPW Superintendent Dr V Bhavani, SVMC Principal Dr G Ravi Prabhu, TUDA Chairman G Narasimha Yadav, Red Cross Society member Dr V Sundara Naidu, HDS member China Babu, RMO Dr U Sri Hari and others participated.