Skyrocketing prices of crackers; bane for sellers, buyers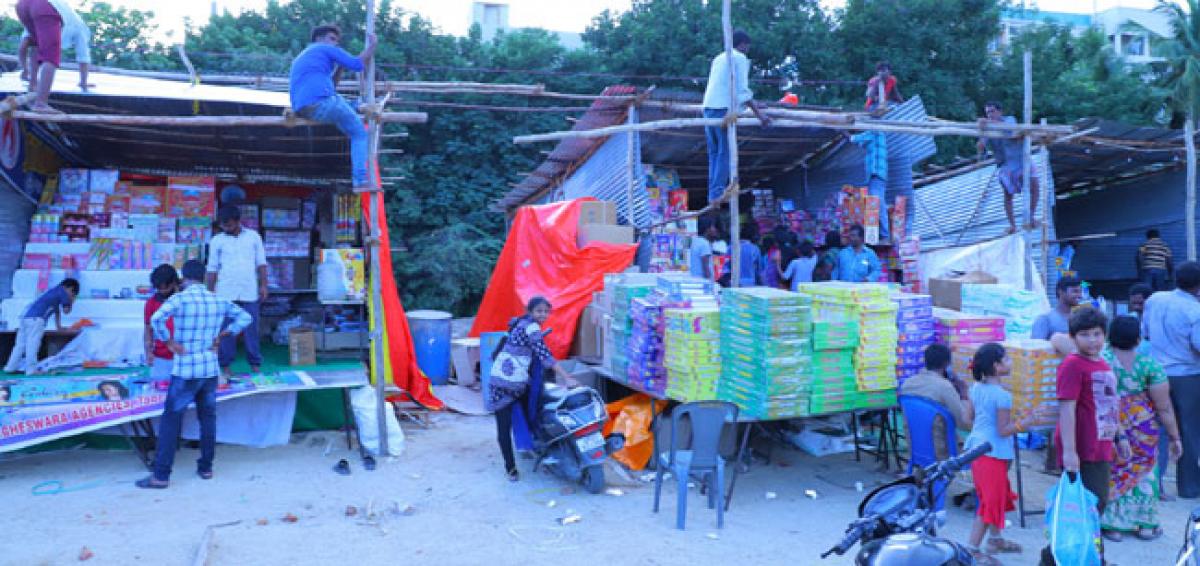 Highlights
A steep increase in the rates of firecrackers every year making people to move away from buying them in large quantities Predicting a dip in sales year after year, the sellers have decided to invest lesser amounts
Tirupati: A steep increase in the rates of firecrackers every year making people to move away from buying them in large quantities. Predicting a dip in sales year after year, the sellers have decided to invest lesser amounts.
Though number of shops have increased to 84 from 75 in 2017 in Tirupati, the retailers were expressing concern over the volume of sales. A retailer near Rytu Bazar observed that, there were several reasons for their concern. As per the rules they should be allowed to run the shops for 15 days, but the authorities were giving permissions for only 5-6 days. This year, the period was further reduced to three days.
"People start celebrating Diwali only from Tuesday, 'Naraka Chaturdasi'. But we were asked to open the shops only from Sunday which causes a big loss to us. We have invested lakhs of rupees on this but were not given ample time to sell them.
If it rains during these two days, the sales will be remarkably low,'' said a retailer. Another retailer G Rajasekhar has said that at Rytu Bazar area licences have to be given for 16-17 shops every year, but this year they have increased the number of shops to 25 which will also show a negative impact on sales.
Impact of GST on sale of crackers was also more as manufacturers were said to have reduced the MRP rates by 30 per cent as they need to pay tax on that. This forced the retailers to confine it to that price and sell below that mark. Before the introduction of GST, MRP used to be very high making the sellers to sell them at any price they want depending on the demand.
On the other hand, every seller should have GST licence and for those who do not have GST, licences were not renewed this year.The sellers are compelled to produce bills for every sale.
Another retailer observed that minimum 5-10 percent increase in prices was common every year and any further increase of prices will depend on the demand. The overhead costs, rents etc., will also eat into the profits. He observed that though they were allowed to run the shops for four days from Nov 4 to 7, they need to pay the rent for five days to TUDA.
From buyers' point of view, the increased awareness on 'Green Diwali' through social media, Supreme Court guidelines on bursting crackers and the sky rocketing of prices have forced them to buy minimum quantity.