Dry spell hits arrival of Siberian birds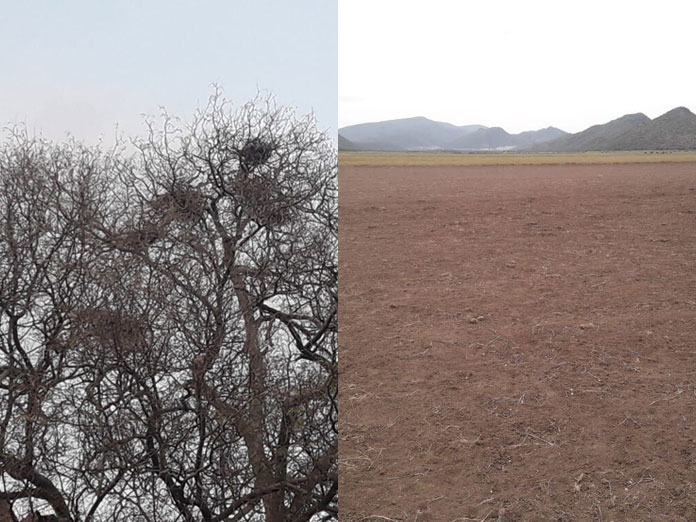 Highlights
The continuous drought in Prakasam district has not only affected the farmers but also put a No Shelter board to the winged guests
The Siberian pelicans travel in pairs to Gowthavaram village in Prakasam district every year and build nests on the high tamarind trees and lay eggs
This year almost after their migrating season started, the locals spot only a few birds at Gowthavaram
Yerragondapale/Giddalur: The continuous drought in Prakasam district has not only affected the farmers but also put a 'No Shelter' board to the winged guests.
The painted storks, black-necked storks and pelicans, which used to travel thousands of miles to spend winter in Pullala Cheruvu and Racherla mandals in Prakasam district, have changed their mind this year.
The elders in the villages say that they never witnessed this much less number of birds, who are mostly dependent on the Cumbum tank and other connecting tanks around, coming to their village in the recent times.
Thousands of pelicans come to India every December, build nests, rear the young ones and return to their place in July.
For hundreds of years, these Siberian pelican birds travel in pairs to Gowthavaram village in Prakasam district every year and build nests on the high tamarind trees and lay eggs.
They hunt fish in nearby Cumbum tank, second largest in Asia, in the nights and feed the babies. But this year almost after their migrating season started, the locals spot only a few birds at Gowthavaram.
Ch Rangaiah, a 72-year-old retired teacher in the village, said that he witnessed the migration of these birds for the last 60 years.
He said tamarind trees were a secured place for them to construct nests as they do not bear the weight of any enemy animal approaching them.
He said the villagers made it a custom to find the poachers and hunters who hurt the birds or damage their nests for eggs.
He said that the number of birds drops in situations when the tank didn't have enough water, but the number was very low in the last year and this year and expected that they might not return next year.
Similar condition prevailed in Chennampalli village of Pullacheruvu mandal. The villagers say the Errachara Kongalu (painted storks) and Narayana Pakshulu (black-necked Storks) were visiting them for over 400 years.
These storks from Nigeria construct nests on the tank bund and feed on fish and other aqua life. Tunga Balasubbaiah, a native of Chennampalli, said that a few numbers of birds reached the village in this migration period.
Several birds used to visit villages around Gowthavaram and Chennampalli and construct trees nearby the tanks.
The prevailing drought conditions forced the nearby tanks and lakes go dry and the trees wither to subsidise their food and safety.
The villagers who also benefitted by using the bird droppings as manure in their farms tried to protect them all these years.
Now, they are praying for a favorable weather condition in future for the prosperity of theirs and the bird families.