US stocks keep sliding as global markets struggle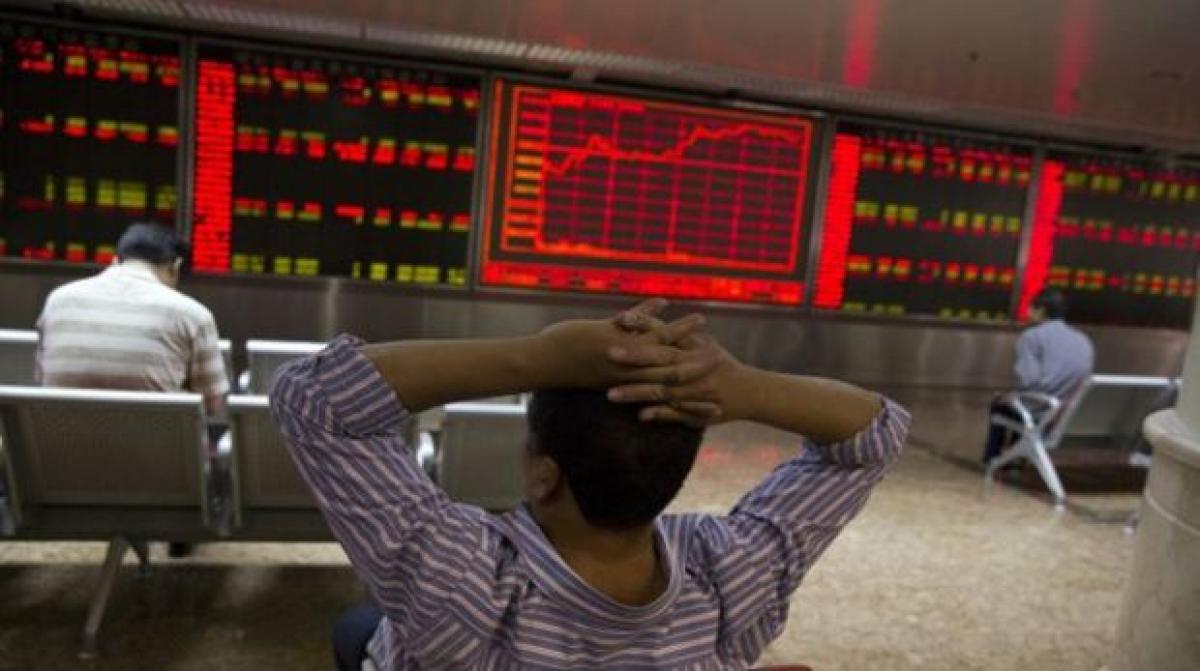 Highlights
US stocks are skidding Friday after declines in Europe and Asia. Financial stocks like Goldman Sachs and Citigroup took the biggest declines while trucking and oil drilling companies also stumbled.
US stocks are skidding Friday after declines in Europe and Asia. Financial stocks like Goldman Sachs and Citigroup took the biggest declines while trucking and oil drilling companies also stumbled.
KEEPING SCORE: The Dow Jones industrial average fell 254 points, or 1.5 per cent, to 17,242 as of 2:20 p.m. Eastern time. The Standard & Poor's 500 index lost 22 points, or 1.1 per cent, to 2,019. The Nasdaq composite shed 51 points, or 1 per cent, to 4,951.
Big losses Thursday and Friday have nearly wiped out all of the market's gains from a rally over the first three days of this week.
GLOBAL DIP: Stocks in Asia and Europe also fell. Japan's central bank announced some changes to its stimulus program, saying it will spend a bit more on exchange-traded funds for companies that increase hiring and investment.
Investors were disappointed the Bank of Japan didn't take further action, according to Ryan Larson, head of U.S. equity trading for RBC Capital Markets.
"They were looking for more, and when the market's disappointed, this is what you get," he said.
REVERSALS: Financial stocks had the biggest declines. Goldman Sachs dropped $4.61, or 2.15 per cent, to $178.01 and ETrade Financial lost 95 cents, or 3.2 per cent, to $28.99. Citigroup gave up $1.08, or 2 per cent, to $51.76.
The Federal Reserve emphasized that it will only raise interest rates gradually. Larson said that reality is sinking in for financial stocks, which can charge more money for lending as interest rates rise.
RERUNS: The global market went through a similar slump about two weeks ago, when the European Central Bank ramped up its stimulus efforts, but didn't do nearly as much as expected. Stocks rallied the following day after ECB President Mario Draghi said the bank is ready to expand its stimulus program further if needed.
With the Federal Reserve expected to keep raising U.S. interest rates next year and the European and Japanese central banks looking to stimulate their economies, investors will continue to watch what central banks say and do.
TECH BLINKS: Tech stocks also slumped. Apple, the world's most valuable company, fell $2.07, or 1.9 per cent, to $106.91. The stock has fallen about 10 per cent in December and has risen only three days this month.
TRUCKING: Shares of J.B. Hunt Transportation surrendered $2.64, or 3.6 per cent, to $69.94 and Ryder System lost $2.81, or 5 per cent, to $53.86. The Dow Jones transportation index fell 2 percent, worse than the decline in the broader market.CARMAX SKIDS: Used car dealership chain CarMax disclosed disappointing quarterly results, as its profit and sales both fell short of analyst projections. Its stock lost $4.33, or 7.6 per cent, to $52.82.
FEAST: Darden Restaurants, the owner of Olive Garden and other chains, climbed after the company raised its outlook for the year. Olive Garden sales rose and the company's profit was better than analysts were expecting. The stock added $3.98, or 6.8 per cent, to $62.37.
TECH EARNINGS: Stronger earnings lifted shares of smartphone maker BlackBerry and open-source software company RedHat. BlackBerry gained $1.10, or 14 per cent, to $8.90 and RedHat rose $3.34, or 4.2 per cent, to $82.20.
OIL PRICES: Benchmark U.S. crude fell 37 cent, or 1.1 percent, to $34.59 a barrel in New York. Oil is trading at its lowest level in almost seven years and has slumped over the last two days. Brent crude, a benchmark for international oils, slipped 18 cents to $36.88 a barrel in London. Natural gas, which sunk to 16-year lows Thursday, picked up 2 cents to $1.77 per 1,000 cubic feet.
DRILLERS DOWN: While oil prices stabilized, offshore oil drilling companies skidded. Transocean gave up 72 cents, or 5.5 per cent, to $12.28 while Ensco lost $1.07, or 7 percent, to $14.32 and Diamond Offshore Drilling dipped 76 cents, or 3.6 per cent, to $20.41.
METALS: Metals prices also reversed course and rose Friday. The price of gold edged up $15.40, or 1.5 pe rcent, to $1,065 per ounce and silver added 39.3 cents, or 2.9 per cent, to $14.096 an ounce. Copper rose 6.9 cents, or 3.4 per cent, to $2.113 a pound.
That helped mining stocks recover. Freeport-McMoRan rose 25 cents, or 4 per cent, to $6.37 and Alcoa rose 18 cents, or 2 per cent, to $9.33.
BONDS, CURRENCIES: US government bond prices rose. The yield on 10-year Treasury note fell to 2.20 per cent from 2.23 per cent. The euro rose to $1.0843 from $1.0805. The dollar dipped to 121.40 yen from 122.85 yen. The dollar had climbed Thursday and is expected to gain strength as the Fed raises interest rates while central banks in Europe and Japan reduce interest rates.