BFW sets up Dr Kalam Center for Innovation. Riding on the Make in India wave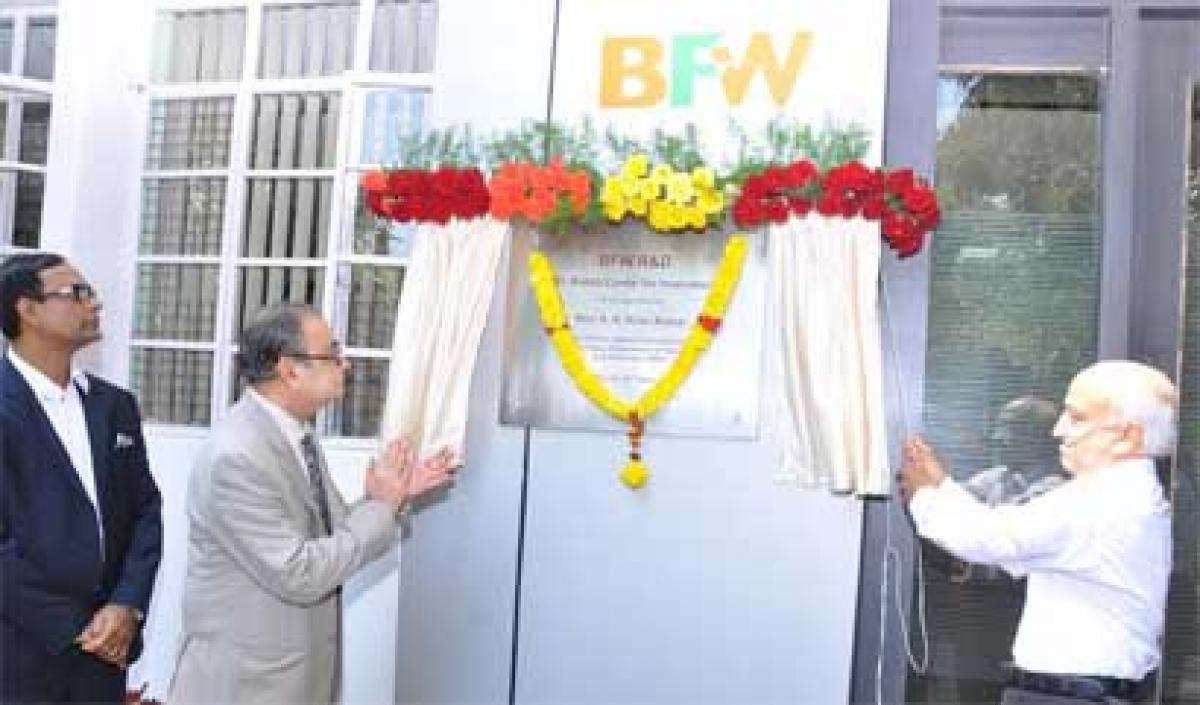 Highlights
Bharat Fritz Werner (BFW), a leading manufacturer of machine tools for more than fifty years, today inaugurated the Dr Kalam Center for Innovation at its premises in Bengaluru, India. This world class Research & Development centre, which has been set up with an investment of Rs 25 million, is a step forward towards increasing BFW's global footprint, while simultaneously retaining its position in I
Bharat Fritz Werner (BFW), a leading manufacturer of machine tools for more than fifty years, today inaugurated the Dr Kalam Center for Innovation at its premises in Bengaluru, India. This world class Research & Development centre, which has been set up with an investment of Rs 25 million, is a step forward towards increasing BFW's global footprint, while simultaneously retaining its position in India. BFW expects to end FY 2016 with an annual turnover of Rs 900 crores.
This Innovation Center named after Dr APJ Abdul Kalam is a tribute to the great scientist, researcher and innovator. This is BFW's first Innovation Center spread over 3000 sq feet.The Dr Kalam Center for Innovation was inaugurated by Shri A S Kiran Kumar,Chairman, Indian Space Research Organization. Scientists at this Center will work on core research to improve and develop energy efficient and alternative material machine tools. Also present on the occasion were Mr. G K Moinudeen, Director & Head, Karnataka State Office, Confederation of Indian Industry and Mr. J Sheik Saleem, grandnephews of Dr APJ Abdul Kalam.
Speaking at the function, Shri Kiran Kumar said, "I am happy to be a part of this Center's inauguration. Research and Development is vital for India's manufacturing capabilities. At a time when we are looking at Indian manufacturing moving to the next level, BFW's approach is laudable. This Center is a tribute to Late Dr APJ Abdul Kalam who was the guiding force for many scientific innovations. It is indeed a great initiative that BFW will collaborate with academic institutions for R&D."
Bharat Fritz Werner, acquired the Turning business of Chennai-based engineering firm Proteck Machinery 9 months ago. BFW is aggressively working towards import substitution and contributing towards the 'Make in India' mantra by introducing a plethora of machining options.
Shri AK Kothari, Chairman BFW said, "Our Group companies, stress a lot on R&D irrespective of the industry to which they cater. Innovation is at the centre stage of our corporate philosophy. At BFW, we believe our customers deserve innovative machine tools and, we are committed to making the right investments to reinforce customers' trust in us."
BFW has transitioned from being a traditional machine tool manufacturer to becoming a NextGen solutions provider. The company aspires to be one among global top 20 machine tool manufacturers by 2020.
Mr Ravi Raghavan, MD & CEO, BFW said "Spends on R&D in India are well below the global standard across industries. As a nation we need to pay greater attention to innovate and transform. At BFW, we recognise our responsibility as one of the leaders and being a pioneer in this industry, we are striving to drive progress by singularly focusing on R&D. Our ambition is to be a strong global player and research is the backbone of our plans. In the coming years, we will continue to invest in cutting edge technology."
BFW has a leading share of the domestic milling market. With a subsidiary in Germany, the company today caters to the global needs of customers for high end milling needs. With the acquisition of Proteck Machinery, BFW has made a commitment to be a leading player also in the Turning segment.
Mr T Subramaniam, Head of the Innovation Center, BFW said, "While BFW's design capability is acknowledged worldwide, we need to complement this with inputs from core research. This is what the Innovation Center will help us achieve. Investments in manufacturing R&D are critical for a country's progress and employment generation."