Ajax Fiori announces expansion of Bengaluru operations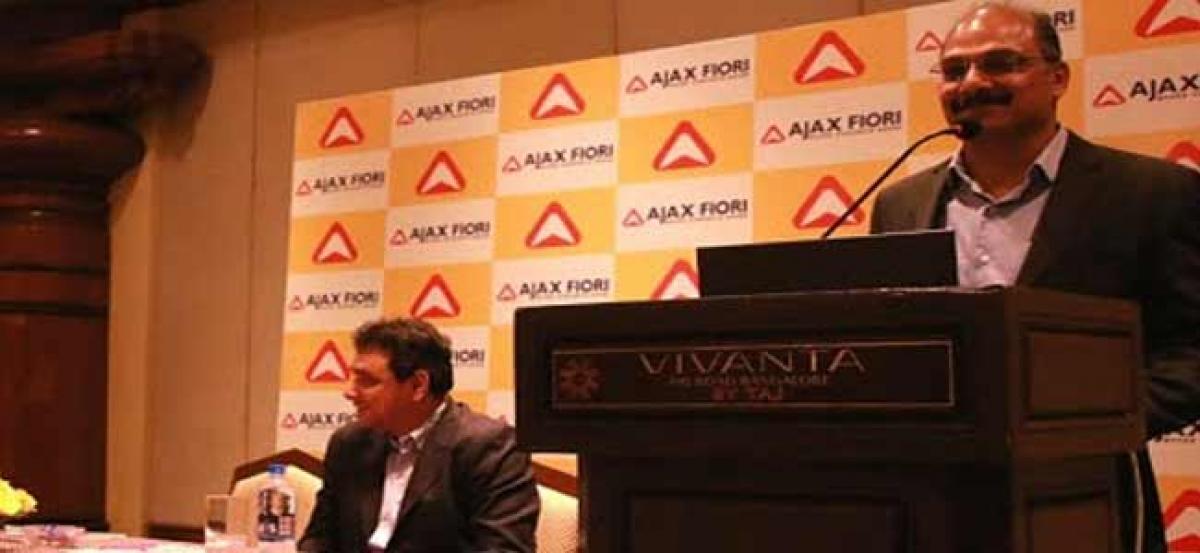 Highlights
   Leading concreting equipment solutions provider, Ajax Fiori on Monday reiterated its focus on India as a key manufacturing hub by announcing the expansion of its operations at Doddaballapur and Gowribidanur, near Bengaluru.
Bengaluru (Karnataka): Leading concreting equipment solutions provider, Ajax Fiori on Monday reiterated its focus on India as a key manufacturing hub by announcing the expansion of its operations at Doddaballapur and Gowribidanur, near Bengaluru.
The expansion will include a new world class manufacturing facility at Doddaballapur and expansion of its existing manufacturing facility at Gowribidanur. This will be the fourth plant in India and in line with its investment commitment and expansion plan in India.
The new manufacturing facility is setup in a 10 acre plot with a built-up area of 150,000 sq. ft. This plant is a dedicated facility for manufacturing Self-loading Concrete Mixers, for which Ajax Fiori is the Global Leader. It will serve the expanding domestic market, and also cater to export demands of countries in Middle East, South Asia and Africa.
This facility will also house the "Ajax Fiori School of Concrete" - an in-house Training Centre focused on training of operators, technicians, supervisors and engineers on Concreting techniques and optimum usage of machineries, thereby enhancing skill development.
The initial capacity of the plant is 6000 units per annum and will be scaled up to 9000 units per annum eventually. The construction of the plant is nearing completion and the facility will be fully operational by second quarter of 2018.
The existing manufacturing facility at Gowribidanur is also being expanded by another 150,000 sq. ft. area for manufacturing Transit Mixers of capacity from 6 cum to 10 cum.
The total area for this facility is 20 acres. This facility will now have the capacity to roll out 300 batching plants and 1000 transit mixers per annum, that can be rapidly scaled up to 1000 nos. and 3000 nos. respectively. The expansion work is already in progress and will be fully operational by end of 2018.
Ajax Fiori is among the top two manufacturer of concreting equipmentand had a consistent growth of 40 percent in the last few years. The Bangalore plant currently employees 375 people and with this new facility it is expected to generate additional employment of 250 in the future.
"Over the last 25 years, Ajax Fiori has brought innovative and cost effective solutions to the construction industry. We see exceptional opportunities as the economy strengthens in the near to midterm and infrastructure environment continues to evolve for construction equipment manufacturer like Ajax Fiori. Apart from our product range expansion, we have increased our distribution network and have over 80 touch points pan India," said Jagdish Bhat, CEO, AJAX Fiori.
"This new facility will help us add capacity and enhance our product portfolio to serve our customer needs in future. This new facility not only supports our commitment to India's economy but it also presents a significant opportunity for our strong growth in India. Having foreseen the product's suitability across various applications and the increased demand across geographies, Ajax Fiori has ambitions to create a significant presence beyond Indian shores in the coming years," he added.
In addition to the expansion, Ajax Fiori also announced plans to adopt a Government primary school close to their existing facility in Doddaballapur. In addition Ajax Fiori is also creating Infrastructure in 2 more schools in Doddaballapur with a total spend outlay of 5 Cr, INR in the next two years. This initiative aligns with Ajax Fiori's commitment towards being a responsible corporate, caring for the adjoining communities.
At Excon, Ajax Fiori will be launching its Series of wide range of Concreting Equipment. The Batching plants upto 120 Cu.m/hr capacity, concrete pumps upto 70 cu.m/hr would be unveiled at EXCON. Also Ajax Fiori would be entering the Transit Mixer market by launching its 6, 8 and 10 cubic meter Mixer at Excon 2017.
These mixers will be a PTO driven which will have a tremendous savings on the Operating cost to the customers. In the future, Ajax Fiori will be introducing higher capacity Concrete Pumps and Boom pumps with higher reach.
The Argo Series of Self Loading Concrete Mixer, Argo 2500 will also be launched at Excon. These machines will have the latest cutting edge technology of Load cell based weighing system. The advanced closed Bucket will ensure zero spillage of materials and thereby maintaining the quality of Concrete. The new look ergonomics ensures Operator comfort while operation.
A total of 15 existing and new products will be on display. Customer would witness an array of products on display thereby making Ajax Fiori a Full Liner in Concreting Equipment Industry.
Interested in blogging for thehansindia.com? We will be happy to have you on board as a blogger.