LDG introduces LANEX-DC(R) Immunotherapy in India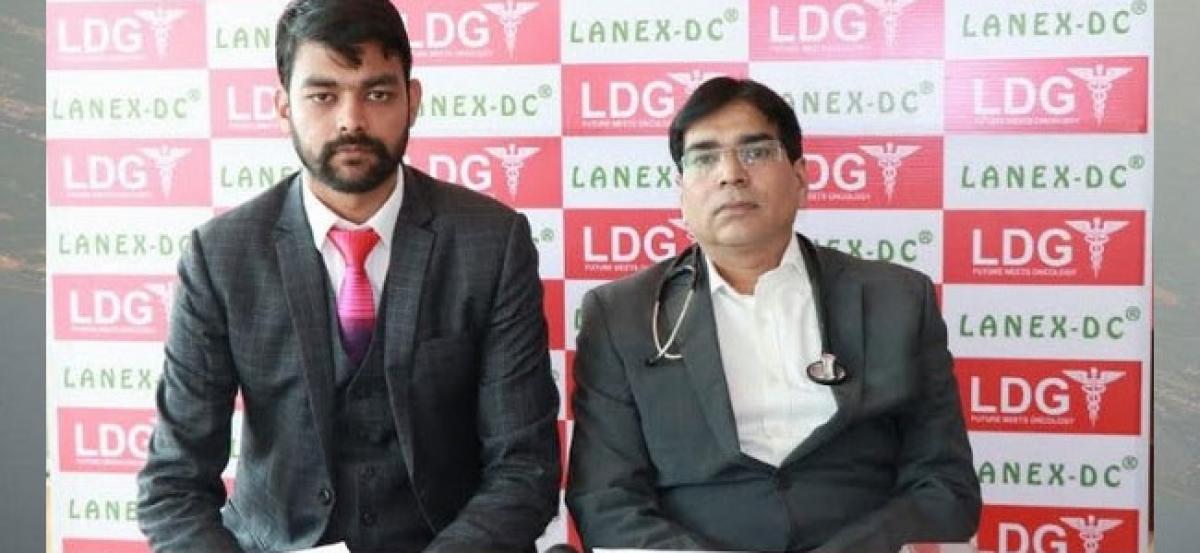 Highlights
One of the most recent advancements in cancer treatments is Immunotherapy with \"dendritic cells\".
New Delhi : One of the most recent advancements in cancer treatments is Immunotherapy with "dendritic cells". It has been proven beneficial in the case of skin, kidney, breast, pancreatic, colon, ovarian and prostate cancer. In India LDG India has initiated this medical facility in collaboration with the renowned Germany based laboratory "Dr. Gansuage".
"We are proud of the medical advancements such as Lanex DC treatment. The results are astounding and encouraging. It utilizes better technology, technique and scientists. Cancer patients who have used this therapy as compared to those who undergone the previous and other versions of Immunotherapy, there has been an increase in quality of life, helped in prolonging the life span, controlling and abolition of symptoms by facilitating them live a routine life. The cancer patients will now have access to this treatment with our cancer centre in Gurgaon. It is surely going to benefit as this treatment has largely proven its effectiveness worldwide," said Tapesh Singhal, Director, LDG India who has taken the baton forward to introduce this medical facility in India for the Indian cancer patients.
Countless research and treatment facilities worldwide are increasingly turning towards this dendritic cell therapy; in fact even modern nations like USA have well accepted and approved this treatment. Prostate and pancreatic cancers have even got FDA approval for using Immunotherapy for its treatment in the country.
At present Cancer is taking thousands of lives every year worldwide including India. About one hundred different types of cancer are known in humans, and all are different from one another such as the average age at which they appear, the growth rate and the tendency to metastasize.
As per the reports "In India, approximately 4.5 lakhs people are living with the disease, and there are more than 7 lakhs new cases being registered yearly and 5,56,400 deaths which are known to be cancer-related. Also it is estimated 71 percent of all cancer-related deaths are happening in the age group between 30 to 69 years."
In women cancer cases as well as mortality is uphill. The main reason can be attributed to low awareness and late detection. As per the data "Our country stands third after China and USA for the highest number of cancer cases among women which are growing per annum at 4.5-5 percent. Every eight minutes, one woman in India loses the life battle due to cervical cancer. Approximately 1.2 lakh women are suffering from cervical cancer in the country and India alone stands for approximately 25 percent of global deaths due to it."
Also a study on cervical cancer prepared by ASSOCHAM - National Institute of Cancer Prevention and Research (NICPR) revealed that 50 percent of breast cancer patients in NCR are between 25-50 years of age bracket. Breast cancer attributes to 27 percent of all cancers in females in India. Also there is an urgent need for creating awareness and early detection else the figure could worsen.
"In view of the growing need for expeditious screening, quality care and expert intervention, we consider it important to enable the cancer patients have ease of access to the world-class medical facilities and the most updated immunotherapy conveniences. Until now other similar medical facilities have been available and in use for a few years in the country which gives vaccination in six cycles. But we at LDG India do the same treatment in only 1 cycle," said Tapesh Singhal.
Dr. Hari Goyal, Medical Oncologist, Artemis Hospital said, "The new version of the treatment basically provides a special type of vaccination, required to treat any type of cancer (except-blood cancer), at any stage. It is a unique vaccination which is made from patient's blood and infused in the body which boost their immunity and helps in curing the disease naturally. A patient can take the vaccination while taking chemotherapy, it will averse the side effects and help a patient live a routine life. Doctors like me who have recommended this for the patients are now satisfied with the results and calling it encouraging. We also believe immunotherapy has the potential to cure some cancers too."
For most types of cancer there exist standard treatments which have been developed over decades. It is recommended to make use of these treatments and supplement them with immune therapy, since it is known that tumor cells damaged by chemotherapy or radiation are much easier to destroy with immune cells than undamaged tumor cells.
Treatment with dendritic cells is also often used when conventional therapies have not been successful. Furthermore, treatment with dendritic cells is a gentle treatment in contrast to other forms of treatment, such as chemotherapy or radiation. Also compared to other forms of treatment, side effects only occur very rarely after vaccination with dendritic cells.
Interested in blogging for thehansindia.com? We will be happy to have you on board as a blogger.