Biopod, the Smart Microhabitat, comes to India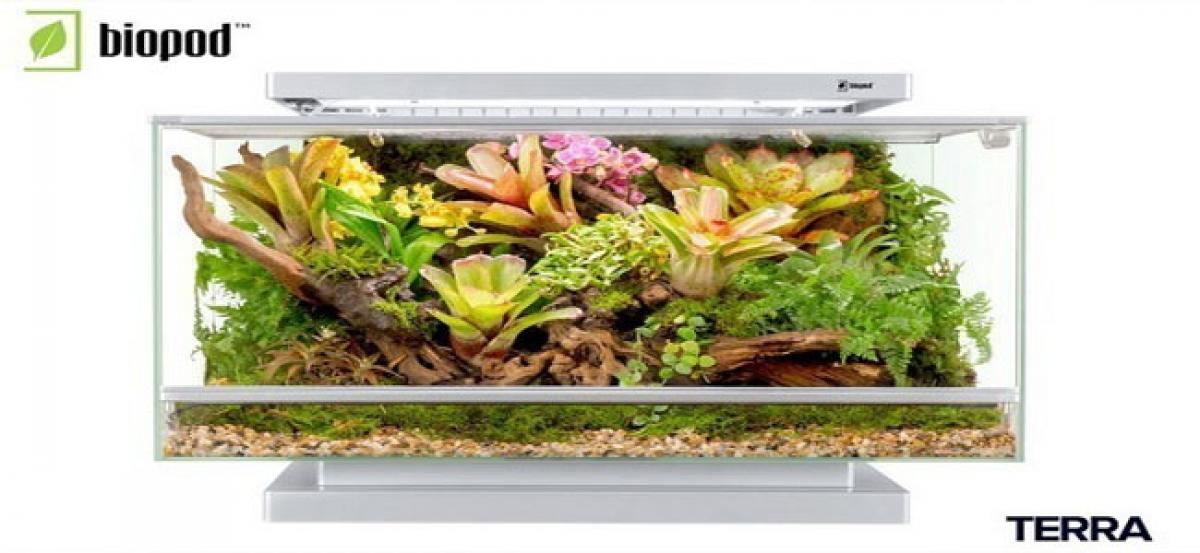 Highlights
Biopod today announced its entry into India by appointing Vision Aqua as their exclusive nationwide distributor and service partner.
New Delhi: Biopod today announced its entry into India by appointing Vision Aqua as their exclusive nationwide distributor and service partner.
Biopod Systems Inc. is a Canada based company that has come up with a first of a kind Smart Microhabitat, a habitat that allows you to grow an indoor organic herb garden, a vegetable garden, an aquaponic chamber (that grows food with fish and fish waste) or house your choice of ornamental fish amphibians/ aquatic species - totally controlled by an App on your smart phone.
Company founder Jared Wolfe initially conceived Biopod to be a safe haven for endangered rain forest species, namely frogs, as its habitat mimics these particular conditions. He received his degree in Biology from the University of Calgary and has been studying endangered frogs and their habitats for twenty years now. Jared says "Biopod is a way to engage people from all walks of life for a common purpose - to collectively make a positive change in the world by simply enjoying what nature has to offer."
Biopod mimics a natural environment by employing Aeroponics, which perfectly balances oxygen and carbon dioxide just as natural habitats are able to do. It is a sleek development in eco-tech. Biopod self regulates the habitat, lighting, temperature, humidity control, and oxygenation for whatever you decide to grow in it making it possible for anyone to get green thumbs.
All you need to do is seed the plants and tell the App what you have planted. It will control the Biopod environment best suited for the plants. The App has two modes, an automatic mode perfect for beginners/ less experienced and a custom mode for the more evolved and experienced user.
Biopod and Vision Aqua have aggressive plans for the Indian market. They are targeting opening of 200 BiopodUni Stores across the country by 2020, the markets in priority being Mumbai, Delhi, Gurgaon, Bangalore, Kolkata, Raipur, Hyderabad in year 1, Guwahati, Bhubaneswar, Siliguri, Lucknow, Ahmedabad, Pune, Chennai, Chandigarh in year 2 and rest of the country in year 3. Positive on the off take of the product and promise it holds they anticipate a sell through in excess of 10,000 units a year.
Biopod enters the market with 5 models all tailored for different users and interests:
•Eden (47.37cms L x 33.93cms W x 35.5cms H), is best for Kitchens, Offices/Workspace (Decor), mini organic veggie/herb garden
•Terra (62.6cms L x 38.1cms W x 35.56cms H), is best for veggie/fruit garden, decorative plants/flowers, desert scapes and housing terrestrial pets
•Aqua (62.6cms Lx 38.1cms W x 53.34cms H), is great for planting water hungry plants in addition to organic herbs and other plants. This is recommended as flower/veggie/fruit garden, housing terrestrial and semi aquatic pets
•Aqua II (47.37cms L x 33.93cms W x 71.12cms H), this is best for growing an organic veggie/fruit garden with taller growing plants and housing terrestrial, aquatic & semi-aquatic pets
•Grand (124.56cms L x 38.1cms W x 71.12cms H), is a great option for housing a rich organic veggie/fruit garden, terrarium/vivarium enthusiasts, and aquatic life enthusiasts
Price for Biopod models ranges from Rs.36900 to Rs.86900. Biopod at launch will be exclusively available online at Paytm Mall.
"We are very excited to bring Biopod to the Indian market. We believe Biopod will drastically change the way Indian families will consume organic food, in addition to bringing a dash of flowers and greenery into the house in our ever-shrinking green space," said Samarth Mehta, COO, Vision Aqua.
Interested in blogging for thehansindia.com? We will be happy to have you on board as a blogger.