Swedish Wood, Furniture and Fittings Skill Council sign MoU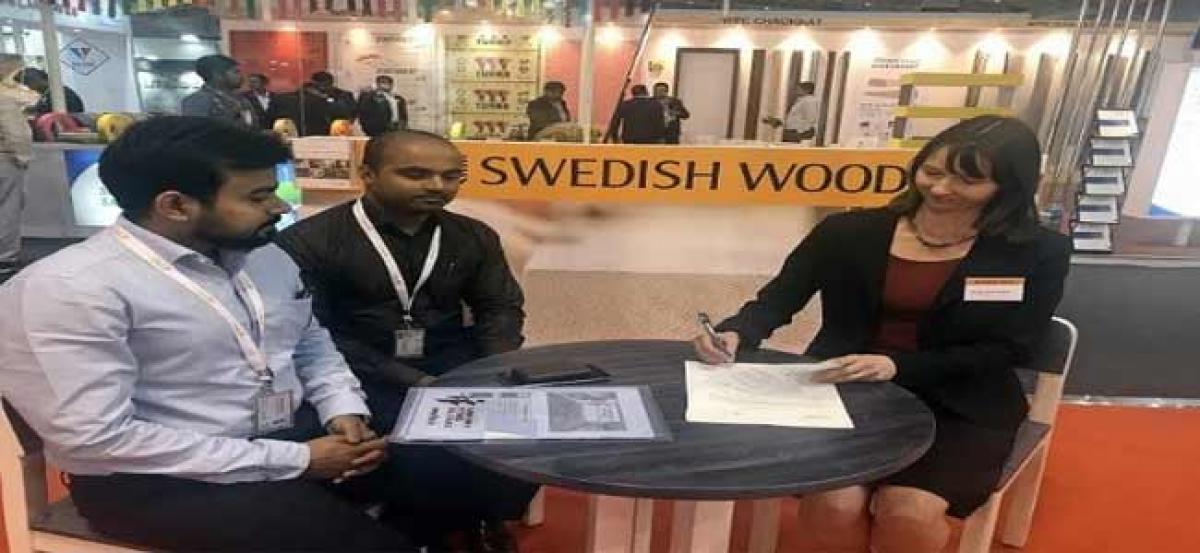 Highlights
Swedish Wood signed a Memorandum of Understanding (MoU) with the Furniture and Fittings Skill Council (FFSC), keeping in mind the shortage of skilled manpower in the Indian wood
Bengaluru (Karnataka) : Swedish Wood signed a Memorandum of Understanding (MoU) with the Furniture and Fittings Skill Council (FFSC), keeping in mind the shortage of skilled manpower in the Indian wood, furniture and fittings sector and to facilitate creation and exchange of knowledge between the signing parties for skill development.
The Deputy Trade Commissioner of Sweden to India -Magnus Andersson and Charlotte Dedye Apelgren, Director Interior and Design at Swedish Wood, were present during the signing of the MoU, which was signed at India Wood, 10th International Trade Fair for Furniture Production Technologies, Woodworking Machinery, Tools, Fittings, Accessories, Raw Materials and Products.
"The MoU signed reflects the strong relations between the signing parties. Herein after the relationship will only grow stronger and each party will stay committed to deliver the best to the India Market. With this MoU, we can look at skilled manpower and better knowledge exchange for our India markets," said Magnus Andersson.
"India is a rather new market for Swedish sawn timber, but the Swedish sawmill industry experiences an increased interest for sawn timber from Sweden from the Indian wood processing industry. We also see an increased demand in the world for natural and renewable materials like Swedish timber. All Swedish timber comes from sustainably managed forests, where every harvested tree is replaced by several new planted seedlings. This MoU with the FFSC will help us better serve the Indian markets and supply the finest quality of wood," added Charlotte Dedye Apelgren.
The Swedish sawmill industry, gathered under the name Swedish Wood, is participating in the India Wood fair in Bengaluru and the conference Timber Forum organised by the fair. At the event, Swedish Wood will highlight the benefits of Swedish timber and its application in modern design and architecture, including the benefits of using Swedish wood as an innovative material to support the Indian wood processing industry.
In India, the Swedish sawmill industry sees a potential to support the Indian furniture and joinery industry with high quality Swedish pine.
The total Swedish production of sawn and planed timber is 18 million cubic meters, whereof 13 million cubic meters are exported, making Sweden the third largest exporter in the world, by volume, of sawn and planed timber. Sweden exports sawn timber mainly to Europe, North Africa, the Middle East and Asia.