India@75 discussed at Hero's 12th Mindmine Summit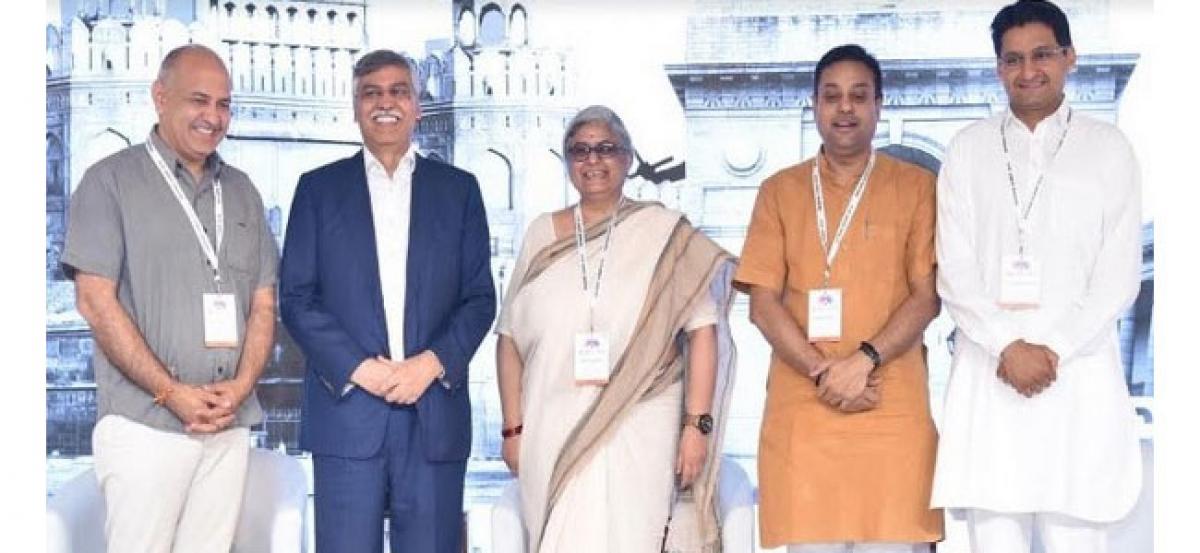 Highlights
Mindmine Summit, one of India\'s most influential ideas exchange platforms organised by the Mindmine Institute, an independent think tank set up by Hero Enterprise concluded its 12th edition in the national capital today.
New Delhi : Mindmine Summit, one of India's most influential ideas exchange platforms organised by the Mindmine Institute, an independent think tank set up by Hero Enterprise concluded its 12th edition in the national capital today.
Senior ministers in the government, industry leaders, influencers and opinion makers from across fields came together to exchange ideas and concepts in the iconic 2-day summit on theme of "India @75: Is this the New India?" The summit was inaugurated by Ravi Shankar Prasad, Minister of Law and Justice and Electronics and Information Technology, and the valedictory session was given by Piyush Goyal, Minister of Railways and Coal.
"The job of the government is to empower people who make things happen. The issue of climate justice, solar alliance is India's contribution and now G-20 countries are speaking the language of India. Digital governance, digital delivery of services, digital empowerment and digital monetary are the tenets of Digital India and India has the potential to become a trillion-dollar digital economy in the next 5 to 7 years. India is in the process of becoming centre for data analytics and new technologies like Artificial Intelligence. We are also keen to make India - a hub of International arbitration. This also involves creating a single repository of all old cases from beyond 10 years so that we can speed up the system of justice. When you create a process of enablement India changes," said Prasad.
"Mindmine Summit is vibrant and active and is one of the few robust and indigenous think tank in the country. Mindmine is maturing into worldwide think tank from which the government can benefit in forming various policies across different sectors. The pace of growth in which Indian can transform itself is immense. Over the last four years the Government has focused its energies for a sustainable framework which will prepare India for an honest, transparent future," said Goyal.
Some key observations made by eminent Ministers and distinguished speakers include-
Delhi's Deputy Chief Minister Manish Sisodia said, "What does common man want from government? A sense of security, jobs, education, basic amenities like water and electricity at an affordable cost. But what we are doing in education today is only reaching 5 percent of the target audience, therefore we need to reinvent the system to bring quality education to the masses therefore we have allocated 25 percent of our budget towards education every year."
BJP spokesman Sambit Patra said, "The beauty of democracy is that we have the means and base to bring about a change. Politicians should be gladiatorial catalysts to bring about a quantum change in the society. Not just incremental changes, but a quantum jump. Before 2014 there were only 59-gram panchayats but now there's been a quantum jump to over 2 lakhs. This is the gladiatorial catalytic way India's politicians should function, thinking about the crores of people who need this change."
Lok Sabha MP Deepender Singh Hooda said, "We need to put forward our people and let the people decide. In order to achieve social and communal harmony, politics should be competitive and positive in nature rather than the whole goal being to indulge in negative politics. Institutional stability and harmony are important factors of the future. I feel politics should drive more towards catalytic role rather than a gladiator role."
Sunil Kant Munjal, Chairman of Hero Enterprise, said, "India is a country where all opinions are made but, it is a part of our democracy. Every Indian has an opinion. Often many have more than one opinion. No Indian is shy of sharing his or her opinion. This is what makes us an absolutely thriving, dynamic, noisy democracy. We are a continent in every aspect of the world, size, diversity, culture, languages, cuisines even the clothes we wear, the way people look across India. I feel technology will play an important role in spearheading Indian's next phase of development. As it has become impossible to create jobs for everyone, start-ups have become important hence the use of technology becomes important in every Industry. Over a period of 11-12 years Mindmine has become a unique platform where people including politicians are able to express their views in a relaxed manner. It is India's largest independent media platform."
Minister of State (IC) for Housing and Urban Affairs Hardeep Singh Puri, elaborated, "By 2030 we have to build 700-900 million space every year. This has to be facilitated by the use of green technology. We need to ensure good governance and good politics go hand in hand."
Information and Broadcasting Minister Smriti Z Irani said, "Last year, the handicrafts did export business worth 32,000 crores. When people talk about craft, artisans, handicrafts the image people have is that artisans are poor and barely able to make ends meet, whereas they don't see the business potential of that particular craft. Every year between the centre and the state over 1000 crores are spent in order to support artisans across various categories, yet they face challenges be it economic or social."
"Therefore, the question arises, if the government is spending crores of rupees in order to support these crafts via artisan's cooperatives, NGOs etc. the artisans are still facing challenges. Why are these gains not reaching these communities? We would like the artisans should get the money directly and nor via any organisation or any agency. We also need to inculcate a sense of appreciation and awareness of crafts amongst our youngsters to create the new consumer of today," she added.
Jayant Sinha, Minister of State for Civil Aviation, said, "JAM (Jan Dhan Aadhar and Mobile) enables the government to directly transfer benefits into people bank accounts seamlessly without any leakage. This opens up consumption in a very big way for the masses. JAM as a social security platform is intended for below poverty line families, therefore almost a third of India's population which is around 400 million people are impacted. If the base of the pyramid has the requisite safety network and support, everybody in the pyramid does well."
"Consumption as a whole is going to get a massive boost by the safety net that we are creating with a social security platform. We have moved from state capitalism to true entrepreneurial capitalism. The driving sectors of the current economy are renewables, e-Commerce, aviation, logistics while earlier in 2008-09 it was power, steel and cement Forget farm to factory, elements, structural reforms are leading from farm to future," he added.
In a free willing conversation in the session "From Gladiators to Catalysts: Can our politicians reinvent themselves?" the panellists expressed their views -
Sisodia said "Reservation is a form of support to the society to correct the wrongs that had taken place earlier. Ram Rajya is a great concept and it does not mean making the Ram Mandir but by bringing the science of religion and Ram Rajya into action, inculcating the democratic and human values of Ram Rajya into our political system and society. The country will progress the day the scientific wisdom behind Ram Rajya is implemented."
Patra said "As far as caste system is concerned, the mindset is still the same and will take time to change. It will take hundreds of years to wipe out what has been happening for over lakhs of years. BJP believes in secularism. Earlier, under the previous government in the run for secularism, the Hindu community had become apologetic. We stand by the construction of Ram Mandir legitimately and constitutionally and not through bloodshed."
Hooda said "As a society we are one and we need to support each other when in need. Haryana was the first state to have a 10 percent reservation for the people who come in BPL category across all castes. There needs to be a sense of positive competition among political parties. We need to let the people decide. So, a slow and gradual positive change will take place as far as caste based reservation is concerned. With social, political and communal harmony combined with institutional, judicial and legislative stability playing important roles."
The 13th edition of BML Munjal Awards for Excellence in Business through Learning and Development were conferred at the summit. The winners across categories for the 2018 edition of the BML Munjal Awards include Private Sector (Services) - DCM Shriram Limited, Public Sector (Services) - Power Grid Corporation of India Limited, Public Sector (Manufacturing) - Mazagon Dock Shipbuilders Limited, Private Services- Spicejet, Sustained Excellence - Indian Hotels Company, Emerging Star- 1 Mg Technologies Private. The Runners-up across categories includes Ashok Leyland Limited, Mangalore Refinery and Petrochemicals Limited, Tech Mahindra Limited, Idea Cellular Limited, RITES Limited, LogiNext Solutions, NTPC Limited.
Other eminent speakers who addressed the two-day Summit include Yamini Aiyar, President and Chief Executive, Centre of Policy Research, Amit Oberoi, Executive Director Colliers India, Sunita Narain, Director General, Centre for Science and Environment, Dr. Isher Judge Ahluwalia, Chairperson, ICRIER, Vinayak Chatterjee, Co-founder and Chairman, Feedback Infra, Abheek Barua, Chief Chief Economist and Executive Vice President, Nilesh Shah, Managing Director, Kotak Mahindra AMC, Renuka Ramnath, Founder, MD and CEO, Multiples Alternate Asset Management, Bharat Shah, Executive Director, Ask Group, Saurabh Srivastava Co-founder, Indian Angel Network, Ritesh Agarwal, Founder and CEO, OYO Rooms, Shaili Chopra, Founder, SheThePeople, Arun Kapur, Director, Vasant Valley, Harsh Agrawal, Founder, ShoutMeLoud, Vikram Mehta, Executive Chairman, Brookings India, Janmejaya Sinha, Chairman, Boston Consulting Group Asia Pacific, Tasneem Z Mehta, Managing Trustee and Director, Dr BhauDaji Lad Mumbai City Museum among many others.
On the side-lines of the Summit, a KPMG report 'India Soars Higher' was launched by Ravi Shankar Prasad Other prominent dignitaries present during the launch were Sunil Kant Munjal, Chairman, Hero Enterprise, Akhil Bansal, Deputy CEO, KPMG in India and Suman Kant Munjal, Chairman - Hero Electronix and Chairman and Managing Director, Rockman Industries.
The report provides insights into the rapidly changing business outlook for India and is aimed at apprising investors about the attractive propositions that recent structural changes have brought forth. The report highlights India's resolve to achieve fiscal consolidation, complemented with aggressive and not purely populist measures.
Interested in blogging for thehansindia.com? We will be happy to have you on board as a blogger.