Pulsus Expands Scientific Research and Publication Services to Europe inks deal with 25 Scientific and Healthcare societies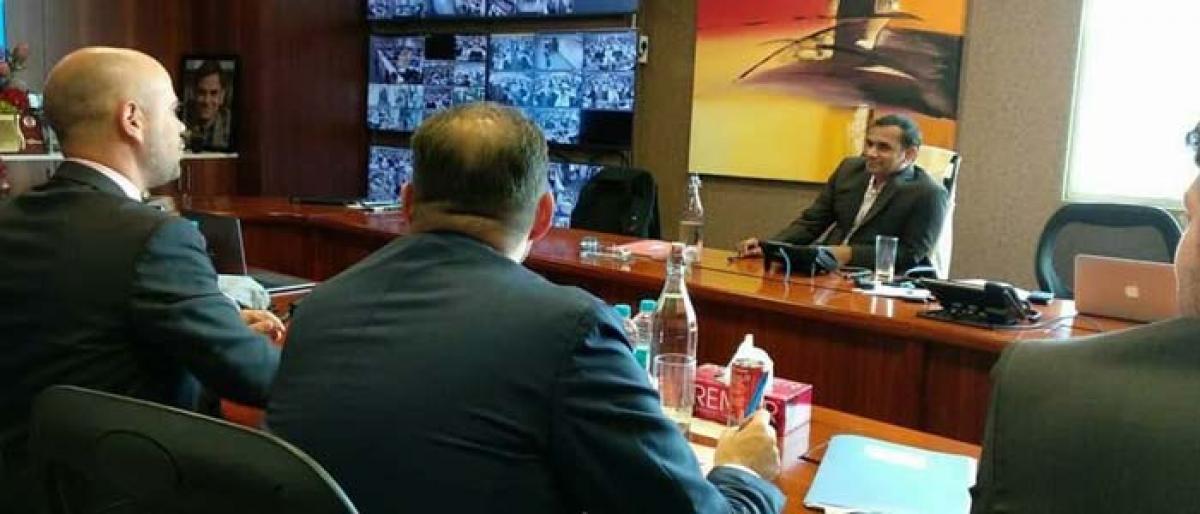 Highlights
Belgium high commission delegation visits PULSUS office and ink a deal to establish their European center at Belgium
Hyderabad, India, April 25, 2018: Realizing the great potentialities of the Europen countries including Germany, Spain, Netherlands, France and Portugal Pulsus Group announced the expansion of its scientific research and publication activities to Europe apart from the Asia Pacific, Middle East, and America. To establish its operations into these new markets Pulsus inked a mutual partnership agreement with 25 scientific and healthcare societies.
Belgium high commission delegation visits

PULSUS

office and ink a deal to establish their European center at Belgium
These new expansion will create another 1000 jobs in Hyderabad to provide the backend Knowledge Process Outsource outsource (KPO) support services from Hyderabad SEZ Units.
The latest addendum to this initiative is support from the European region which includes Polish Society of Orthopaedics and Traumatology, European Biotechnology Thematic Network Association, World Federation of Pediatric Intensive and Critical Care Societies, International Society for Ceramics in Medicine, Thalassaemia International Federation and World Association of Integrated Medicine and Switch Biotech Association.
Making the announcement Dr. Srinubabu Gedela, CEO of PULSUS said: "By such partnership with societies, PulsusGroup is inclined to increase scientific compliance by creating networks, coordinating with peers and mutual cooperation."
Recently Belgium High commission team and Mr. Jean François AERNOUTS visited PULSUS office at Hyderabad to sign an arrangement to establish PULSUS center in Belgium. It's a good change, established European Union countries also visiting Indian companies to establish their branches in their countries, Dr Srinubabu added.
With the support from industry and academia, Pulsus and its subsidiaries omics international, meetings international and conference series will be able to schedule 3,000 global annual events in 40 countries for 2018. These conferences attract 50 million+ visitors, 25000+ unique visitors per conference and 75000+ page views for every individual conference would help in quantifying every presenter's research and biography visibility to the online communities and get recognized worldwide.
"This expansion will create another 1000 jobs in Hyderabad to provide the backend Knowledge Process Outsource outsource (KPO) support services from our Hyderabad SEZ Units." Dr. SrinuBabu added.
Interestingly, Pulsus meetings provide a high-class opportunity to the nurse practitioners to publish their abstract and full-length article in the respective journals with specific DOI Number provided by CrossRef. Speaker's profiles displayed on the conference websites give a special recognition to the new nursing practitioners.
The nursing conference presentations enhance the nursing professionals 'global viewership on pioneering platforms like Facebook, LinkedIn, Twitter, YouTube, Vimeo and other social media platforms. With attendees drawn from around the globe, researchers, scholars, students and the industry could benefit from demonstrations; workshops, symposiums, and exhibitions that facilitate information exchange meeting the current and potential practitioners, and product promotion. Pulsus Meetings also provides CME, CPD, CE and CNE credit essential to maintain competency.
About Pulsus Group: Pulsus Groups is a health informatics and healthcare services company. Headquartered in Singapore, PULSUS employs 5000+ employees, across its offices in London, Chennai, Gurgaon, and Hyderabad. Pulsusand its associated companies have been a pioneer in the dissemination of scientific information on healthcare through open access with the help of 50000+ well-qualified scientists as editorial board members. The Group is able to grow from 10 journals in 2009 to 1000 peer-reviewed journals by 2017 with an increased reader base of 50 million. Pulsus partnered group ConferenceSeries.com also hosts 3000+ global annual meetings in 40 countries.
Interested in blogging for thehansindia.com? We will be happy to have you on board as a blogger.