Will Srei Infra Fin get Deccan Chronicle?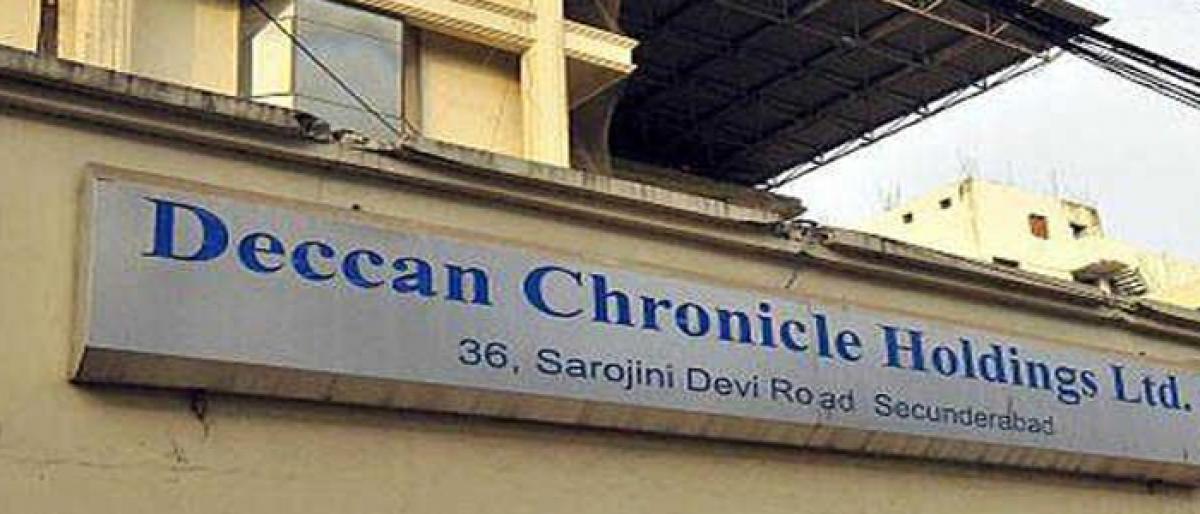 Highlights
The insolvency process of the troublehit Deccan Chronicle Holdings Limited DCHL has reached final stage with decks cleared for crucial Committee of Creditors CoC voting to decide on the successful bidder
​Hyderabad: The insolvency process of the trouble-hit Deccan Chronicle Holdings Limited (DCHL) has reached final stage with decks cleared for crucial Committee of Creditors (CoC) voting to decide on the successful bidder.
Several companies had expressed their interest in acquiring the debt-ridden media house that publishes Deccan Chronicle, Andhra Bhoomi and a few other publications. However, about eight companies submitted resolution plans.
The CoC comprising 18 principal creditors will take a call on these proposals and select a successful bidder through voting which is likely to take place on Monday. This key meeting was initially scheduled for Friday but has been postponed to Monday (July 9) so that creditors could get necessary approval from their head offices.
The final deadline for completing insolvency proceedings will end on July 10 and an approved resolution plan needs to be submitted by Mamta Binani, Insolvency Resolution Professional (IRP) for the case, to the Court-I of Hyderabad Bench of the National Company Law Tribunal (NCLT) by then. The Court-I headed by Ratakonda Murali, Member Judicial, is hearing the case.
According to information available, media houses such as Times Group, HT Media (Hindustan Times), Zee Group and TV9's Srini Raju (iLabs) showed interest in DCHL, but bids offered by them did not get the backing of creditors. A few companies including Kolkata-based Srei Infrastructure Finance, Vision India Trust Fund are in the final fray. It is reliably learnt that Srei Infrastructure has submitted a resolution plan with highest bid amount of over Rs 800 crore. Its plan is likely to get the nod of CoC if there are no last minute surprises.
"Even if any other company comes forward with Rs 100 crore more or so at the eleventh hour, it will definitely get a chance. The main purpose of this process is to help creditors get maximum possible amount and prevent Deccan Chronicle from getting into liquidation", a person close to the development told The Hans India, requesting anonymity.
It may be recalled here that Canara Bank approached NCLT in May 2017 with a request to start insolvency proceedings against DCHL under the newly-enacted Insolvency and Bankruptcy Code (IBC) as the media house defaulted on its loan. The tribunal started insolvency process on Section 7 of IBC in July that year and set 270-day deadline for completion of the process. The deadline was later extended by another 87 days to 357 days (July 10, 2018) at the request of the IRP. It was first time in the country that such an extension was given under IBC.
DCHL has total debt of over Rs 7,000 crore on its books. Going by the highest amount quoted by the bidders, banks and financial institutions will have to write off well over 80 per cent of their loans.
Interested in blogging for thehansindia.com? We will be happy to have you on board as a blogger.