Yakult promises intestinal health and better immunity with its unique probiotic LcS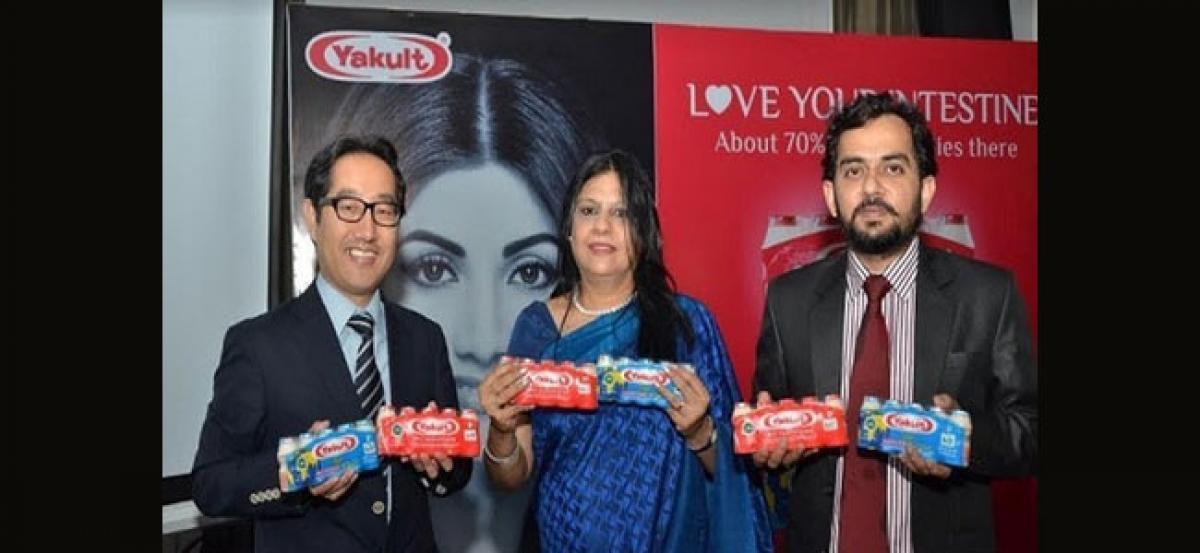 Highlights
Probiotic Giant Yakult Danone India Pvt Ltd conducted an informative and interactive outreach program on the health benefits of Probiotics and Yakult, the globally acclaimed probiotic drink
New Delhi : Probiotic Giant Yakult Danone India Pvt. Ltd. conducted an informative and interactive outreach program on the health benefits of Probiotics and Yakult, the globally acclaimed probiotic drink.
The media briefing was held by Mr. Minoru Shimada, Managing Director, Yakult Danone India Pvt. Ltd. and Dr. Neerja Hajela - Head of Science and Regulatory Affairs.
"Being the bedrock of our well-being, the importance of a healthy intestine is often forgotten. Most people believe that the intestine is just about digesting food and absorbing nutrients and are not aware that it contains about 70% of the immune cells of the human body," said Dr. Neerja Hajela.
"They work wonders in the intestine by breaking down the hard to digest foods, giving us the nutrients that we need and build our immunity. Their numbers decline because of several factors like poor nutrition, stress, ageing, inadequate sleep, infection, antibiotics and pollution. The imbalance results in diarrhoea, constipation, indigestion, flatulence and weakens our immunity to increase our risk of disease," she added.
"The word literally means "For Life" and refers to the bacteria that help to maintain the balance and ensure better intestinal health and immunity. Studies across the globe have suggested that probiotics can reduce the risk of digestive disorders like constipation and diarrhoea, common colds, allergies and even cancer. These bacteria are tested for their safety and health benefits and are commonly available in the form of Probiotic dairy foods," said Dr. Hajela.
"Yakult, a probiotic fermented milk drink that was launched in Japan in 1935 has been validated for its safety and efficacy by more than 100 human trials which have been conducted in different parts of the world. Yakult contains 6.5 billion Lactobacillus casei strain Shirota that has been tested for its ability to improve digestion and build immunity by increasing the activity of Natural Killer cells that attack viruses and cancer cells. One of the largest community based study that was conducted on approx," said Dr. Hajela.
"4000 children in the age group of 1 - 5 years at the National Institute of Cholera and Enteric Diseases (NICED) in Kolkata showed that consumption of Yakult for 12 weeks resulted in 14% reduction in incidence of diarrhoea. This was a very useful finding especially in country like India where diarrhoea kills 3 lakh children every year," added Dr. Hajela.
Elaborating on the need to include probiotics in one's diet Dr. Hajela said, "People living in Andhra Pradesh mostly consume rice which is simple carbohydrates and enjoy very spicy foods which tend to deplete the nutrients. This impacts the digestive health and leaves you prone to many lifestyle diseases. Including probiotics as a part of the daily diet would improve overall health and reduce the risk of these disorders."
"Backed by our core philosophy to educate Indians about the importance of probiotics as a part of the daily life and our vision of bringing health and happiness to people of India, Yakult Danone India Pvt. Ltd. has been organizing an ongoing 360 degree education drive in different cities of India. India offers huge potential for Yakult and we are pleased to see more and more people making Yakult a part of their daily diet for its health benefits," said MD, Yakult Danone India Pvt. Ltd., Minoru Shimada.
"To address the growing demand and in line with the needs of the Indian consumer, we have added Yakult Light which is a sister product of the signature Yakult product and contains the same unique probiotic, Lactobacillus casei strain Shirota (LcS), in the same amount (6.5 billion). LcS has been scientifically proven, through more than 80 years of research, to help improve digestion and build immunity when consumed regularly. With reduced sugar and Vitamin D and E, Yakult Light caters for the daily needs of the health conscious and is suitable for all age groups. It contains less sugar and calories owing to the use of a sweetener of natural origin, Steviol Glycoside. The retail price of Yakult Light is Rs. 80/- for a pack of 5 bottles. Yakult Light is specially positioned to a broad consumer base such as the health conscious adults and the elderly," added Shimada.
"Today we are present in over 44 cities in 12 states across India. The health benefits of Yakult are tangible and there is an upward trend in consumption. Our smart and dedicated 260 Yakult Ladies deliver our health message to Indians on their doorsteps. We are constantly and innovatively communicating the key messages of our brand through consumer engagement initiatives at the ground-level to raise awareness," Shimada concluded.
We have very good presence in Southern India and are present in 12 key cities. We have plans to bolster our presence in this region. Hence we are creating awareness about our brand through diverse mediums.
Health mantra for all: Boost your immunity with a bottle of Yakult everyday as a "Healthy intestine leads to a long life" and "Prevention is better than Cure!".