Markets bleed on, trade war worries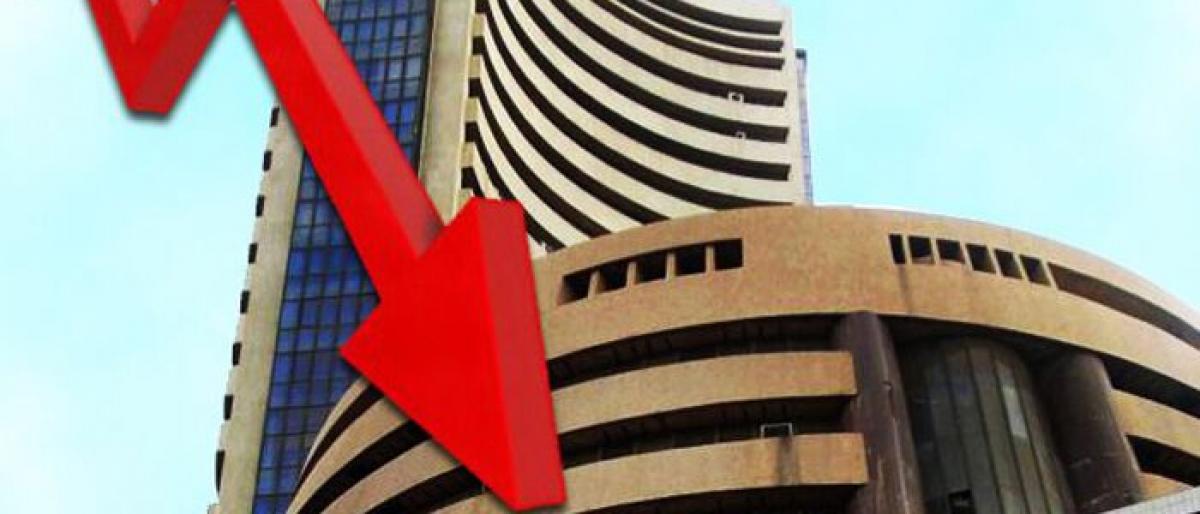 Highlights
Market benchmark BSE Sensex Tuesday crashed 509 points to close at more than onemonth low of 37,41313 due to heavy selling in FMCG, metal, auto and financial stocks amid growing concerns over intensifying global trade war Investors became poorer by over Rs 414 lakh crore in last two days
​Mumbai: Market benchmark BSE Sensex Tuesday crashed 509 points to close at more than one-month low of 37,413.13 due to heavy selling in FMCG, metal, auto and financial stocks amid growing concerns over intensifying global trade war. Investors became poorer by over Rs 4.14 lakh crore in last two days.
The 30-share index tanked more than 1 per cent for the second day in a row after the rupee slid to a new lifetime low of 72.73 in afternoon trade. Stock markets had opened higher nut bears regained the control soon to wipe out initial gains as crude oil prices rebounded in Asian trade. The BSE barometer closed the day with a hefty fall of 509.04 points or 1.34 per cent at 37,413.13. This is the weakest closing since August 2 when it had ended at 37,165.16. It had lost 467.65 points in the previous day. The 50-share NSE Nifty cracked below the 11,300-mark by falling 150.60 points or 1.32 per cent at 11,287.50.
Led by the steep decline in stocks, the market capitalisation of the BSE-listed companies tumbled by Rs 4,14,121.84 crore to Rs 1,53,25,666 crore in two consecutive days. Surging crude oil prices, rupee plunging to record lows and widening trade deficit, besides negative global leads were major factors that dampened sentiments on the domestic bourses, a broker said. In Asian trade, international benchmark Brent crude again went past the USD 78 to trade at $78.52 a barrel, by rising 1.30 per cent amid looming US sanction against Iran's petroleum industry. Investors were cautious as trade war concerns between the US and China escalated, brokers said.
Moreover, expectations of a US interest rate hike this month by the Federal Reserve that may strengthen the dollar and accelerate sell-off by foreign funds in emerging markets too negatively impacted sentiments, brokers said. FMCG stocks also took a hit owing to weak market sentiment and stretched valuation. Small-cap and mid-cap stocks too fell in sync with the benchmark indices, falling by up to 1.37 per cent. In the sector-wise terms, the BSE consumer durables index was the biggest drag, down 2.47 per cent.
Market breadth was negative as 1,841 scrips fell while 874 advanced on BSE. Total turnover in the equity segment was Rs 3,059.03 crore. Globally, in the Asian region, Hong Kong's Hang Seng ended down 0.71 per cent, China's Shanghai Composite Index shed 0.18 per cent and Singapore fell 0.35 per cent. Japan's Nikkei, however, ended 1.30 per cent higher. In the eurozone, Frankfurt's DAX fell 0.53 per cent and Paris down 0.19 per cent in their late morning trade.