SMEs in Telangana shy of equity markets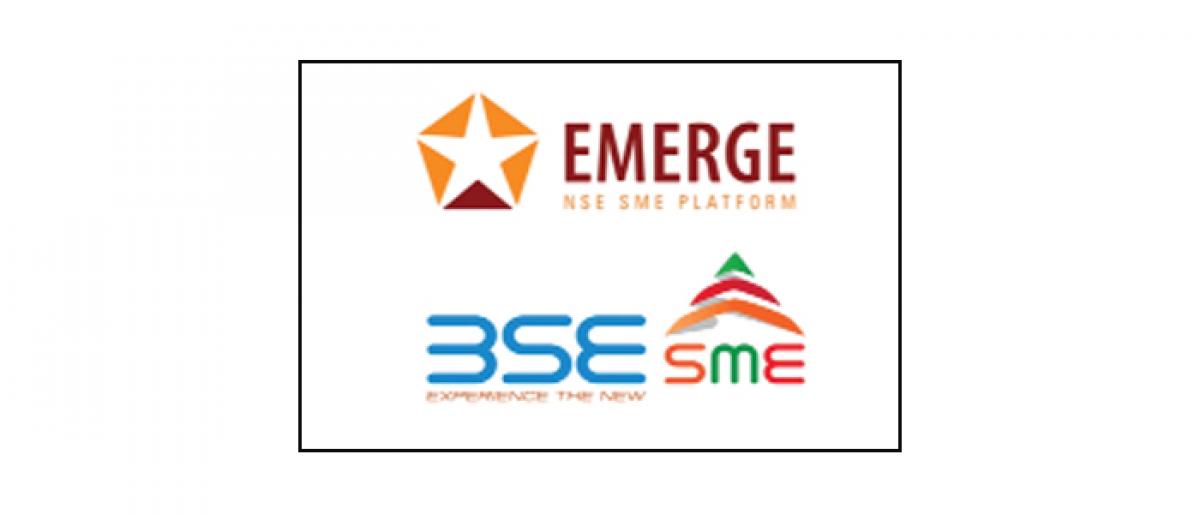 Highlights
For the AprilSeptember period of the current fiscal, Small and medium enterprises SMEs across India raised Rs 1,281 crore through initial sharesales registering a nearly twofold jump from the yearago period
​Hyderabad: For the April-September period of the current fiscal, Small and medium enterprises (SMEs) across India raised Rs 1,281 crore through initial share-sales registering a nearly two-fold jump from the year-ago period.
A total of 74 companies got listed with initial public offers (IPOs) worth Rs 1,281 crore in the first six months of the ongoing fiscal, compared to 58 firms which tapped the IPO route to garner Rs 656 crore in the same period last financial year, as per the data provided by merchant bankers. These companies are listed on SME platforms of BSE and NSE.
However, the scenario is quite opposite in Telangana where SMEs seem to be very market shy and there have been no firms responding to one of its product to help the small enterprises with a good track record of growth moving to equity markets.
Yerram Raju, Adviser, Telangana Industrial Health Clinic (TIHCL), told The Hans India: "TIHCL signed memoranda of understanding with BSE and NSE to help MSMEs list on the SME platform of the bourses and provide an opportunity for entrepreneurs to raise equity capital for growth and expansion, and for investors to identify and invest in SMEs at an early stage."
He went on to add: "We can help up to Rs50lakhs for at least 5 firms repayable in 5 equal installments or buy back at the right time, during the current year itself either through NSE-EDGE or BSE if the later enter into MOU with us. But the demand has been sluggish for the product in Telangana though we did awareness and advocacy seminars. We are yet to get good traction though some of our revival products are on good traction."
With companies listed on SME platform becoming more established, investor base is also getting broadened. Moreover, with increasing number of SME stocks and greater returns thereon, more and more investors are getting attracted for SME investing.
The companies which got listed, during April-September are from sectors such as manufacturing, textiles, engineering, agriculture, chemicals, food processing, media and entertainment, construction and finance and investments.
It has been more than six years since SME market opened up and the market has been evolving gradually with varying trends such as high over-subscriptions, widening shareholder base, venture capital exits through this platform and anchor investor participation.
BSE and NSE had launched SME platforms in March 2012, becoming the only two bourses to offer such a segment in the country. Since then, over 450 companies have got listed on them raising more than Rs 5,400 crore.
Some of these SMEs have even shifted to the main-board. The platform provides opportunity to SME entrepreneurs to raise equity capital for growth and expansion. It also provides immense opportunity for investors to identify and invest in good SMEs at an early stage.