Thozha crackles with life, friendship and fun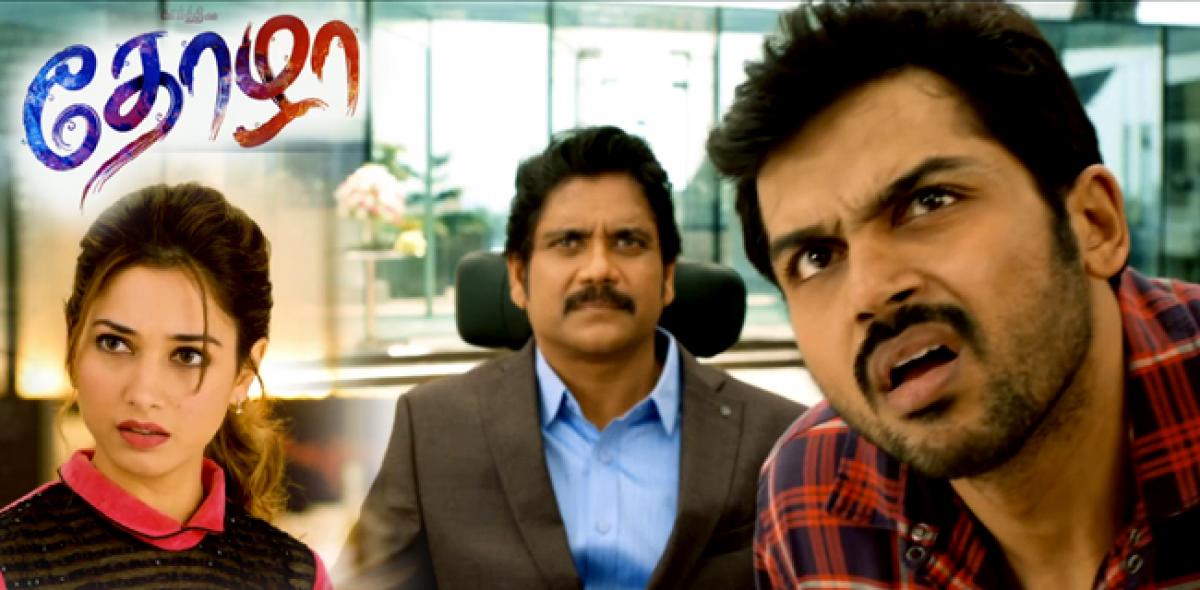 Highlights
Everything about director Vamshi\'s \"Thozha\", an adaptation of the French drama, \"The Intouchables\", is instantly likable, entertaining and partly moving. 
Everything about director Vamshi's "Thozha", an adaptation of the French drama, "The Intouchables", is instantly likable, entertaining and partly moving.
It's not always easy to adapt a foreign film, especially if it's being made in regional languages such as Tamil and Telugu. However, "Thozha" breaks that myth with an endearing tale of bromance, fun and drama. A wonderful adaptation of the French film, Vamshi cracks the art of localising foreign content comfortably, giving us a film we can sit back and enjoy.
The plot revolves around a physically challenged millionaire, played by Nagarjuna, confined to a wheelchair throughout, and a socially disabled slumdog, played by Karthi, and the relationship they share when they come together.
Both Nagarjuna and Karthi share amazing camaraderie and make every scene featuring them a treat to watch. And the moments that feature them are simple, life-like, easily relatable, and emotional too. They bonded like brothers and one could see the transformation in their relationship when Karthi asks Nagarjuna if he can call him 'anna' (brother).
It changes from an employer-employee relationship to a brotherly relationship, and the way it's portrayed is heartwarming, almost leaving us teary-eyed on several occasions.
Tamannaah plays Nagarjuna's assistant, and although she looks like a million bucks, she's too pretty for the role. As much as I wanted the film to solely concentrate on the bromance, which everybody enjoyed, there's a romantic sub-plot featuring Karthi and Tamannaah, which was a dampener. Why can't two guys have all the fun together and not rely on a woman?
There's an item song too, but the good thing is that not much time is wasted on this romantic angle, which is weaved into the main plot seamlessly and Vamshi handles it sensibly.
There's enough room for drama, and once again the credit must go to the director for handling these moments with maturity. You're almost moved to tears in some scenes, but none of it is forced, not even in the most emotional scenes. Otherwise, most of the film is fun, and even the most predictable scenes are treated with a touch of humour.
Karthi owns his role like no other actor could have, and I doubt anyone else could've done justice to his character. He proves once again what he can do when he's offered a solid role.
Almost playing second fiddle to Nagarjuna, he shines as a petty thief-turned-caretaker. Then, there's Nagarjuna, who is our own Benjamin Button, and seems to be getting younger with every passing day, showing no signs of ageing whatsoever.
It takes more than just conviction for a superstar, mostly known for playing larger-than-life roles, to play a quadriplegic, and yet Nagarjuna makes it look cool thanks to his amazing screen persona.
"Thozha" crackles with life, friendship and fun. It's a wonderful adaptation of the original, and one that, we hope, paves the way for many more.
By Haricharan Pudipeddi