Sarrainodu Full Review, Rating treat for mass, disappointing for the class!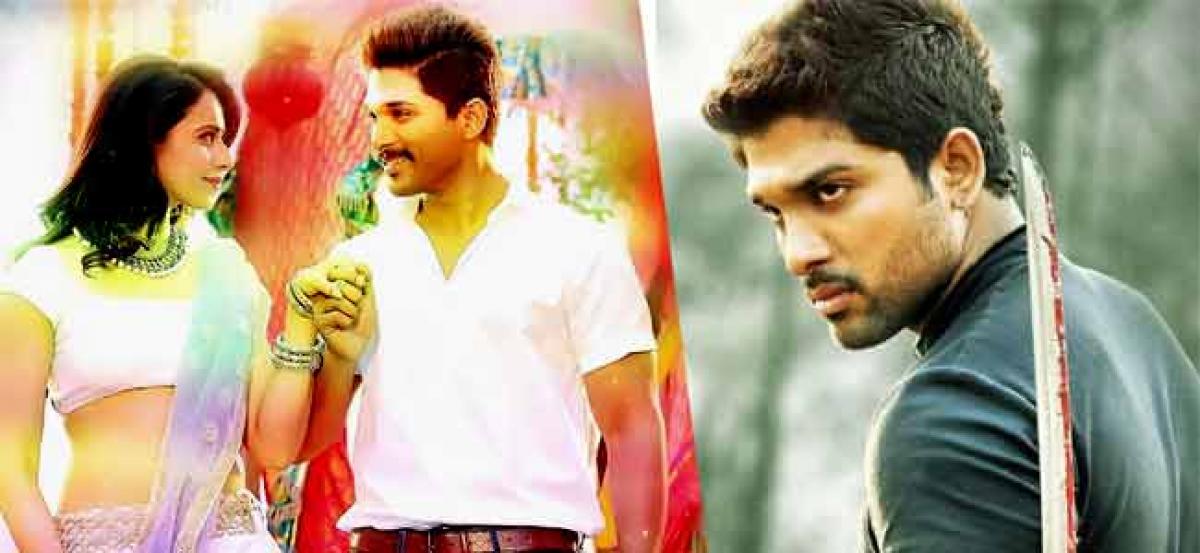 Highlights
Allu Arjun-'s Sarrainodu hit theaters across the world on Friday. With mass director teaming up first time with stylish star Allu Arjun, there are...
​Director : Boyapati Srinu
Producer : Allu Aravind
Music Director : S.S.Thaman
Starring : Allu Arjun, Rakul Preet Singh, Catherine Tresa
Allu Arjun's Sarrainodu hit theaters across the world on Friday. With mass director teaming up first time with stylish star Allu Arjun, there are high expectations from the film. Let's see whether the film manages to live up to its hype.
Story:
Gana (Allu Arjun) takes voluntary retirement from his military job. He gave up his job as he feels there are more problems in the society compared to the border. Gana's work is to settle the cases that his lawyer babai Sripathi (Srikanth) gets. He settles the cases outside the court. He gets entangled in one fight or the other every day. Gana's father (Jayaprakash) wants him to marry his IAS friend JP's (Sai Kumar) daughter Maha Lakshmi (Rakul Preet Singh). After a twist, Gana ends up in falling for a local MLA Hansitha Reddy (Catherine Thressa).
Mana hero also locks horns with a ruthless and powerful Vyra Dhanush (Adi Pinishetty) who is the son of the Chief Minister. Maha Lakshmi is also attacked by Dhanush's henchman.
What is the connection between Rakul and Dhanush? Rakul or Maha Lakshmi- Who will sacrifice Allu Arjun? How will Gana face Dhanush? Watch the film to find out.
Performances:
Allu Arjun has already proved with his earlier films that he can perfectly fit into any role. Now, he is at his best in the role of a mass hero. The main highlight of the film is Bunny and his powerful looks. He performs with ease in high voltage action scenes. His dances and dialogues are a treat to watch. Adi Pinishetty turns a baddie in this film. We hope he will get more roles after his powerful performance in the film.
Those who are expecting that the two hot heroines Rakul Preet Singh and Catherine Tressa will set the screen on fire with their glamour, will be disappointed as they have nothing much to perform.
Director has wasted the role of Srikanth and he should have given more prominent role. The comedy of Brahmanandam and Vidyullekha Raman's hardly evokes a few laughs. Supporting cast like Jayaprakash, Kalakeya Prabhakar, Pradeep Rawat, Rajeev Kanakala, LB Sriram and Prithvi have justified their roles.
Technical:
Music is above average but SS Thaman has elevated all the fight sequences with his background score. The production values are top notch as Allu Aravind has not compromised anywhere. Editing is good but could have been better if violence scenes were trimmed a bit. Credit should go to the stunt masters as they have put in a lot of efforts in showcasing the fights in an interesting way.
Analysis:
Allu Arjun had pinned all his hopes on the film as he wants to conquer the mass audience in the Telugu states. He teamed up with 'Nandamuri' director Boyapati Srinu for the first time. Though Alllu Arjun succeeds in getting mass image with his looks and mannerisms in the film, the film falls in average entertainer category. Boyapati has come up with a weak story but he shines with his screenplay and direction.
The interval bang, Allu Arjun surrendering to the police and some fight scenes are major highlights of the film. Songs become speed breakers for action sequences in the film. Many scenes in the film lack logic and you get a feeling of watching 80s scenes at times. In all, Sarrinodu is a treat for mass audience, disappointment for family audience.

Subscribed Failed...
Subscribed Successfully...