Nani's Ninnu Kori: Telugu Movie Review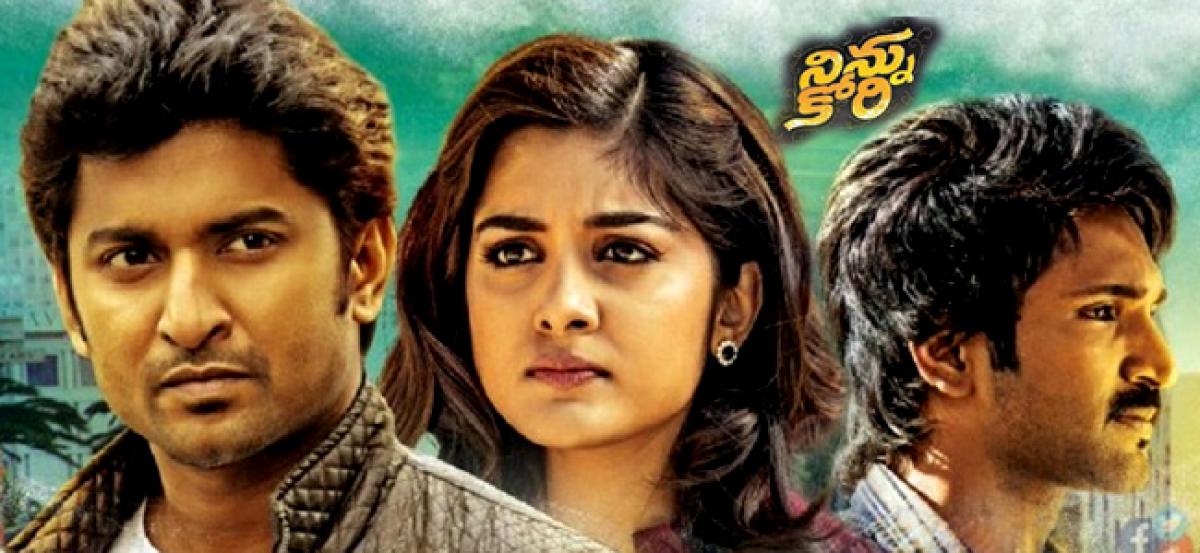 Highlights
Nani is the only Tollywood Hero who scored double hat-trick in the past two decade or so. Audience have certain expectations on his movies & fortunately he lived up to those expectations in the past three years.
Movie Review: Ninnu Kori
Cast: Nani, Aadi, Niveda Thomas, Murali Sharma, Tanikella Bharani, Pruthvi, Sudarshan, Vidyu & Others
Music: Gopi Sundar
Cinematography: Karthik Ghattamaneni
Screenplay: Kona Venkat
Dialogues: Siva Nirvana-Kona Venkat
Producer: DVV Danayya
Story & Direction: Siva Nirvana

Nani is the only Tollywood Hero who scored double hat-trick in the past two decade or so. Audience have certain expectations on his movies & fortunately he lived up to those expectations in the past three years. This time, Natural Star arrived with a feel good entertainer titled as 'Ninnu Kori'. Can he continue the Success Streak?

Synopsis:
Umamaheswara Rao alias Uma (Nani), a Ph.D Student in Visakha, accidentally meets Pallavi (Nivetha Thomas) and love blossoms between them. Upon knowing that her Father is searching for her Life Partner, Pallavi decides to elope with Uma. However, Uma wants to focus of his education first to settle in life. In the meantime, Pallavi's Dad finalizes his Marriage with Arun (Aadi) and the young couple leave for US after the wedding. Even Uma goes to US for the sake of job but ends up becoming a drunkard due to the love failure. Pallavi tries to change Uma by making him realize how happy she is with her married life. Uma enters the house of Married Couple accepting their invitation for a 10 days stay. You have to watch 'Ninnu Kori' in theatres near you for knowing what happened thereafter!

Performances:
Needless to say, Nani is a good actor. He reminds movie buffs about this fact every time a new movie hits the screens. Even 'Ninnu Kori' is no exception in this case. High confidence levels & maturity in his performance were so endearing to watch. Hats off to the way Nani expressed the pain of a Lover during the post break-up phase. He even took the responsibility of generating humour in this serious subject and his comedy timing keeps the audience in splits at regular intervals.

After 'Gentleman', Nivetha Thomas yet again proved she can match-up to Nani. The way she emotes with her eyes & wide range expressions speaks volumes about her talent.

For Aadi, The role in 'Ninnu Kori' is a complete contrast to what he did in 'Sarrainodu'. He is a revelation in this movie.

Murali Sharma does a fine job. Tanikella is first rate. Pruthvi produces few laughs. Sudarshan and Vidyu have done justice to their roles.

Pros:
Performances of Lead Actors
Technicians
Pre-Climax
Cons:
Technicalities:
Gopi Sundar offered a feel good music. All the songs in the album were soothing to the ears. Even BGM is simply superb. Camera Work by Karthik Ghattamaneni is yet another highlight. He not only captured the beauty of Visakha & USA but also the soul of the subject. Dialogues hit the right chord with the audience. Production Values are good. Debutante Director Siva Nirvana picked up a contemporary subject and dealt the emotional content pretty well. The only drawback is the slow narration.

Analysis:
Feel-Good Movies haven't been made very often in TFI as Movie Lovers have been mostly embracing films which are high on entertainment. At the same time, It's never easy to move the audience emotionally. Still, Team Ninnu Kori took a daring step & delivered a movie which teaches few life lessons.

Story & Characterizations in 'Ninnu Kori' are contemporary. Director Siva Nirvana ensured present day Youth connects well with the subject using feel good factor & emotional quotient. These kind of stories can't be narrated at a fast pace but they will touch the hearts if one can connect to the emotion.

'Ninnu Kori' conveys the message that break-up or losing life partner isn't the end of life. Few comparisons can be drawn between this Nani-starrer and Bollywood flick 'Hum Dil De Chuke Sanam'. Strong Lead Characters & Performances of Cast make the movie so enjoyable. Love Track of Nani & Nivetha Thomas in First Half is good. A married woman inviting her ex-lover to house for 10 days stay looks artificial. In additional, Director appeared to be in a dilemma whether he should deal the second half emotionally or offer priority to comedy. Though there is humour, Comedy Dose is less compared to Nani's previous films. Only with the Pre-Climax, The film is back on the right track after losing some momentum and these emotional scenes will move the audience. Climax looks pretty convincing & Nani's performance in the penultimate sequence deserves a special mention.

Bottom Line: A Feel-Good Entertainer!