This fighter cock lacks sting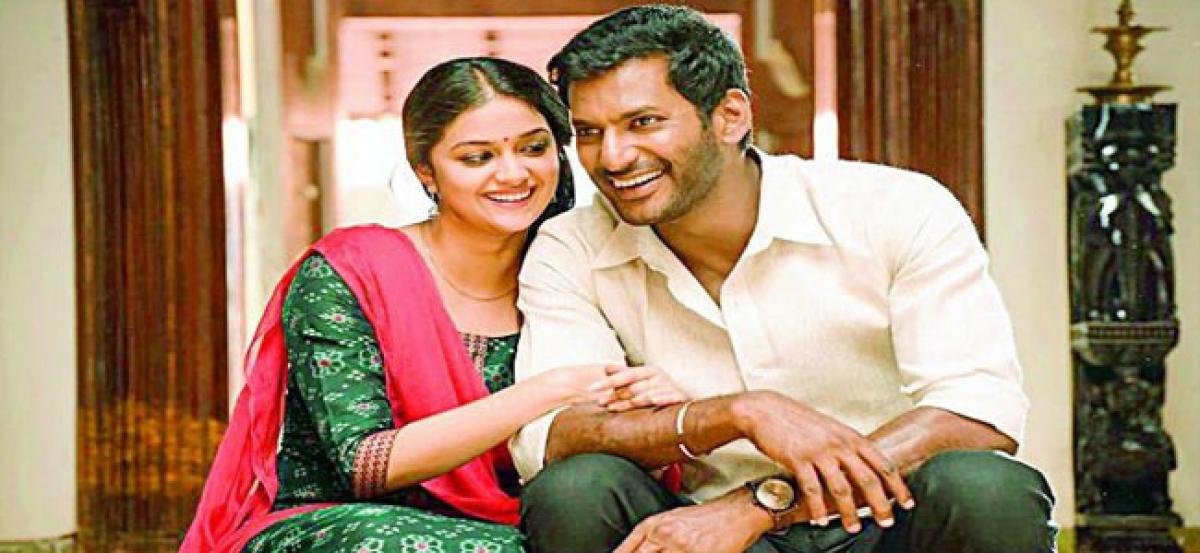 Highlights
After the original Pandem Kodi hit the silver screens across Telugu land cinema theatres in May 2006, it has resurfaced with a sequel 12 years later Vishal, the Teluguorigin Tamil hero would have a special feel about this film, with the first version turning out to be a major success and the present one being his 25th release, in a career of nearly 15 years
After the original 'Pandem Kodi' hit the silver screens across Telugu land cinema theatres in May 2006, it has re-surfaced with a sequel 12 years later. Vishal, the Telugu-origin Tamil hero would have a special feel about this film, with the first version turning out to be a major success and the present one being his 25th release, in a career of nearly 15 years.
Riding on a high as his recent films dubbed into Telugu have been received well, Vishal returns during the festive week with a venture which is helmed by N Lingusamy, a successful name who has been hibernating over the past decade. Sensing the potential, the film has enjoyed high octane publicity despite its dubbed nature, on par with original Telugu film releases. With a village festival backdrop, around the conducting of which the entire screenplay is based, Pandem Kodi 2 moves at a brisk pace on expected lines of ruthless violence, a feudal lifestyle built up by time-tested loyalties and the inevitable rivalry between families, for both imagined and real reasons.
Tamil actor, Raj Kiran, who has a good following in his home state for the strong, understated roles he takes up, has a good share of screen space and well-defined characterisation as the hero's father. Till the first half, with the peace moves of the hero's family constantly thwarted by the opposing group led by an aggressive woman (Varalakshmi Sarath Kumar) the movie makes one remind of the October 1992 hit 'Kshatriya Putrudu' starring Sivaji Ganesan and Kamal Haasan.
Just when one anticipates that the second half would carry the tense mood into its logical climax, the narrative turns disjointed and patchy. Reworking the soft tone of Vishal's character, who is bullied into agreeing for romance by a chirpy heroine (Keerthi Suresh, eminently watchable, as usual) the director makes him take centre stage, pushing out the delicate interplay of the father-son duo and the sizzling exchanges between the lead pair. Of course, Vishal is very effective and impressive as he goes about his task as he is expected to.
From here on, the film goes on predictable lines with a cat-and-mouse game between the two factions moving it to its tedious end, after 162 minutes of running time. The melodrama surrounding the hot and cold vibes between the lovers is also old world style and the audience is assured of it all settling favourably in a few scenes to follow. The gradual loss in the momentum and a preachy finale, which incidentally was well received in the first version clearly cripples the feel-good appeal for sure.