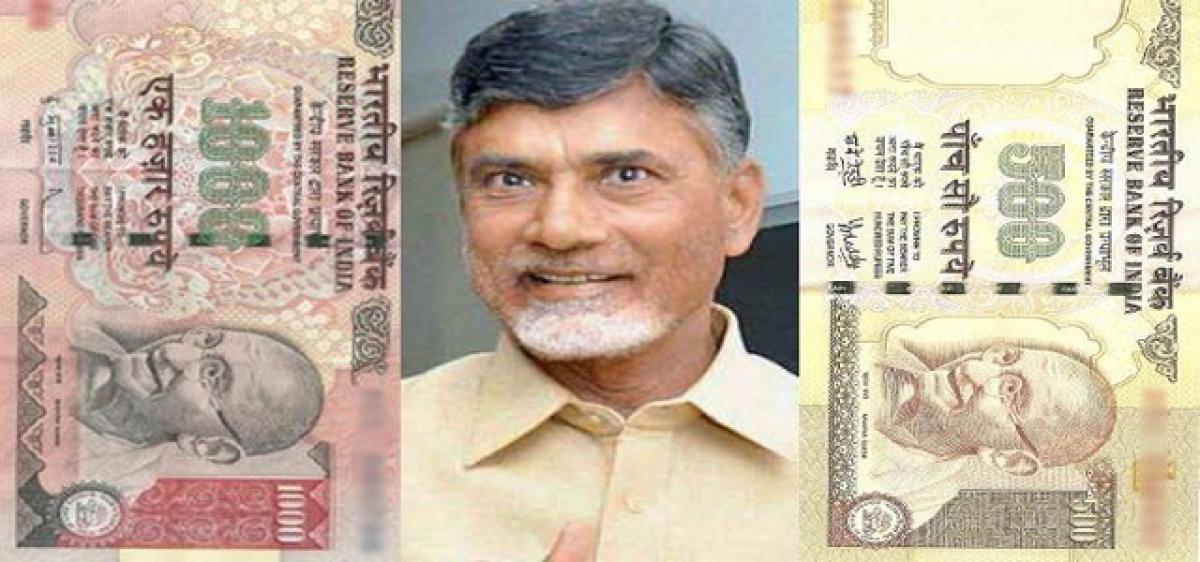 Highlights
Andhra Pradesh Chief Minister N Chandrababu Naidu has made a long-held, yet, significant suggestion of abolishing Rs 500 and Rs 1,000 notes to curb black money.  
Andhra Pradesh Chief Minister N Chandrababu Naidu has made a long-held, yet, significant suggestion of abolishing Rs 500 and Rs 1,000 notes to curb black money.
He also suggested that banking transactions be made mandatory so as to eliminate cash-based monetary transaction that gives scope for possession and transfer of black money.
However, circulation of currency notes of higher denomination is only a tip of the ice berg as far as the phenomenon of black money is concerned. In fact, technological changes are already limiting the circulation of money through cash.
The trend is all set to increase in future as people find smart money transactions simple, reliable and safer. The menace of black money is certainly related to the magnitude of cash transactions, especially in the informal economy.
As the white paper on black money released by the Government of India during the UPA regime stated: The demand for currency is determined by a number of factors such as income, price levels, and opportunity cost of holding currency.
Factors like dependence on agriculture, existence of a large informal sector, and insufficient banking infrastructure with large un-banked and under-banked areas contribute to the large cash economy. Instead of banning currency transactions, the governments should first attempt financial inclusion and disincentivise the cash economy. Cash transactions alone are not the source of black money. There are many more things government can do before dealing with the cash economy. There is no single panacea for tackling the black money menace.
Reduce the incentives for evading taxes and create credible and effective deterrence. Such measures can include rationalisation of tax rates, reducing transaction costs of compliance and administration, etc.
Creation of effective credible deterrence can include a host of measures such as integration of databases leading to actionable intelligence by monitoring agencies, strengthening direct tax administration, strengthening of the prosecution mechanism, etc.
Reform the vulnerable sectors of the economy. Such sectors include bullion and jewellery trade, real estate, financial sector, mining and allocation of property rights over natural resources, equity trading, misuse of corporate structure for generation of black money, non-profit organisations and the cooperative sector, etc. An intense international effort is needed to check stashing of illicit income in tax havens.
Whistleblowers and witnesses should be protected. Organised crime syndicates are instrumental in generating black money through illegal means. Such syndicates and their political nexus should be checked. Corruption in public administration and money power-determining elections are fuelling black money.
Comprehensive electoral reforms coupled with greater public awareness can liberate Indian democracy from the clutches of black money. The politician, businessman, bureaucrat and criminal nexus is perpetuating black money.
Counterfeit currency, drug trade, terrorism and many such acts of crime are instrumental in generating enormous black money.
A comprehensive reform of social, political and economic systems is urgently needed to tackle the menace of growing black economy.
A combination of domestic and international actions should be carried out to eliminate the scourge of black money from the Indian society.