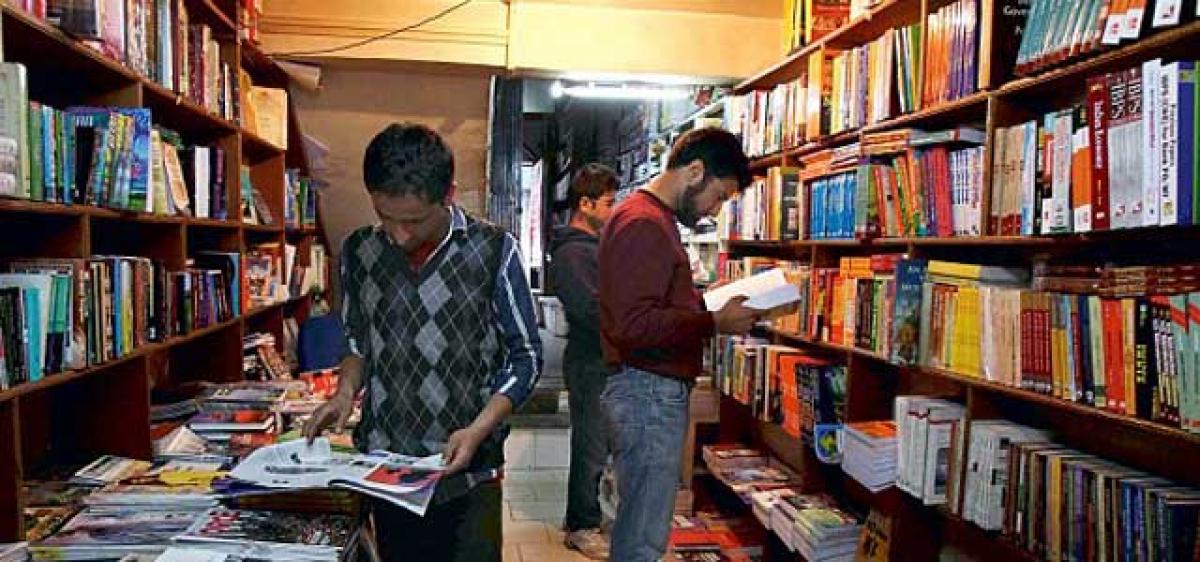 Highlights
The primary factor for the motivation seems to be the immense potential in these services to work for the cause of the people unlike the corporate employment that has little or no relevance to the people directly. 
Indian Administrative Services and related civil services have been the hot favourite of young men and women across the disciplines
The primary factor for the motivation seems to be the immense potential in these services to work for the cause of the people unlike the corporate employment that has little or no relevance to the people directly.
Prof K Nageshwar, the editor of 'The Hans India' has the rare distinction of training both the Civil Service aspirants and probationers. He answers to some of the common queries in the minds of many on how to crack this prestigious examination.
Q. Having trained thousands of students in your three decades long experience, what is the main apprehension you have often noticed in the aspirants?
Prof. KN: Many especially from the rural and semi-urban areas that too hailing from middle class background often find Civil Services an invincible option. But, that's not true. There is no such empirical evidence to suggest that only the elite succeed in these examinations. It was true several decades ago. But, it's no longer the case. During my stay at National Academy of Administration, Mussoorie, as a visiting faculty, I have noticed that students passed out of India's prestigious institutions like IITs and IIMs could make it even as students graduating from distance education courses in mundane universities could also do so.
Q. How is it possible?
Prof. KN: Basic intelligence, sustained preparation, proper direction would enable you to crack this highly competitive examination. The propelling force in individuals to become an IAS really matters than anything else.
Q. The Civil Services examination mostly tests the candidate's understanding of wide ranging areas related mainly to social sciences. Does it not turn out to be a disadvantage to the students coming from science and engineering backgrounds?
Prof.KN: No, certainly not. In fact science background helps in more precise way of preparation and imbibes in you logical and analytical skills. For instance, mathematics is a precision science. It's difficult for a social sciences student to learn science or technology. But, the vice-versa is not true. Let me narrate my own experience. I am a student of mathematics, Physics and Chemistry at my intermediate level and graduation with Maths, Physics and Electronics.
I post graduated in journalism and Ph. D in Political Science. I am now teaching economics. I was a visiting professor in the department of economics in one of the India's prestigious engineering colleges, Birla Institute of Technology and Sciences (BITs), Hyderabad. I got distinction in electronics and 97 percent in intermediate Chemistry. Nothing prevented me from moving from electronics to economics without any formal academic background in the latter. Ultimately our interest takes us to anywhere and everywhere you wish to travel.
Q. General Studies is the major component of Civil Services examinations. How to go about getting a mastery over GS?
Prof. KN: General Studies is a combination of a whole lot of subjects like geography, history, economics, science and technology especially general science, polity, governance, social issues, current affairs etc. It only tests your general understanding of these subjects rather than any specialised perspective as evident from the nomenclature itself. Begin with basic understanding of these things.
They are not Greek and Latin to anyone. All of us learnt them during our childhood. Only thing some of you might not have bothered about social studies during school days due to preference for engineering and medicine resulting in craze for mathematics and science subjects only. Refresh your school social studies once again before reading text books and advanced material.
If you are thorough with basics, advanced reading would be facile. Read authentic books and material. Only Prescribed university level text books for graduation and post graduation would help you most. Don't depend on single author. Reading multiple authors would enhance diversity of your preparation.
Q. Is the General Studies preparation sufficient to cover General Essay too?
Prof.KN: Not at all. It's a wrong notion deliberately nurtured by commercial coaching industry that does not have competent faculty to teach essay. General Essay is a larger composition while the word limit for General Studies questions is relatively much less. The Essay topics are more abstract in nature and test your scholastic and intellectual comprehension.
It also tests your imaginative capabilities rather than mere information levels. In fact, preparation for General Essay can cover part of General Studies. General Studies is a subset of General Essay. But, it can't be a superset of it.
Q. What is the importance of language skills in Civil Services examinations?
Prof. KN: Do not undermine the importance or exaggerate its relevance for Civil Services examination. The main exam is in descriptive mode. The language is a means of expression. Better language skills improve your power of expression. But verbosity is not required. Language should sub-serve your knowledge of the topic rather than dominate it.
Q. What is the role of newspaper reading in Civil Services preparation?
Prof. KN: General Studies and General Essay to an extent test your latest understanding. Newspapers and magazines are only source of contemporary knowledge. Books certainly lag behind in this regard. But you have to selectively read newspapers and magazines. Otherwise, you would be wasting your time.
Q. How to select newspaper content useful for Civil Services preparation?
Prof. KN: Well, there is no hard and fast rule. Read the main newspapers and magazines. Over a period of time you would realize which newspapers are more relevant. Read news with a focus on editorials, edit page and Op-Ed page articles. You need not read all of them. Keeping your syllabi and previous questions in mind, you have to judge the edits and articles based on the topics they deal with. Here too, over a period of time, you can easily zero-in-on newspapers and authors whose writings would be of help to you.
For instance, the editorial on 'What ails Science' published in The Hans India, January, 7, 2017 is useful for General Studies and General Essay too. Not necessarily every edit will be useful. The topic, the information given, the analysis in it, the comprehensiveness etc., should decide the usefulness of an editorial or an article. Similarly all news items are not useful. You should selectively go through the news keeping your syllabi in mind.
Q. So you referred to information and analysis. What is the relative importance of these two aspects?
Prof. KN: Mere presentation of facts will not yield you marks. Analysis is critical. The nation does not need memory machines. But, the Civil Servants should be thinking men and women who can creatively apply their knowledge to find solutions to people's woes. Logical presentation on analytical answering is very much essential. This is where the qualitative preparation rather than a mere quantitative approach would yield better results.
Q. Is it necessary to be pro-government in the examination?
Prof. KN: Well, pro or anti government does not arise in most of the topics. For instance there is a question on demonetisation and its impact on economy. You would encounter such a dilemma. Here too, you are not writing an examination for a ruling party office bearer's post. Neither should you be doing opposition political campaign through your examination answer.
Have a moderate approach. Present all the dimensions. You are entitled to have you own views. But that view should not be dogmatic. It should be well substantiated and well argued. Don't entertain extreme views For example, if there is a question on Indo-Pak relations, do not advocate annihilation of Pakistan as a solution to India's cross border terrorism.
Q. How much time is required for preparation to be successful in Civils?
Prof. KN: It's not the quantity of your preparation. How long is not right question. How well is critical. It's a highly competitive examination. Your success is not determined by your own performance. It's a relative assessment in a competitive examination. You have no control on others' preparation or performance. The best way is to leave no stone unturned. Get the best out of you. It makes or break situation.
Q. How to choose an optional. Should we go by our own interest or the trend?
Prof. KN: You should always choose your optional based on your interest and understanding of the subject and the confidence on it. You have to get a mastery over this subject. Don't imitate others. Do not go by herd mentality. It's foolish to argue that a particular subject is scoring while others are not. There is no such empirical evidence.
Ultimately how you perform in the examinations rather than what subject did you choose is important. Of course material availability and guidance required for you and the same available to you can be some factors that can help you to choose the optional. Social sciences optional would certainly cover some part of General Studies too. But, this need not be the criteria for choosing an optional.
Subscribed Failed...
Subscribed Successfully...