NCC cadets embark onGodavari River sailing expedition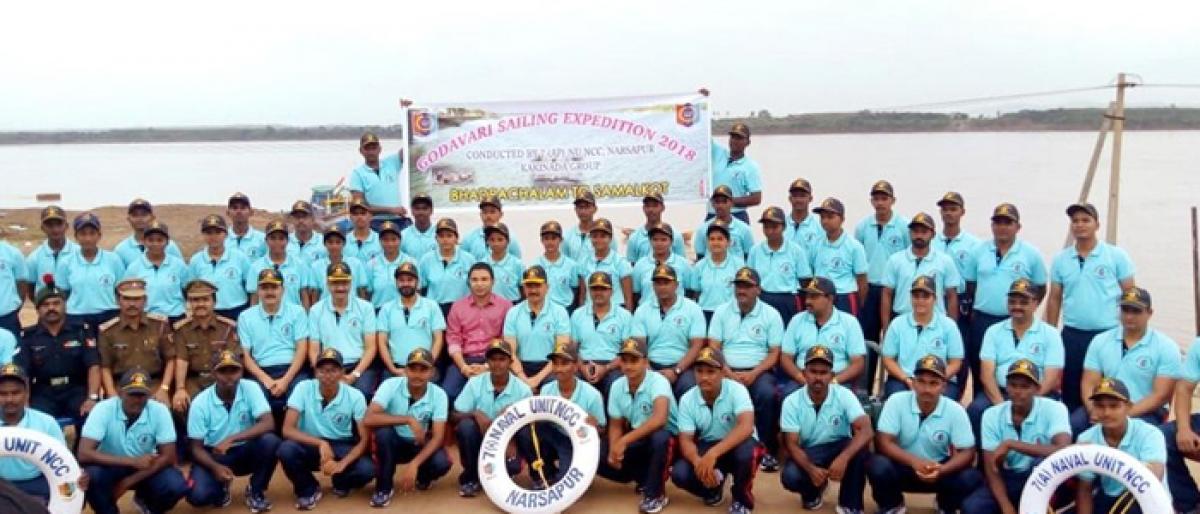 Highlights
A group of 42 NCC Cadets including 14 Girl Cadets set sail from Bhadrachalam on a challenging adventure expedition named Godavari River Sailing Expedition 2018 that will transit over 410 km of the mighty Godavari river from Bhadrachalam to Samalkot from September 5 15
​Hyderabad: A group of 42 NCC Cadets (including 14 Girl Cadets) set sail from Bhadrachalam on a challenging adventure expedition named 'Godavari River Sailing Expedition 2018' that will transit over 410 km of the mighty Godavari river from Bhadrachalam to Samalkot from September 5 - 15.
The expedition was flagged off by Air Commodore NN Reddy, Deputy Director General, NCC Directorate (AP & Telangana). Air Commodore NN Reddy applauded the cadets and said that this expedition will bolster their explorative inquisitiveness, courage and determination, comradeship, self-confidence, team spirit and espirit-de-corps.
The expedition leader Captain (IN) KCS Rao, Commanding Officer of 7 Andhra Naval Unit, Narsapur and West Godavari Districts conveyed special thanks to the District Collector of Bhadradri District for providing all the necessary support for the first phase of the expedition. During the expedition the sailing boats will negotiate the nerve testing rapids at various points in the river, navigating between sand bars and rocks at low level areas and will also transit through Papi Kondalu Hills between Kunavaram and Devipattanam.
Colonel LCS Naidu, Group Commander, Kakinada Group is overall in-charge of the expedition and the team comprises over 75 personnel including 02 Officers of Indian Navy and 42 NCC Naval Wing cadets and support staff from Andhra Pradesh & Telangana NCC Directorate namely Hyderabad, Visakhapatnam, Vijayawada, Kakinada and Nellore.