Blending tradition & technology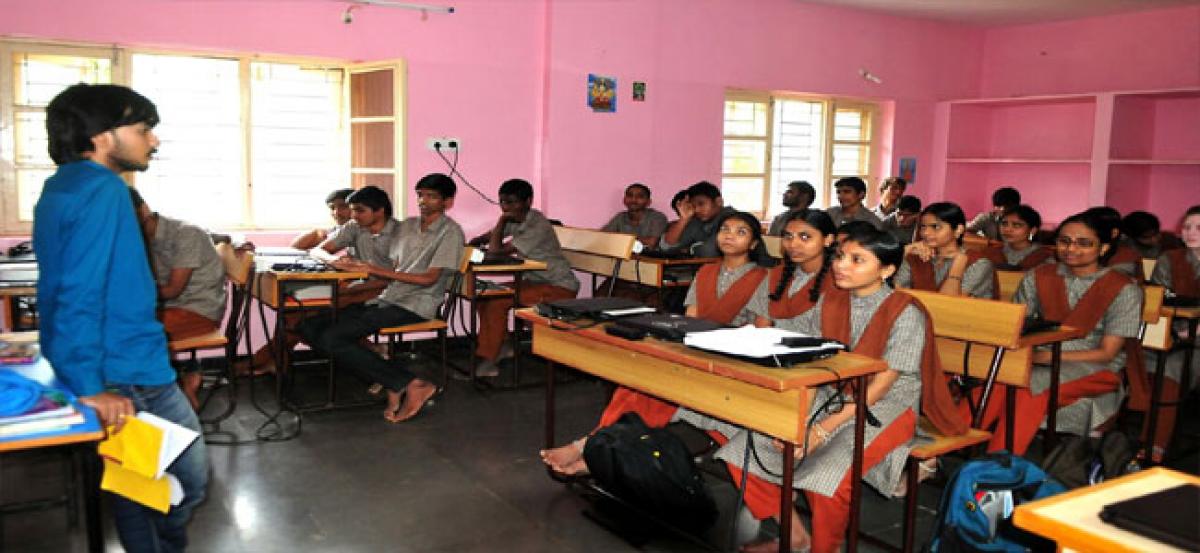 Highlights
Teaching at Nethra Vidyalayas in Chinna Jeeyar Swami Ashram in Shamshabad is unique in the sense that it is a mix of tradition and technology All the twohundred odd students in Degree and Junior Colleges have been given a laptop and an earphone for study purposes
Hyderabad: Teaching at Nethra Vidyalayas in Chinna Jeeyar Swami Ashram in Shamshabad is unique in the sense that it is a mix of tradition and technology. All the two-hundred odd students in Degree and Junior Colleges have been given a laptop and an earphone for study purposes. Besides academic study, students are made to recite Slokas for one hour every day (7 am to 8 am) and also taught Yoga (5 am to 6 am). From 9 am to 6 pm, academic classes are held followed by study hour (from 7 pm to 9 pm).
It is well known how blind students, until Tenth standard, study using the Braille system. However, intermediate and degree students at Nethra Vidyalayas study everyday on laptops using JAWS (Job Access With Speech) system. JAWS is a computer screen reader program for Microsoft Windows that allows blind and visually impaired users to read the screen either with a text-to-speech output . Rajeshwari, a first year B.Com student illustrated on how to solve accountancy problems using Excel sheet on a Laptop using JAWS system. Chinna Jeeyar Swami stated that Nethra Vidyalaya is the only institution in India where blind students pursue education using laptops.
Staff at Nethra Vidyalayas recalled how Swamiji stumbled upon this idea while on a visit to USA when he noticed how JAWS system was helping blind students to pursue higher education easily. He implemented this concept in our schools paving way for many blind students to realize their dream of higher education, they said. Nethra Vidyalaya also has a big reading room that can accommodate all 200 students of Junior and Degree college at a time. Four huge tables with single chairs on either side and individual switch port so that each student can plug power cable of laptop is a special feature of this reading room.
Students spend two hours every day ( 7pm to 9 pm) here as part of study hour and they have teaching staff to assist them and clarify in case of doubts. Osmania University has given examination centre permission to Nethra Vidyalaya after seeing wiring and electricity arrangements so that exams are held smoothly without power and connection issues.