Celebrations at Gudlavalleru Engineering College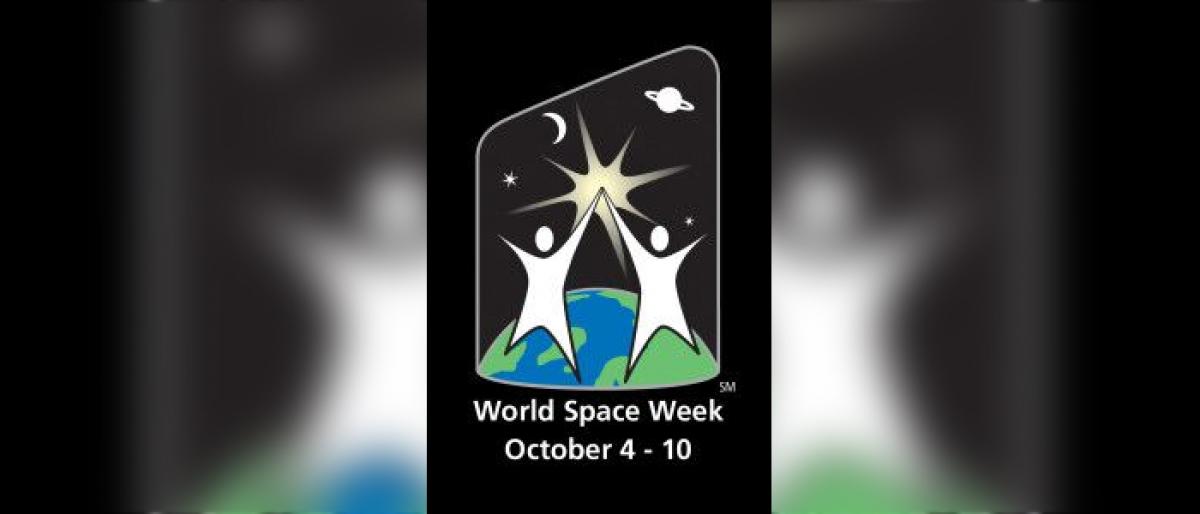 Highlights
It is not an exaggeration to say that space research has brought tremendous changes in the life of a common man The two significant events one, launching of Sputnik 1, the first artificial Earth satellite into an elliptical low Earth orbit on 4 October 1957 and 10 years later on 10 October 1967, the signing of the treaty on principles governing the activities of states in the exploration and pe
​Hyderabad: It is not an exaggeration to say that space research has brought tremendous changes in the life of a common man. The two significant events- one, launching of Sputnik 1, the first artificial Earth satellite into an elliptical low Earth orbit on 4 October 1957 and 10 years later on 10 October 1967, the signing of the treaty on principles governing the activities of states in the exploration and peaceful uses of outer space, including Moon and other celestial bodies by UNO, established faith in the space research.
In view of this, the General Assembly declared October 4-10 as World Space Week to celebrate each year at the international level the contributions of space science and technology to the betterment of the human condition.
The Association's Board each year selects a theme for World Space Week to provide a focus of the activities and events that take a place in over 80 nations during 4-10 October. The 2018 theme is "Space Unites the World."
This year, the prestigious programme (World Space Week) in Andhra Pradesh is slated to be conducted at Gudlavalleru Engineering College (GEC), one of the places selected by SHAR. As part of this programme, a Space Walk is organised by GEC on the 5 October 5 at Gudlavalleru, Gudivada, Machilipatnam. The college extends invitations to all the students of Krishna District, studying in Government and Private schools, Polytechnic colleges, Intermediate, Degree and Engineering colleges to participate in this historical event and feast their eyes on the Rohini Rocket Exhibits on October 6, 7 and 8 in the college premises.
In view of this event, the college welcomes space related model exhibits (October 6-8), space related drawings (6 October), extempore (6 October) from school children and for the college students, space related model exhibits, poster presentation/design, innovation thoughts/ideas are conducted on 7 October.
Besides, college also facilitates video conferencing with the eminent personalities of SHAR. In addition to all this, excellent prizes are ready for the winners of all the events. Added to this, students with outstanding performance will be given a chance of watching the launch of PSLV/GSLV.
Prof Vijaya Rama Raju, Chairman, APSCHE, will inaugurate the programme at GEC on October 6. P Selvaraj, Deputy Director, ISRO, will act as Guest of Honour on the occasion. On 8 October, for the valediction of this significant event, Prof S Rama Krishna Rao, Vice Chancellor, will be the Chief Guest.
This eventful programme at Gudlavalleru Engineering College is organised under the able guidance of WSW 18 Chairman V. Sunil and Sri S Sambu Prasad, Deputy Manager, SHAR, Dr P Ravindra Babu, Principal, Dr GVSNRV Prasad, Vice Principal, Academics & the Chief Coordinator of the programme, Dr B Karuna Kumar, Vice Principal, Administration. Dr. M. Kamaraju, Professor & Mentor (AS&A), & Press Coordinator, WSM 2018, Dr. M. Suresh Babu, Rafeekhan.Md, Ramanjaneyulu, Princiapal, Polytechnic and N Srinivasa Murthy, Director, AANM & VVRSR School, Gudlavalleru act as coordinators for colleges and schools.The college management extends its unstinting support to this remarkable event.
For the past 17 years, this momentous event was organised by Satish Dhawan Space Centre (SHAR). Since 2015, the World Space Week through public outreach programmes expanded its horizons to Tirupati, Guntur and Vijayawada. In 2016, 15 venues have been identified to celebrate. And in 2017, it spread across 22 venues in 5 selected states (Andhra Pradesh, Telangana, Tamilnadu, Pondicherry, and Orissa). This year, initially, Sri S Radha Krishnan, Former Chairman, ISRO, inaugurates the programme on October 4 at Satish Dhawan Space Centre (SHAR).