ADP hosts Bring Your Kids to Work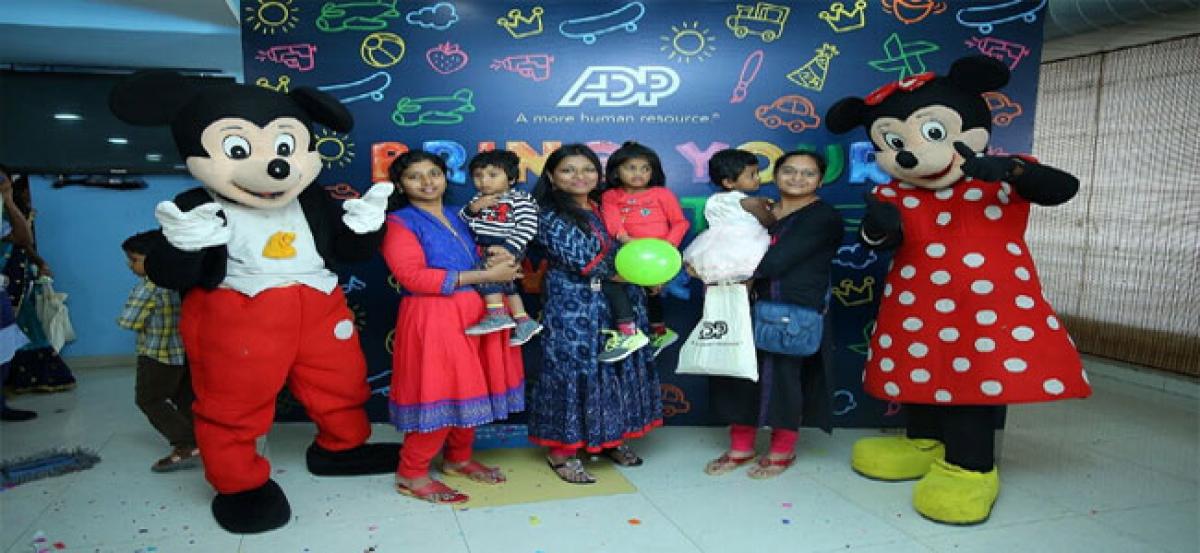 Highlights
ADP hosted Bring Your Kids to Work a fun event when children of its associates visited their workplace and enjoyed various fun activities
Hyderabad: ADP hosted 'Bring Your Kids to Work' – a fun event when children of its associates visited their workplace and enjoyed various fun activities. This is the second consecutive year that ADP has conducted 'Bring Your Kids to Work' event. This year, 1300+ children visited ADP offices across its Hyderabad and Pune offices and participated in various activities.
The event started with a welcome note and introduction of the associate's children. The kids were given a tour of the premises for them to get an idea of where their parents work from, explore how a workplace looks like, and have fun. The children also participated in a painting activity, where they painted their imaginations and thoughts on the theme of "What does FUN mean to you." Sharing his thoughts on the initiative, Vipul Singh, VP and Head of HR, CSR and Communications, ADP Private Limited said, "There's one question that every child asks parents: "can we go to see your office?" and 'Bring your kids to work' event is a wonderful opportunity for our associates to excitedly say "Yes" to their kids. The kids get to explore their parent's workplace and also get to spend some quality, memorable time. With these activities, we also aim to give the children a platform to showcase their creativity and get something they constantly wish for; a "good job" compliment from their parents.
This event is one of the many ways that we try to fulfill our commitment towards our Associates' happiness. To enable us in this endeavor, we provide some unique benefits such as Child Care support, special Maternity benefits that include Transport during Maternity, and Insurance for LGBTQ, and also special Milestone programs, which include Wedding Anniversary and Birthday celebrations of our Associates; for all of which, we have been recognized as 'Working Mother & AVTAR Top 10 Best Companies for Women in India' and 'India's 100 Best Companies to Work for – 2018' by GREAT PLACE TO WORK® institute."
ADP India has always an Employer of Choice, and has been organizing several innovative events over the years for the associates and their families, thus, creating a 'Home Away from Home' atmosphere at workplace. ADP Leadership is committed to the happiness of its Associates and believes that welcoming employees' children to work for a day is great for engagement of the associates and morale of their children.