Meru awards scholarship to children of driver partners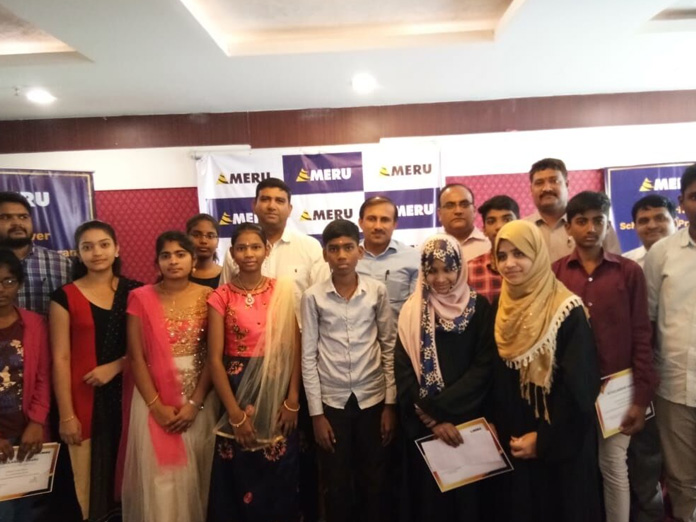 Highlights
Meru, lndias most trusted ride hailing service felicitated 17 of its deserving children of driver partners who have performed well in their board exams in X and XII standards As an organisation Meru believes in the importance of education towards the development of an individual and society as a whole and have been awarding annual scholarships to children of their driver partners in the past 11
​Hyderabad: Meru, lndia's most trusted ride hailing service felicitated 17 of its deserving children of driver partners who have performed well in their board exams in X and XII standards. As an organisation Meru believes in the importance of education towards the development of an individual and society as a whole and have been awarding annual scholarships to children of their driver partners in the past 11 years.
Commenting on the initiative, Nilesh Sangoi, CEO - Meru stated. "For Meru, the drivers are our partners in true sense, who have helped to build one of the most trusted brands in the mobility sector in the country. For us and our driver partners, it's one big family and our engagements go beyond daily monetary transactions. We constantly strive to make a real positive difference in the lives of our driver partners. Giving quality education to their children is of paramount importance to our driver partners. We hope that through this small initiative our driver partners' children get an opportunity to get quality education and make it big in life".
Chief Guest, Naga Kishore, AVP-Operations, distributed the certificates and vote of thanks was given by Branch Head Ganesh Kumar. Meru has been a pioneer in technology enabled and professionally run mobility services in the country.
Having served more than 13 million customers through 50,000 driver partners across 24 cities and 5 million app users, it has built a self-sustainable business model with a variety of services like on-demand app bookings, airport official partnerships, car rental services, employee transportation, outstation and various B2B services.