Beware of misinformation, media experts warn youth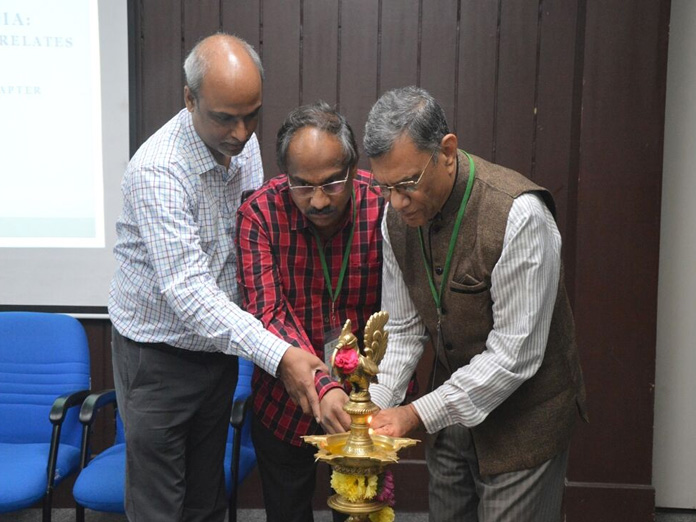 Highlights
Media has to regain its credibility and not yield to temptations to sensationalise, said Prof K Nageshwar, former MLC, Media Expert, political...
​Hyderabad: "Media has to regain its credibility and not yield to temptations to sensationalise", said Prof K Nageshwar, former MLC, Media Expert, political commentator and academician. He participated as Chief Guest in the inaugural of the Two-Day National Conference on "Changing Dimensions of Media: Psychosocial, Cultural and Political Correlates", organised by Gandhi School of Humanities & Social Sciences (GSHSS), GITAM (Deemed to be University), Hyderabad Campus, in association with Public Relations Society of India, Hyderabad Chapter and Press Club Hyderabad, today.
In his address on the occasion, Prof. K. Nageshwar dwelt on the role of media in society. Citing many examples, Prof. Nageshwar observed that we are not in a position to believe what is reported in media, as there is a growing nexus between business people, politicians and media houses. He lamented the loss of credibility of the media. He further remarked that media is neglecting its adversarial role to the powers- that- be. In a democracy, instead of facilitating free and fair elections, media is dividing and polarising the public.
As he added: "However, we need not become cynical about the status of media. There is still hope. There is space even in the private media to report news in the interest of the public. YouTube provides a great opportunity for everyone to create a channel for oneself". He cited his own YouTube channel, which garnered two million views in a year, as an example. He advised budding journalists to balance between what interests public with what is in the interest of the public.
In his keynote address, Paranjoy Guha Thakurta, renowned journalist, political commentator, author and documentary film maker, said that the advent of Internet in the past three decades changed the contours of human society irrevocably, said Paranjoy Guha Thakurta in his keynote address. Mass communication is now combined with personalised communication.
This phenomenon is a double-edged sword. In excess of its benefits, there is a dark and ugly side to it. The mainstream media which used to be transformative in its spirit is now forced to change its business model due to a deceleration of advertisements as a result of wide use of internet by about 60 per cent of global population. When governments become the biggest advertisers, media houses become their lapdogs and ignore their own duty to show truth to power.
Thakurta observed that six giant MNCs viz Facebook, Amazon, Apple, Alphabet, Alibaba, Netflix (FAAAAN) decide what you hear, read and watch. He advised the younger generation to learn to negotiate the changing dimension of media and recognise misinformation for what it is.
Prof. N. Siva Prasad, Pro Vice-Chancellor, GITAM Hyderabad Campus, in his presidential address, remarked on the role and significance of media, and the efforts of GITAM to contribute efficient and ethical professionals to the society. He congratulated GSHSS on organising a conference on media only a few months after its inception. Dr. P. Venugopal Reddy, Chairman, PRSI, spoke about the association of PRSI with GITAM in organising the conference and welcomed the delegates.
Earlier Dr. D. Suresh Kumar, Conference Convener, in his welcome address, introduced the objectives of the conference and spoke on the pan India composition of the delegates.
Sri D.V.V.S.R. Varma, Resident Director, Directors of various schools of GITAM Hyderabad, Heads of Departments, faculty and students as well as delegates from across several States of India participated in the Inaugural. Prof. Y. Prabhavati, I/c Principal, GSHSS, proposed a vote of thanks.
Subscribed Failed...
Subscribed Successfully...